Knowing Bangabandhu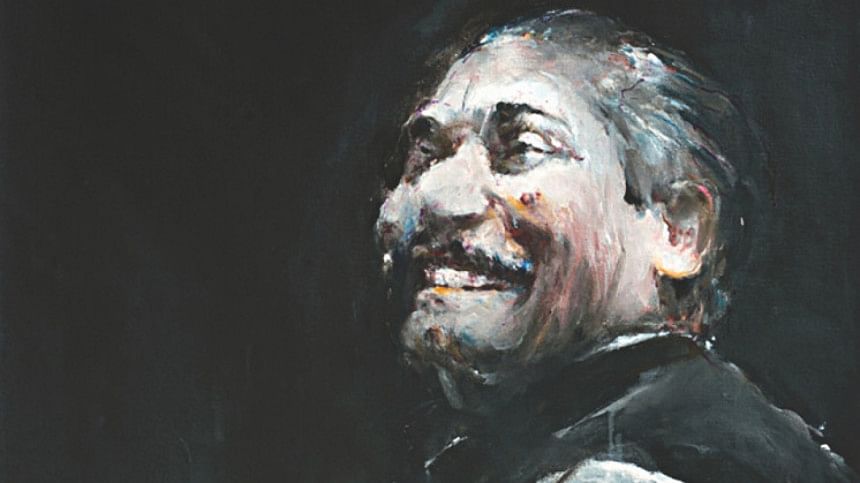 On 15 August, we mourn the loss of our founding father and charismatic leader Bangabandhu Sheikh Mujibur Rahman.
For most of us, he remains a figure larger than life we were not fortunate enough to have met or seen. Yet, his presence is so overpowering in the history of this nation that it is impossible not to feel his company.
I was born in December 1981 and for almost the entire period of my childhood, Bangabandhu Sheikh Mujibur Rahman remained a man obscured by the butchery of political misrepresentation. I grew up in a political conscious environment, and I can still recall my brother and mother gather around the radio in the evening to listen to the BBC and the VOA recounting the day's accounts.
My uncle, Jamil, was a freedom fighter. A person who probably never knew he had the courage to have joined the war, he did take part, only to have served as an informant for an operation in the city. If asked to pinpoint the exact moment that drove him to join our liberation struggle, my meek uncle still fails to do so.
"Many would say that it was the speech of 7th March and quite rightfully so — it indeed had powerful words, but what probably drove me to join the war was a collective effect of all his speeches and the political atmosphere that was created at that time," he says.
"What I used to like most about Bangabandhu and still do, was his skill as an orator; his magnetic power to make tonal variations as he addressed a crowd, often stressing on a collection of sentences, and then softly change the momentum and utter few quick words," my uncle recollects. 
He fondly refers to the simple, 'Bhaiyera amar' — Bangabandhu's introduction to the 7th March speech. "It was not only what he said, but how simply he said it that made a whole lot of a difference!" uncle Jamil admits.   
"It is impossible to capture the essence of that skill while listening to speeches that are available on YouTube. One had to be part of that crowd and feel the heat of the moment; relive those blood boiling slogans in the air. Bangabandhu would then arrive, and deliver a short speech, never more than 10 minutes or so. But in those 10 minutes, he would have the entire nation mesmerised and united."
It would not be wrong to say that it was through my uncle that I had my first introduction to the life of Bangabandhu. It was in early childhood that I had first heard the 7th March speech from an LP uncle had in his collection. I was too young to understand the power of the words, but I could feel the power of his voice!
There was an awkward silence surrounding the life and works of Bangabandhu when we were growing up. Even in those dark hours of this country's history, I was greatly impressed by songs and poetry dedicated to this great leader.
Shuno Ekti Mujiborer Theke Lokhkho Mujiborer Kontho Shorer Dhoni Protidhoni Akashey Batashey Uthey Roni… was a song I had learned to love even before I could spell my ABCs. I fell in love with the lyrical tune of the song. But as I grew up, the words of the song made more sense.
I was startled to discover that the words of Gauri Prasanna Mazumder echoed what I had discovered about Bangabandhu Sheikh Mujibur Rahman and his speeches as a child.
Written sometime in April 1971, the song "Shuno Ekti Mujiborer…" is an iconic rendition. It talks about how from one Sheikh Mujibur Rahman the struggle for our independence had become vocal though thousands of freedom fighters ecstatic for independence. It talks about Mujib, a voice! — A notion I was all so familiar with!
Although unmoved by any particular ideology, today I cannot separate myself from politics. Perhaps, no person can. Through not only his speeches but also his works as a writer, and his political masterplans, I now have a better understanding of the man, Bangabandhu.
As I have grown older, the charm of that magnetic voice remained, but the words that seemed too abstract at one time has slowly taken form. His political speeches now seem to be crafted in perfection, always brief and never delivered in the haste of a moment. I now appreciate what was said in those occasions just as I feel the driving force behind them.
Although Bangabandhu is no longer with us, he lives on through his greatness, and his voice as a champion of freedom is being reverberated through generations following his untimely demise. And will continue to do so!