Fresh fashion trends for Pahela Baishakh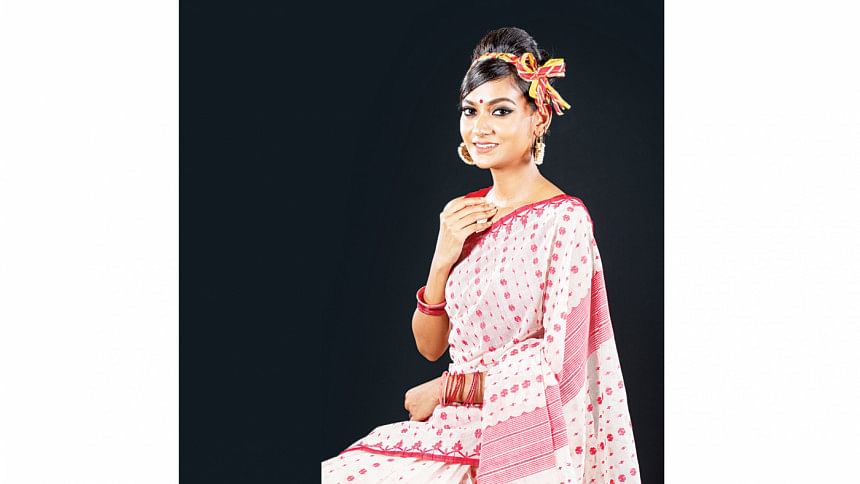 Pahela Baishakh, the first day of the Bengali calendar, is a vibrant celebration of culture and heritage that falls on 14 April and is celebrated with unmatched enthusiasm among Bengalis all over the world. A quintessential aspect of Pahela Baishakh is the traditional attires adorned by men and women alike. Planning and execution are everything, and fashion enthusiasts make sure to plan out all the details way ahead.
The most traditional combination of plain white sari with red borders or motifs is still among the best trends for Baishakh. The representation of Baishakh with bright shades of red is an age-old tradition in Bengali culture. Although red is often known to be the colour of fire and blood, the red in Baishakh signifies the passion and vitality of life, while the white symbolises innocence, peace, and purity. The saris worn by us in this combination evoke the renewal of life.
Bright flowers printed onto cotton saris are also among the top choices for Baishakh. Inspiration is also taken from the heart of Bangladesh with prints of nature, boats, rickshaws, or even the Baishakh special masks finding their imprints on a canvas of white or red.
In recent years however, designs have taken a subtle but creative turn towards different geometric as well as abstract patterns. While stripes and checkers have been experimented with in the past, this time white saris with red polka dots and borders are here to add a retro feel to the traditional look. And although red and white still remain the dominant colours for this occasion, blue, magenta and purple can be seen joining the fun to elevate the festive vibes.
This year, traditional Bengali fashion seems to be trending with a few modern twists. The most traditional Bengali drape is back in full swing as ladies have a newly-found appreciation for this style. Not only does this prioritise comfort but also saves us a huge amount of time by replacing the narrow pleats with much wider and simpler ones that only take a minute or two to set. Also, tying the loose end of the sari with a fancy silver or golden key ring and letting it sit effortlessly on our shoulder adds an air of Zamindari era and we quite like it.
The 'mermaid' and 'infinity' are two amazing new styles we have found this year for lightweight saris. As each of these styles is layered with pleats, soft fabrics like linen, silk, or chiffon make it incredibly easy to set the pleats, giving them the perfect flowy finish.
Cotton sari lovers need not be sad though. Jaipuri cotton, handloom, or silk cotton are also being styled in these new drapes, giving these saris a contemporary look while retaining their traditional essence. In short, this is your cheat code to look fabulous in any sari this season.
Another trend catching up to Pahela Baishakh is the pairing of saris with a crop top or a shirt instead of the traditional blouse. Ready-made crop tops are versatile for outfit ideas, come in a wide variety of designs and sizes, and let you skip the huge hassle of getting a blouse tailored and run the risk of disappointment in case of any blunder. This new twist adds a touch of comfort and convenience while elevating the style factor.
Pahela Baishakh is showing us how modernity can also be infused into traditional outfits with the right accessories. A pair of heavy jhumkas or a statement necklace is completing our look with cotton saris whereas a contrasting belt around the waist can be seen adding more structure to our silk or chiffon sari. Bracelets made from fresh flowers are the most romantic addition this year and are our new favourite hand jewellery.
Although 14 April is famously known as the day when the sun shows no mercy upon us, we do not necessarily have to compromise our style in trying to stay comfortable. Fashion is all about expressing yourself and feeling confident in what you wear. So, we are going for styles that resonate with our personality and make us feel comfortable while welcoming the Nabo Barsho in style.