LAW EVENT
Webinar on "Common law vs. Statutory law: Dealing with Corporate Homicide in Bangladesh" organised by BUP Law and Moot Court Club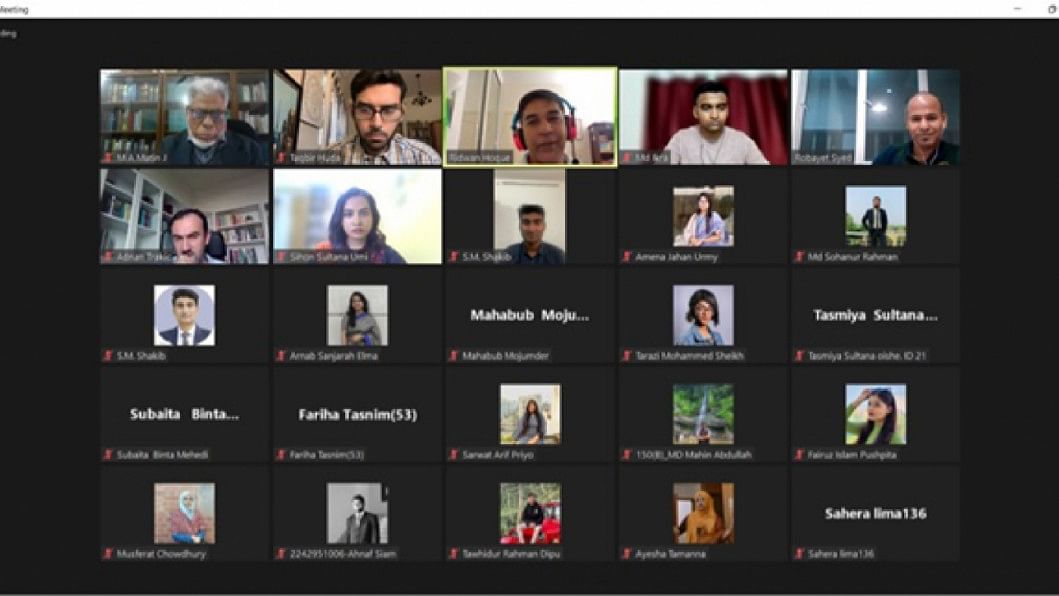 Bangladesh University of Professionals Law and Moot Court Club (BUPLMCC) in collaboration with the Department of Business Law and Taxation, Monash University, has successfully organised a webinar on "Common law vs. Statutory law: Dealing with corporate homicide in Bangladesh" on 3rd January 2023.
The Associate Professor and head of the Department of Business Law and Taxation of Monash University, Mr. Adnan Trakic was present there as chairperson of the programme. With him, the panel was joined by the former Justice M.A. Matin, Prof. Ridwanul Haque and Taqbir Huda as guest speakers.  
As the very first speaker, Justice M.A. Matin has provided a very precise definition of common law and statutory law, discussing the roots and incorporation of common law in Bangladesh and others. He has also referred to a few popular cases of Bangladesh making insights about corporate homicides, mismanagement of the higher authorities of various corporate companies, and the scenario of their immunities. He also addressed some significant sections of the penal code that need to be amended to deal with such offences. 
Prof. Ridwanul Haque discussed the tort law in Bangladesh and its lack of knowledge among the high officials, along with its poor application. He emphasised on the implementation of tortuous accountabilities of public and private authorities highlighting the Rana Plaza tragedy and Sutra Dhar case. 
The overall discussion was concluded by Mr. Taqbir Huda, who shared stories of two victims of corporate homicide, showcasing the unfettered immunity of corporate authorities, in regard to their accountability, falsely blaming the victims instead. On such a basis, he highlighted that the change of one law is not sufficient to change this normalised killing culture.
The session was followed by an interactive Q&A session.
The session ended with the closing speech by Lecturer Amena Jahan Urmy, Moderator, BUP Law and Moot Court Club. Finally, the vote of thanks was offered by Assistant Prof. Abu Bakar Siddique, Department of Law Bangladesh University of Professionals, to all the guests and the organisers.