UN rings the alarm on diminishing global press freedoms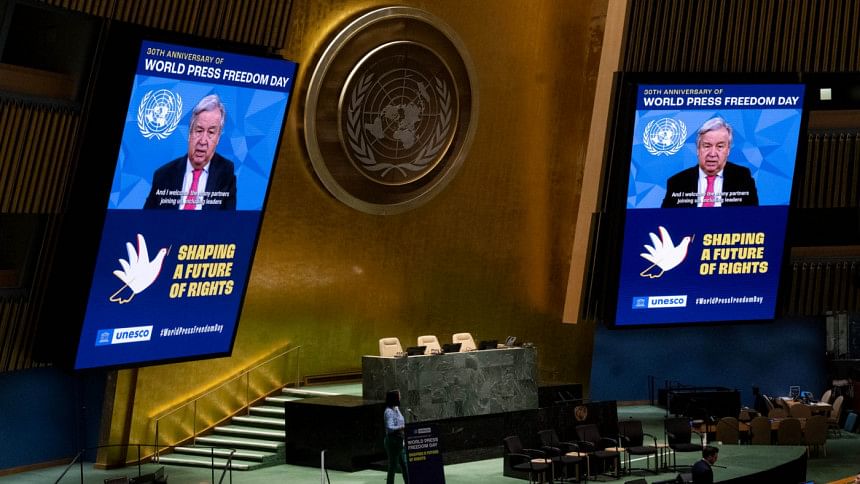 Press freedom is under attack in every corner of the world, the United Nations chief said Tuesday, denouncing the targeting of journalists and the spread of disinformation.
Speaking ahead of World Press Freedom Day on Wednesday, Antonio Guterres issued a rallying cry for journalists and media worldwide.
"All our freedom depends on press freedom," he said in a video message, calling it the "foundation of democracy and justice" and the "lifeblood of human rights." "But in every corner of the world, freedom of the press is under attack," the UN secretary-general added.
Journalists are being targeted both on and offline, he warned. "They are routinely harassed, intimidated, detained, and imprisoned." Not to mention those who are simply killed. According to Reporters Without Borders, 55 journalists and four media workers were killed in the line of duty in 2022.
Guterres also lamented the concentration of the media industry into the hands of a few powerful players, and the collapse of independent media.
"Truth is threatened by disinformation and hate speech, seeking to blur the lines between fact and fiction, between science and conspiracy," he said.
He was not alone in his concerns, with the head of UNESCO, which is organizing an event at the United Nations in New York to mark the occasion on Wednesday, also speaking out.
Audrey Azoulay said the digital age was changing the entire information landscape -- making "professional, free, independent journalism" more necessary than ever.
She said harassment and intimidation of journalists was "unacceptable." "Beyond their personal situation, it is the service they provide to society as a whole that is at stake," Azoulay said.
New York Times managing editor Arthur Sulzberger called attention to Evan Gershkovich, an American journalist for The Wall Street Journal who is being held in Russia on espionage charges he denies.
He "remains in Russian custody for sham charges and should be released," Sulzberger said.