Front Line Defenders Report 2016 on Human Rights Defenders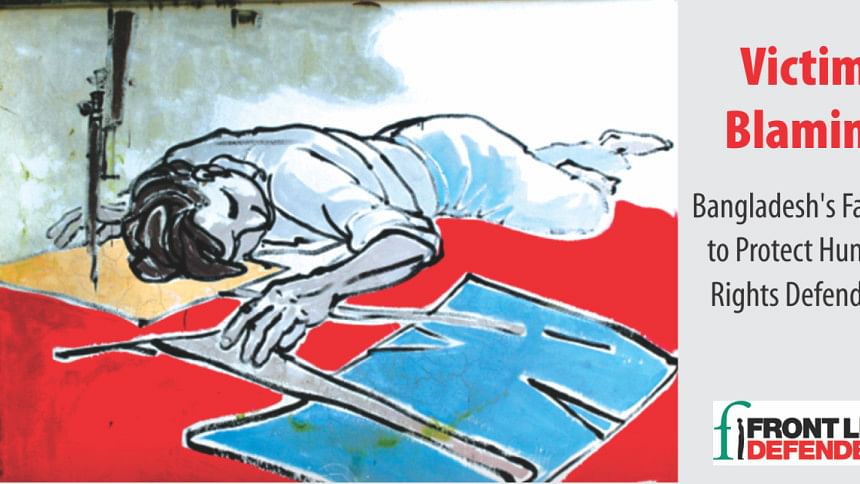 The protection and promotion of human rights has been a concern for the civilization to progress. In whatever name we call them, be human rights activists or human rights defenders, they are always considered to be a threat to the traditional establishment of State. State tends to make law aiming to curtail their rights which are necessary for their easy operation of protecting people's rights. State is also alleged for minimising their space of liberty and freedom. Keeping in mind the experiences of Human Rights Defenders (HRDs) working on various rights such as rights of women, LGBT rights, rights of indigenous peoples and migrant workers, an international NGO named Front Line Defenders has recently published a report titled Victim Blaming: Bangladesh's Failure to Protect Human Rights Defenders (November, 2016).
The report is an outcome of a research mission held in August 2016 to Bangladesh for the purpose of investigating the killings of HRDs, the government's response to the attacks, and reports from HRDs regarding the denial of their requests for police protection. The report presents testimonies from the families and colleagues of murdered HRDs, activists still working in Bangladesh, and HRDs forced into exile. It also draws on interviews with Bangladeshi and international journalists, legal experts, and academics.
One of the significant findings of the report shows that the HRDs reported limiting or stopping their work due to the lack of sufficient protection measures for them by the State. Other key findings of the report include:
* Widespread failure by the authorities (mainly the police) to protect targeted HRDs.
* Reduction of public activism and online writings in the area of HRDs' expertise.
* Refusal by the police to accept formal complaints from HRDs attempting to report threats, including death threats, and harassment.
* A stark rise in the number of HRDs seeking emergency relocation abroad due to the proliferation of killings and violent attacks.
* An increase in self-censorship while writing in both print and online forums including social media.
* Decline in activism and work to protect HRDs' colleagues from both physical attacks by non-state actors and legal harassment by the government.
* Families of HRDs becoming the target of attack.
* A severe breakdown in networks of activism.
* A serious loss of trust and engagement in and among the communities or populations.
* HRDs' less representation in the capital for working with the marginalised indigenous communities.
Based on the above findings, Front Line Defenders requests the Government of Bangladesh to:
* carry out immediate, thorough and impartial investigations into all killings of HRDs, publicly recognise the positive role of HRDs in society and the importance and legitimacy of their work;
* repeal review legal provisions (like section 57 of the  ICT Act and draft Digital Security Act) which criminalise freedom of expression and the legitimate work of HRDs;
* enhance training (specially gender sensitivity training) for local police with regard to receiving and responding to complaints filed by the HRDs;
* consider establishing a protection mechanism for HRDs at risk which responds effectively to their protection needs, including addressing gendered threats to LGBT;
* support the National Human Rights Commission to increase protections for targeted HRDs, including through the establishment of an 'HRD Desk' in the Commission.
Compiled by Law Desk (Source: frontlinedefenders.org).