BIPSOT-DU jointly held seminar on violence against women in armed conflict
The role of UN Peacekeepers emphasised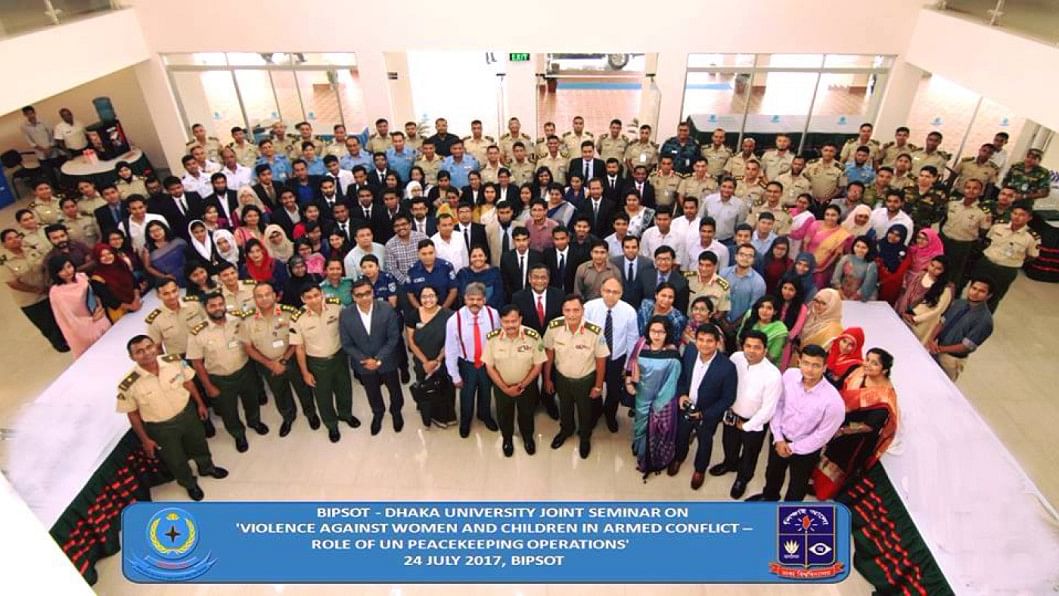 On 24 July 2017, Bangladesh Institute of Peace Support Operation Training (BIPSOT) and Faculty of Law, University of Dhaka jointly organised a day-long seminar on "Violence against Women in Armed Conflict: Role of UN Peacekeeping Operations". The seminar was participated by university teachers, students, military personnel and members from law enforcing agencies. In this seminar, four papers were presented.
Professor Dr. Mizanur Rahman, former chairman of National Human Rights Commission, presented on the conceptual understanding of 'gender' and 'women' with specific reference to armed conflict. In his presentation, he underscored that the notion of patriarchy is responsible for making women vulnerable – not only in peacetime but also during armed conflict. He added that gender justice needs to be revisited from the context of women empowerment and parties involved in conflict have legal obligation to take efforts in order to guarantee the protection of women during armed conflict.
The second paper was presented by Dr. Shahnaz Huda, Professor of Law in Dhaka University, on laws and customs for the protection of women during armed conflict. She highlighted that international legal instruments – mainly those adopted by the UN – clearly outline the responsibilities of the States and international communities to combat the ever-growing violence against women during armed conflict.
Dr. Rumana Islam, Associate Professor of Law in Dhaka University, presented on securing gender justice in post-conflict society. In her presentation, she emphasised that one of the key challenges for securing gender justice is the unequal power relations between men and women.
The fourth paper was presented by Col. Mustafizur Rahman, Senior Instructor of BIPSOT, on the role of peacekeeping operations for the protection of women and children during and after conflict. He talked about mandates of the UN Peacekeeping operations in line with the UN Security Council Resolutions to clarify the role of uniformed peacekeepers.
The seminar was inaugurated with the presence of Lt. Gen. Aziz Ahmed, General Officer Commanding (GOC) of Army Training and Doctrine Command (ARTDOC), Maj. Gen. Md. Enayet Ullah, Commandant at BIPSOT, Professor Dr. Md. Rahmat Ullah, Dean of Dhaka University's Law Faculty, and Professor Dr. Borhan Uddin Khan, Chairman of Dhaka University's Law Department. In the closing ceremony, Professor Dr. Nasreen Begum, Pro-VC (Academic) of Dhaka University, was present as chief guest. In her closing speech, she thanked BIPSOT for collaborating with Dhaka University in the endeavour of training global peacekeepers towards envisioning a world with durable peace and solidarity for all.
The event covered by Law Desk, The Daily Star.