KUMUDINI Handicrafts at Banani
KUMUDINI Handicrafts at Banani
On the busy streets of Banani Road-12 stands the prominent mustard-yellow banner representing the latest retail outlet of Kumudini Handicrafts, a fashion and lifestyle shop where 'tradition meets trend' as the owners claim.
Kumudini Handicrafts has been in operation since the 1980s, offering products which epitomise the quintessential traditional heritage of Bengal, be it in the form of Nakshikantha or Jamdani. The primary point of differentiation at Kumudini Handicrafts is the heavy use of colours in numerous combinations.
The objectives of Kumudini Handicrafts were simple: making women in Bangladesh self-reliant while meeting the fashion and the décor needs of the Bangladeshis. Consequently, an estimated 26,000 women from all over Bangladesh are benefitting from the activities of Kumudini Handicrafts.
As the name suggests, Kumudini Handicrafts began as a favourite go-to for handicrafts lovers, but it gradually pioneered 'the first stylish Fair Trade clothing boutique'. Today, Kumudini Handicrafts has successfully established itself as a haven for traditional merchandise.
Spanning across three spacious floors, Kumudini Handicrafts offers a plethora of fashion and home décor products which are bound to appeal to your aesthetic instincts. Bags of various shapes and sizes with multi-purpose uses are available here.
You can pick either a 'never-go-wrong' sequined clutch for evening parties or grab a large vintage leather-and-hand-stitched bag for casual outings. Attractive wallets and traditional 'botuas' will easily match up to the expectations of college-going girls.
Just as women feast their eyes on the bags and other miniature gift-items, such as key-rings and stationery-holding fabric bags, they will be tempted by something even greater. The eternally cherished attire of all Bangladeshi women: saris in an overwhelming range of shades and designs. You can opt for a black-and-grey tie n' dyed sari for sober occasions, such as an Ekushey February gathering. Alternatively, you can purchase a cotton sari in plain colours for office or even home wear, owing to its comfort.
Also in stock at Kumudini Handicrafts are the bedazzling Sirajganj 'Katan' and Benarasi saris with intricate drapes and threadwork, and not to forget, the ever-popular Jamdani saris in bright hues. Moving slightly away at a corner, you may lay your hands on a handful of silk saris in solid colours of regal blue, orange, and purple. These will make for an unforgettable glamour quotient in your closet.
In addition, Kumudini Handicrafts brings to you a wide collection of tunics and shalwar kameez sets in cotton and endi silk. There are ones in vermilion-red and cobalt-blue to reflect your vibrant self, and yet others in lighter hues to highlight the simplicity in you. Staying true to Bengal traditions, they are not decked up with laces, heavy embellishments, or asymmetric cuts. Instead, the tunics and salwar kameez sets at Kumudini Handicrafts are enhanced through prints, hand stitches, threadwork, and other indigenous techniques.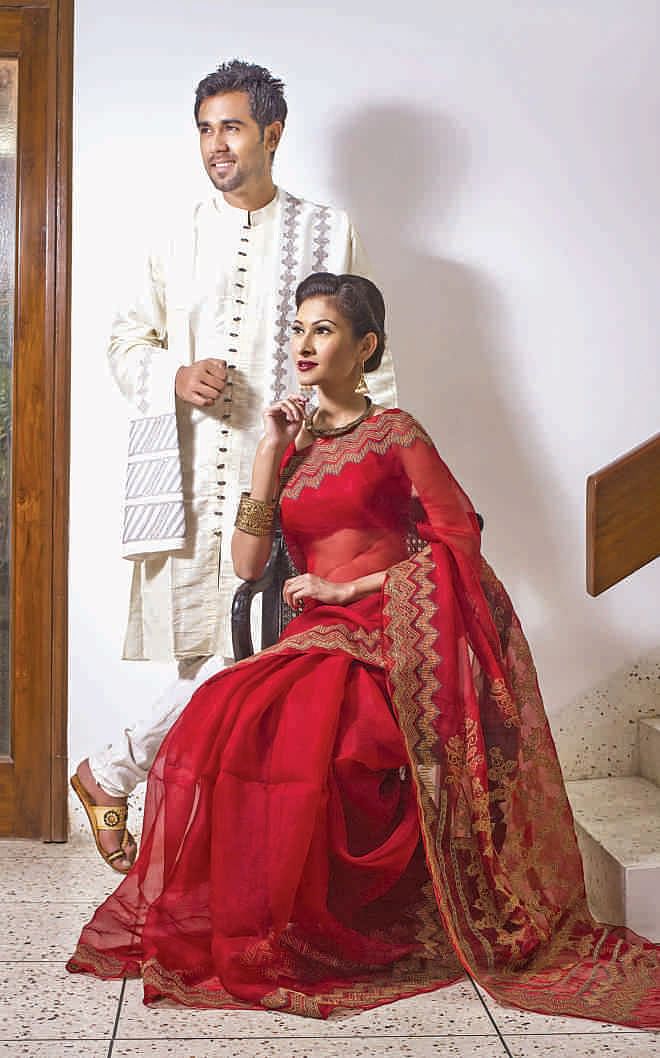 The upper floor is a riot of men's wear. An entire section is dedicated to the conventional white panjabis so that you do not tire yourself out hopping from one shop to another to decide on the one classic white panjabi that best suits your style. In another corner, one can find panjabis as well as full-sleeved shirts in multiple colours, fabrics, and designs. Men can either find a bold piece of clothing and experiment with their appearance, or choose from the safer lot that is available here.
Kumudini Handicrafts does not leave behind the children and it is therefore worth a visit during the children's quest for fashion.
Kumudini Handicrafts specialises in household décor, such as wall hangings, bedcovers, table-wares, and the like, with a distinctive traditional touch. A small corner is also dedicated to selectively collected books which impart knowledge on the traditional heritage of Bangladesh.
Shopping at Kumudini Handicrafts is conveniently possible within a budget of Tk.5,000 as most products are within that price range. Silk clothing and rare items are priced higher. If you are in the traditional mood, nothing should stop you from visiting Kumudini Handicrafts at House 112, Road 12, Block E, Banani, Dhaka.
Photo: Shahrear Kabir Heemel
Model: Rehan and Tushi
Wardrobe: Kumudini
Make-up: Farzana Shakil
Styling: Tabassum Anila Hridi