Modi files nomination from Varanasi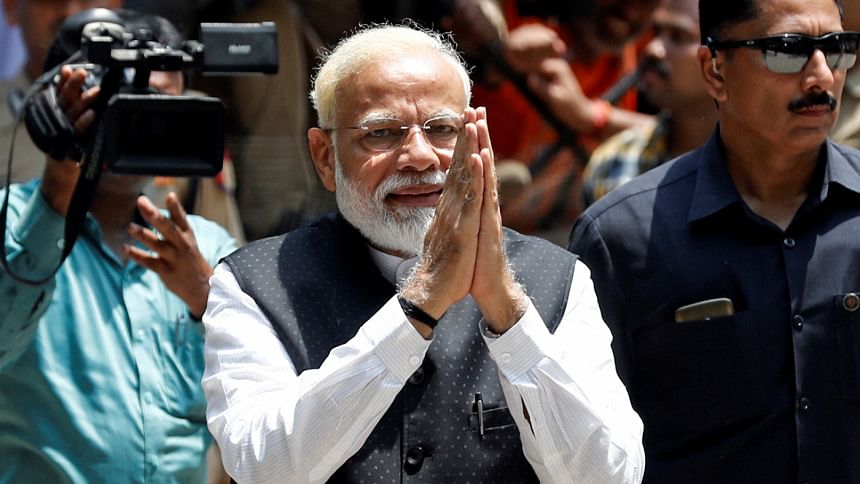 Indian Prime Minister Narendra Modi today filed his nomination papers for Varanasi parliamentary constituency in Uttar Pradesh seeking re-election to the seat.
Modi submitted his nomination to the District Collectorate office, reports our New Delhi correspondent.
In a show of strength of Bharatiya Janata Party-led National Democratic Alliance (NDA), top leaders of the saffron party's allies accompanied Modi to the District Magistrate's Office. Bihar Chief Minister Nitish Kumar of Janata Dal (United), Shiromani Akali Dal Chief Parkash Singh Badal, Shiv Sena Chief Uddhav Thackeray and Lok Janshakti Party Chief Ram Vilas Paswan were among the top leaders.
Senior cabinet colleagues of Modi including Rajnath Singh, Ram Vilas Paswan, Nitin Gadkari and Sushma Swaraj were also present.
Earlier in the morning, the Indian prime minister addressed BJP workers before visiting the famous Kal Bhairav temple in the city.
Addressing the party workers, Modi said a "pro-incumbency wave" is sweeping across India for the first time ever.
"The media knows that the Varanasi election is over. Now we just have to break all voting records," he said.
The prime minister said he has worked honestly for good governance and the people have made up their minds that they want Modi government again.
"During yesterday's road show here, I have sensed the hard work of party cadre," he said amid chants of "Modi Modi" from the gathering.
Modi's filing of nomination came a day after he held a 7-km road show that passed through the temple town of Varanasi on Thursday drawing massive crowds before the PM performed Hindu ritual of "Ganga aarti" at the famous Dashashwamedh Ghat.
"Grateful for the warmth and affection!" Modi tweeted after the commencement of the four-hour road show amid cheering crowds, wearing saffron-coloured attires and showering rose petals.
Wearing a saffron kurta and white pyjama along with a matching saffron scarf, Modi waved at people who had lined up on both sides of the road and jostled to get a glimpse of him.
In the 2014 Lok Sabha polls, Modi had successfully contested from two parliamentary constituencies Varanasi and Vadodra in his home state Gujarat. However, he later vacated the Vadodara seat.
In Varanasi, Modi defeated Aam Aadmi Party leader and Delhi Chief Minister Arvind Kejriwal by an emphatic margin.
While Modi had secured 5.8 lakh votes, Kejriwal came second with around two lakh votes and Ajay Rai was left with 75,000 votes.
Facing Modi in Varanasi this time will be Ajay Rai of the Congress who finished third in 2014 and Samajwadi Party and Mayawati's Bahujan Samaj Party's joint nominee Shalini Yadav, the daughter-in-law of a former Congress lawmaker.
Uttar Pradesh is the most crucial battle ground in Indian parliamentary poll as it elects the highest number (80) of Lok Sabha members out of the House's total strength of 543 (two more members are nominated by the President of India). 
Polling in Varanasi will be held on May 19 in the last round of the seven-phase national election. The counting of votes will take place on May 23.