India test-fires ballistic missile
India test-fires ballistic missile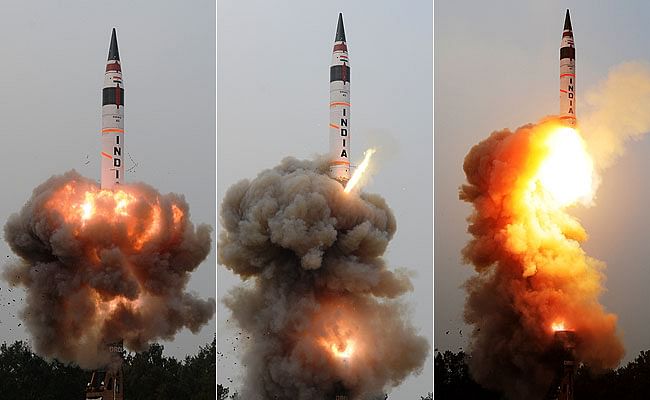 India today successfully carried the trial launch of its longest range ballistic missile Agni-5 which is capable of carrying nuclear warhead and can strike a place as far as 5,000km away.
The missile was launched from a canister at Wheeler Island off the coast of Bay of Bengal in eastern state of Odisha, giving an edge to the country's strategic strike capability, reports our New Delhi correspondent.
The three stage, solid propellant "missile was test-fired from a mobile launcher from the launch complex-4 of the Integrated Test Range (ITR) at about 8:06 hours," Interim Test Range Director M V K V Prasad said.
"The missile witnessed a flawless 'auto launch' and detailed results will be known after all data retrieved from different radars and network systems," he added.
With a range of 5000km, the nuclear-capable missile can carry a warhead in the east as far as all of China and in the west all over Europe.
The missile travels faster than a bullet and can carry 1000 kilogram of nuclear weapon and can be launched only on direct orders from the prime minister.
Unlike other missiles of Agni series, the latest one 'AGNI-5' is most advanced having some new technologies incorporated with it in terms of navigation and guidance, warhead and engine, Prasad said.
India had earlier carried out two successful tests of the basic version of Agni-5 in 2012 and 2013 and today's trial was the third in the series.
The development of Agni-5 began in 2009 and according to DRDO it will likely be inducted in 2015.
Agni-5 gives India the ability to launch nuclear weapons from land at will from anywhere in India. It will give India the ability to hit back or have second-strike capability even after coming under a nuclear strike.
Prime Minister Narendra Modi saluted the scientists on the successful test-firing of Agni V missile.
"Successful test-firing of Agni V from a canister makes the missile a prized asset for our forces. I salute our scientists for their efforts", the prime minister said.