Songs from the River called Titas
Mahbub Pial delves deep into the rich cultural heritage of Brahmanbaria
Titas has covered up the entire Brahmanbaria region like a finely meshed fishing net. The Harinber Turn still reveals the sightlines of the Zaminder Bari on the bank of the river that attracts thousands of people every year. During the monsoon, the long road from Sarail to Nasirnagar through the large haor turns into a source of beauty. 
Locally called Baonbaira, the town was famous for many water bodies and ponds. Even up until the early 70s, the roads were clean. Two canals dug at the initiative of a British civilian named Anderson zigzag through the town. But people now recognise them by their given names. The bigger one—Kurulia—is better known because anyone going to Chittagong by train has to cross it. There is a bridge, of course. 
Growing up I used to be proud to say that I am from here. That's because of the people who illuminated the name of this little town across the country, the region and the world. Ustad Alauddin Khan (respected as Baba Alauddin in India for his rigorous contribution to Indian classical music) remained one of the strongest points of reference whenever outsiders tried to recognise our home town. Shaheed Dhirendranath Dutta's house in Ramrail village is still there. A high school was founded in his name. Some of his properties have been occupied by local, influential people. 
Alauddin belonging to a remote village called Shibpur in Nabinagar launched his journey to Kolkata at a very young age. Later, he settled at Maihar Rajdarbar and by that time, he had already secured his position in the world of classical music.  Two of his most prominent disciples Ustad Ali Akbar (his son) and Pandit Ravi Shankar also conquered the hearts of great music lovers around the world.  Both of them had spent some time with the teacher at Brahmanbaria.  Ustad Alauddin's brother Fakir Aftabuddin and Ustad Ayet Ali Khan were great contributors to folk and classical music. Fakir Aftab Uddin set the tune of the songs written by Monomohon Dutta and popularised them by singing them himself. 
Brahmanbaria is home to numerous leading literary minds. Foremost among them is Adwaita Mallabarman who was famous for his magnificent novel, Titas Ekti Nadir Nam. In the early seventies, Ritwik Ghatak, the legendary filmmaker, made a film based on it. Adwaita tried to grasp the life of the fishing community members where he was born and brought up. He reveals the features and signs of the dying malo culture by making an analogy with the dried up surface of the Titas. His observations and hunch were right. The Malo fishermen community was later completely disintegrated and a lot of them migrated to Agartala. Jyotirindra Nandi, another renowned novelist, migrated to Kolkata. Poet Al Mahmud, poet Abdul Kadir, Sanaul Hoque and many others also put forth their creative work to the larger audience in the country.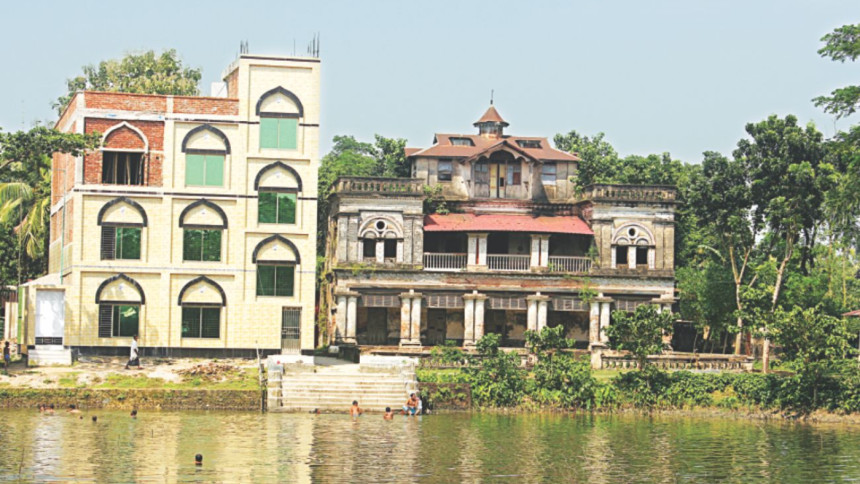 Many outsiders recognise Brahmanbaria for sweet delicacies like chanamukhi, khirtua, taler bora etc. During the British reign the sweet makers made a new variety of sweet, named it Lady Canny (after Lord Canning's wife) and sent it to Kolkata as a gift for her. A lot of visitors also come to see the statue of Kalbhairab, the largest in Bangladesh. 
Historically, Sarail upazilla is known to everyone for the local ruler Isa Khan who throughout his reign resisted the invasion by the Mughal Empire. There are a few archeological evidences of that old heritage to be found here and there. Sarail Zaminder Bari is still famous. But Sarail is perhaps better known to the outsiders for the Sarail Hound which is a unique breed of dog that very closely resembles the Grey Hound. Legend has it that a Grey Hound of the Zaminder's dewan mated with a tiger and thus this new breed came into being. The breed—tall, slender and characterised by swiftness and keen sight—is used as watch dogs by civilians as well as law enforcement agencies. 
The soil of Brahmanbaria produced many well known swadeshi activists during the British period. Bipolbi Ullass Kar Dutta, a fearless shwadeshi activist who valiantly fought the British, was from this land. His house in the village of Kalikachaya in Sarail was visited by many swadeshis and revolutionaries. Matinandi, another swadeshi from Kalikachaya, was the master planner of the Shanty-Shunity (named after two sisters) attack against the British in Comilla during the British era. During the war of independence in 1971, Brahmanbaria was one of most vibrant war fields in the country. 
Brahmanbaria remains a place of peace and harmony in my memory. Muslims happily let Hindus pluck flowers from their gardens for the daily rituals of the latter. I learned many Bhor keertans during my childhood while devotees performed in the ashram adjacent to our house. Amar Pal was someone who was respected and loved by everyone. The renowned folk musician left the country in 1944 for Kolkata.  Pal learned vocal music from Ustad Ayet Ali Khan (his photograph is kept in Amar Pal's drawing room).
In an interview with me in his house in Kolkata, Amar Pal said Muslim fakirs and Gaains (a professional singers' group) used to visit his house every week and performed songs with a focus on religious harmony.  He said he would always remember the call of Aazan at Jagat Bazar Mosque where he had a family business.  Amar Pal recorded a few thousand folk songs in Kolkata and many of which he learned during his childhood in his home town. This shows the richness of the folk music tradition in Brahmanbaria. Unfortunately, except for Adwaita Mallabarman, no one else explored this oral tradition of this place so rigorously.
We grew up hearing that Brahmanbaria used to be alive every evening with the sounds of the harmonium and tabla . This has drastically declined due to the massive migration of people. The effective and progressive role of voluntary cultural organisations of Brahmanbaria to engage youths and others with their roots were significant even a few decades ago. According to a study, Tagore's play Rakto Korobi was staged here by local performers while the poet was alive.  Cultural activities by different organisations even during the Pakistani era were a great inspiration for the young people to nurture and cultivate their national identity. Civil servants who were posted here fell in love with the people and the culture of Brahmanbaria. It is said that they were reluctant to accept transfer orders as they were caught in the web of affection with the place. 
Two of the oldest trees were chopped down in the late 90s and many of the ponds filled up to construct shopping centres. Last January Ustad Alauddin Sangitangan, the Industrial School and some other places were vandalised by some bigots. Valuable memories of Baba Alauddin   were burnt to ashes.  But I keep going back. This is where I was born. It may have changed, but it is still my town. Nothing compares with the joy that fills my heart when I go to the villages and hang out with folk singers. 
One of the main attractions for me these days is the street singers' group consisting of six blind people from the same family. They sing marfati and bichchedi songs. Their emotional songs reflect their tragic life and remind me that they are the flag bearers of the songs of the Titas and true torchbearers of the Ustad. 
Not all is lost. 
The writer is a folk-singer and associate professor of Anthropology at the Independent University, Bangladesh.