Is poetry dying?
Zahangir Alom recalls the revolutionary fire ignited by many of our poets and ponders if poetry is still as fierce a tool as it used to be for bringing about social change...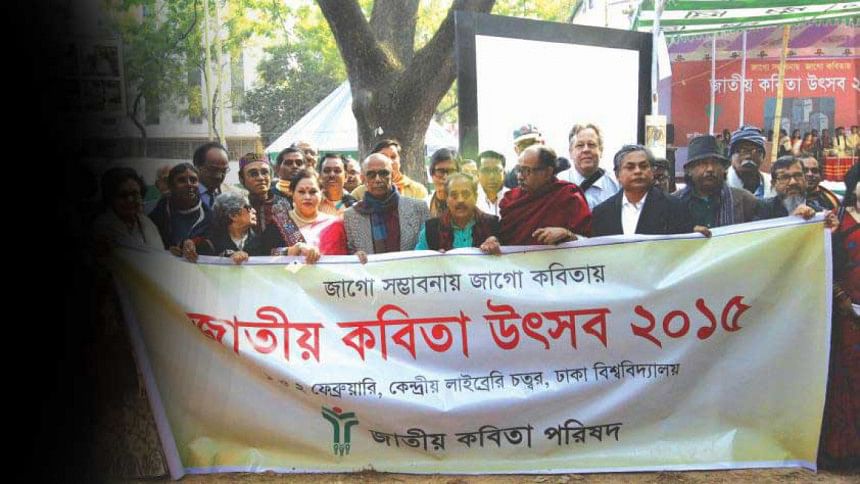 Poetry is the spontaneous overflow of powerful feelings…" while "poets are the unacknowledged legislators of the world." Poetry has played a pivotal role in shaping our thoughts and philosophy and as a weapon, brought about social and political changes all across the world. The modern Bengali poet Jibanananda Das viewed Poetry and Life as a two-way origination of the same entity. "Historical conscience will be the bone of the poem while clear knowledge about time will live in its (poem's) heart." Das boastfully starts his essay on poetry, titled 'Kobitar Katha' thus: Shokolei kobi noy keu keu kobi (Everyone is not a poet). 
The journey of Bengali Literature starts with poetry, with the lyrical mysticism of the Charyapada, the oldest collection of verses. Sri Krishna Kirtana, a lyrical composition involving romance and melancholia of Radha and Krishna; Mangal-Kavya (Poems of Benediction), written in the form of verses, notably consisting of narratives of indigenous deities of rural Bengal and works by the Vaishnava poets including Jayadeva are examples of that. Chandidas, a poet from the middle age of Bengali literature utters: "Shobar upor manush shotto tahar upore nai" (Humanity is above all). Mystic poet and philosopher Lalon became an icon of humanity and tolerance whose songs inspired and influenced many poets and thinkers including Tagore and Nazrul. 
In his epic Meghnad Bodh, Michael Madhusudan Dutt, one of the greatest poets in Bengali literature and the father of the Bengali sonnet, interpreted the Ramayana with a fresh perspective challenging the conventional idea of Ravana as the villain.  
The opulence and excellence of Bengali Literature was embedded in the world literature through Tagore's winning of the Nobel Prize in Literature in 1913 as the first non-European. The bard's poetry and songs tell us about delving deep into our hearts and finding truth. His poetry deals with romance, nature, spirituality, love and above all, the conscience of universal humanity. "Into the dreary desert sand of dead habit/ Where the mind is led forward by thee/ Into ever-widening thought and action/ Into that heaven of freedom, my Father, let my country awake." (Gitanjali) 
Kazi Nazrul Islam, the national poet of Bangladesh, assailed the British Raj in India and preached revolution through his poetic works, such as Bidrohi (The Rebel) and Bhangar Gaan (The Song of Destruction), as well as his publication Dhumketu (The Comet) in which he claimed the independence of undivided India. His nationalist activism in the Indian independence movement often led to his imprisonment by British authorities. While in prison, Nazrul wrote the Rajbandir Jabanbandi (Deposition of a Political Prisoner). Exploring the life and conditions of the downtrodden masses of the Indian subcontinent, Nazrul raised his voice for their emancipation. His works immensely inspired Bengalis during our Liberation War. Nazrul's writings explore themes such as love, freedom, humanism, secularism, gender equality and revolution. He reached the peak of fame in 1922 for his Bidrohi which remains his most famous work, winning the admiration of India's literary classes by his description of the rebel who is fierce and ruthless:  " …
    I am the burning volcano in the bosom of the earth,
    …
    I am the wild fire of the woods,
    I am hell's mad terrific sea of wrath!
    I ride on the wings of lightning with joy and profundity,
    I scatter misery and fear all around,
    I bring earth-quakes on this world!..." 
THE 1930s signalled a wind of change with the rise of the five stalwarts Buddhadeva Bose, Jibanananda Das, Bishnu Dey, Sudhindranath Datta and Amiya Chakravarty, ushering in a new horizon outside the influence of Tagore.  
Poets from this era abandoned the path of romantic love, the adoration of serene nature and the lure of mysticism. The Second World War, the devastating famine of 1943 and the social, economic and political unrest of the period made a deep impact on their poetry. Samar Sen, Subhas Mukhopadhyay, Achintya Kumar Sengupta and Sukanta Bhattacharya brought new elements into the realm of Bengali poetry speaking against the oppressive elements of the society. In Hey Mahajiban, Sukanta writes, "No one needs the soft bower of poetic pleonasm/ Poetry, I now bid you adieu/ The hungry world is decked with prosaic fiction/ The full moon is but scalded flat bread!"
Abul Hussain, an urban poet of that time, made effective use of understatement, controlled satire and sophisticated irony. He was a socially conscious poet, well-aware of the economic, social and political problems of the middle class in today's disturbed world. 
Jasimuddin, commonly known in Bangladesh as Polli Kobi (The Rural Poet) for his faithful rendition of Bengali folklore in his works, developed a distinctive trend in Bengali poetry in the time.  
Poets like Golam Mostofa, Farrukh Ahmed, Talim Hossain and others were motivated to compose poetry themed on Muslim renaissance after the partition of the subcontinent in 1947. There were, however, others who were not inclined to overemphasize the religious tradition. Instead they concentrated on the contemporary world and the land in which they lived. Abul Hussain, Ahsan Habib, Syed Ali Ahsan, Sikander Abu Jafar, Sanaul Huq and others belong to this category. Sikander Abu Jafar's famous poems "Bangla Chharo" and "Sangram Cholbei" are still regarded as the poems of a revolutionary voice. Marxism was significant in the poetry of Sikandar Abu Zafar and Sanaul Haq.  
The Bengali Language Movement of 1952 brought a significant change.  The '50s and '60s constituted a period of political unrest. Our poets responded to it by declaring with passion their reverence for Bengali language and culture. They did so in a way where the note of protest and rebellion was explicit against all forms of authoritarianism and tyranny. Poetry was nationalistic in a new way. Firmly rooted in the soil, it spoke against communalism and autocracy.  
The impact of Language Movement on the poets of Bangladesh was all pervasive. Though there were some common elements in the poems inspired by it, there was diversity. The poems dealing with 21st February include Mahbub ul Alam Chowdhury's "Kandte Ashini Fashir Dabee Niye Eshechhi", Mahadeva Saha's "Ekusher Gaan", Hasan Hafizur Rahman's "Amor Ekushey", Abu Zafar Obaidullah's "Kono Ek Ma Ke", Shamsur Rahman's "Ma" and "Bornomala Amar Dukhini Bornomala", Shaheed Quadri's "Ekusher Shikarokti", Asad Chowdhury's "Falgun Elei", Abu Hena Mustafa Kamal's "Ekusher Kobita" and of course Abdul Ghaffar Chowdhury's timeless song "Amar Bhai-er Roktey Rangano". Hasan Hafizur Rahman's "Amor Ekushey", a long elegiac poem, brings together the emotions of grief, hope and determination of the people. 
Invariably, a substantial segment of the poetry of '60s was protest oriented. Shamsur Rahman, Al Mahmud, Hasan Hafizur Rahamn, Abu Zafar Obaidullah, Zia Haider, Rafiq Azad, Nirmalendu Goon, Mahadeva Saha, Asad Chowdhury, Abul Hasan, Muhammad Nurul Huda, Shikdar Aminul Haq, Abdul Mannan Syed, Syed Shamsul Haq, Habibullah Shirajee and many others endowed the poetry of this period with technical and thematic richness. 
The early sixties saw a dictatorial military regime bent on crushing the economic, political, and cultural aspirations of Bangladesh. Abu Zafar Obaidullah's poem "Ami Kingbodontir Katha Bolchi" is such an example where the poet says, "Je kabita shunte janena shey ajonmo kritodash thakbe…" (…He who fails to listen to the voice of poetry, will never be free…" 
Shamsur Rahman put the country at the heart of his poetry. In his poems, Rahman focuses on liberal humanism, human relations, the rebellion of the youth, the emergence of Bangladesh, and opposition to religious fundamentalism. "Asad-er Shirt", "Tomake Pawar Jonno Hey Shadhinata", "Udbhot Uter Pith-e Cholechhe Swadesh", "Shadhinata Tumi", "Shaheed Jananike Nibedito Pongtimala" and "Barbar Phirey Ashey" are some fine examples of his compositions.
Shamsur Rahman, Al Mahmud, Shahid Quadri and Syed Shamsul Haq branch out into a wide expanse of secular poetry. Asad Chowdhury's "Report 1971", "Tokhon Shotti Manush Chhilam" and "Barbara Bidlarke" recreates the Liberation War in the reader's mind.
The Liberation war of Bangladesh was waged with certain principles -- Bengali nationalism, democracy, secularism and socialism. It was quite natural that poets of an independent Bangladesh should write with feeling against fundamentalism, communalism, autocracy, economic exploitation, denigration of women and other forms of violation of human rights. It was also natural that independence would bring in a breath of fresh air from the wide world beyond the national frontiers. Consequently, poetry became versatile in a new way. Poet-playwright Syed Shamsul Haq in his verse-play "Payer Awaj Pawa Jaye" and Abu Zafar Obaidullah in his long poem "Ami Kingbodontir Katha Bolchhi" (I am speaking of legends) use mythical association in a refreshing way. Some of our poets refer to Hiroshima and Nagasaki, Nelson Mandela, Lenin, Vietnam and Kampuchea while writing on themes of world peace and anti-imperialism. The widening of the thematic horizon linked Bangladeshi poetry with world poetry and gave our writings a universal appeal. 
The killing of Bangabandhu in August 1975 led to a large and varied crop of poetry. Some of the images and symbols created by the poets are as wide in their philosophical implications as they are deep in their emotional appeal. Shamsur Rahman in his "The Song of Electra," mourns the death of Sheikh Mujib. Nirmalendu Goon's poems "How the word 'Independence' became our own" and "Mujib means emancipation", evoke the image of Mujib.               
Poets like Rudra Mohammad Shahidullah, Mohon Raihan, Helal Hafiz, Abid Azad, Ruby Rahman and Shihab Sarker, among others, wrote some fine poems during the mass movement of 1990s. Rudra's "Batasey Lash-er Gondho" is a poem of decadence, frustration and reality of post-independent era. His poem "Sashastra Bahinir Proti" remained very popular during the time. A historical event was emerged in January 1987 through the forming of "Jatiya Kabita Parishad". At that time a poetry festival with the participation of poets from Asian countries was initiated by the then autocratic military government. The predominant, prominent and promising poets of the country had no connection with the arrangement; so they formed another platform challenging the government's initiative. More than four hundred poets recited poems in an agitated and loud voice in a two-day programme. Thousands of people appreciated their performance with rounds of applause. The programme made headlines in the national dailies. In 2013, poetry and spirited songs played a significant role in the movement launched by Gonojagoron Moncho, demanding rapid and transparent trials of the war criminals of  ' 71. Young poet Anindya Amat wrote and recited a poem forsaking the initial verdict of Abdul Quader Molla's lifetime imprisonment. 
 
Throughout history poets have inspired people to rise up against injustice and tyranny shaping poetry to seek truth. But are poets becoming silent? Are they still composing poems as hard and piercing as they used to? 
Elocutionist Mazumder Biplab opines that the post-modern poems are getting small in size. Emotion is seeping out from the poem where psychoanalytical aspects are getting prominence. Poems are becoming abstruse, complex and personally motivated. "Perhaps, we are passing a very restless time or these are the features of present time" he says. "Poetry is not dying rather is being influenced by various 'isms'. Consequently, a certain distance is being created between readers and literary creators. We are going through a crisis which is evident in the expression of various forms of arts including poetry."
Is poetry dying? Opinions differ. 
Like Auden, Syed Shamsul Haq believes that "Poetry is inspired dialogue." Haq says, "A poet deals with both internal or personal feeling and collective conscience. Poets historically play a role while composing poetry marking any important national events, occasions or an elegy or obituary on passing away of any important persons. Then we need a collective voice for composing poetry. We are going through a drought where good poetry has become scarce."       
Whatever may be, we can conclude with a Jibanananda Das poem "Adbhut Andhar EK" that still rings true after all these years: "Adbhut andhar ek eshechhe e prithibite aj / Jara ondho, sabcheye beshi aj chokh-e dekhe tara / Jader hridoye kono prem nei --preeti nei – korunar aloron nei / Prithibi ochol aaj tader suporamorsho chhara… (A strange darkness has engulfed us today/ Those who are blind seem to see the most/ those who have no love and compassion in their hearts rule the world today).
Zahangir Alom is a staff reporter, Arts & Entertainment, The Daily Star.