The concept is at once simple and mindbending.
Pakistan arrive at Lord's for their match against Bangladesh knowing exactly what they must do to reach the last four of the World Cup. The problem is the task is enough to make Hercules baulk.
Thanks to a combination of England's wet June, their meagre early-tournament displays and cricket's reluctant bedfellow -- net run rate -- Sarfraz Ahmed and Co know that a win alone will not take them past New Zealand and into the knockout rounds.
With nine points to their name after eight matches, Pakistan can only draw level with the Kiwis and, thanks mainly to their implosion against West Indies five weeks ago, they are left needing a miracle margin of victory.
Let's think about the mathematics for a second: Sarfraz and his team have to overturn a net run rate deficit of 0.967, and to do so requires a win the likes of which the game has never seen.
Should they rack up 350 -- and bear in mind they have only surpassed that mark 10 times in 924 one-day internationals since 1973 -- they would need to skittle Bangladesh out for 38 or fewer in order to progress.
What if they gave a little extra leeway for the Tigers to score a few more runs -- a shrewd suggestion, given Bangladesh all-rounder Shakib Al Hasan has made at least 41 in every single innings in this World Cup?
Well, if Pakistan hit 400, they could afford to concede 86 with the ball in response and still go through.
Possible? Maybe. There is power at the top of the Pakistani order -- Fakhar Zaman has an ODI double century, after all. But it should be noted that the country has never compiled a score of 400 or more in their one-day international history, their best being the 399 for 1 against Zimbabwe in which Fakhar made his unbeaten 210.
Only one team, coincidentally Zimbabwe, have been dismissed for an ODI total below 80 more times than Bangladesh's eight, but the most recent instance was in 2014 and they have not returned a score below 200 in any innings this year.
A step further, then. Should Pakistan manage 450 or more -- keep in mind the highest ODI total recorded at Lord's is 334 -- then they would have to rattle through Bangladesh for a maximum of 129.
It is an unfortunate scenario for Pakistan, who at times in this tournament have played courageous, fearless, elegant cricket, who beat New Zealand quite comfortably, who held off the charge of England at their favourite hunting ground Trent Bridge.
That they have had to resort to cheering for old enemy India and then the Blackcaps is effectively a situation of their own making - that abject failure against the short ball in their opening game against West Indies saw their net run rate plummet to -5.802, the sort of depths you would generally associate with goblin sharks and enemies of organised crime, and, though performances have steadily improved, Pakistan have not dished out the sort of thrashing they needed to balance the books.
The mythical parallels with 1992 have evaporated, the conspiracy theories abound and now their fans must pray for something truly extraordinary to take place at the Home of Cricket on Friday.
Of course, the toss of a coin could render even those dreams redundant.
If Pakistan lose the toss and Bangladesh decide to bat first, then Pakistan will have no chance of making it through.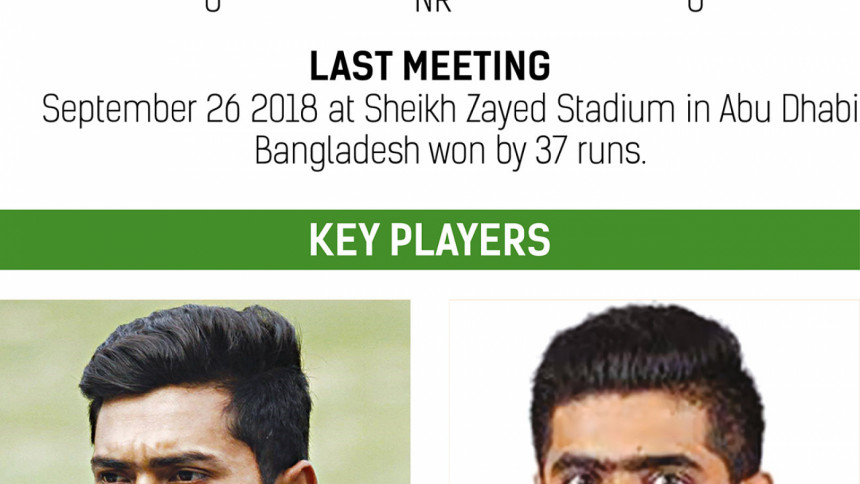 FACTS
Tamim Iqbal has scored 676 runs -- the most by any batsman in either sides' current World Cup squad -- in the 16 matches he played against Pakistan.
Pakistan's Mohammad Hafeez is the highest run-getter in the current Pakistan squad. The all-rounder has amassed 351 runs in the 14 matches he played against Bangladesh.
Bangladesh's ace all-rounder Shakib Al Hasan has scalped 21 wickets -- the most by any player among the two sides' current World Cup squad -- in the 15 matches he played against Pakistan.
Bangladesh opener Tamim Iqbal's 132 off 135 balls, which came against Pakistan back in 2015 in Mirpur, remains the highest individual score by any player in either sides' current World Cup squad.
None of the players in the current Pakistan squad have scored a hundred against Bangladesh in ODIs so far. Mohammad Hafeez's 89 is the highest by any current Pakistani player against the Tigers.
Tamim Iqbal has a batting average of 45.07 -- the highest by any player of the two sides' current World squad -- against Pakistan