Human chain demands arrest of rapist
Human chain demands arrest of rapist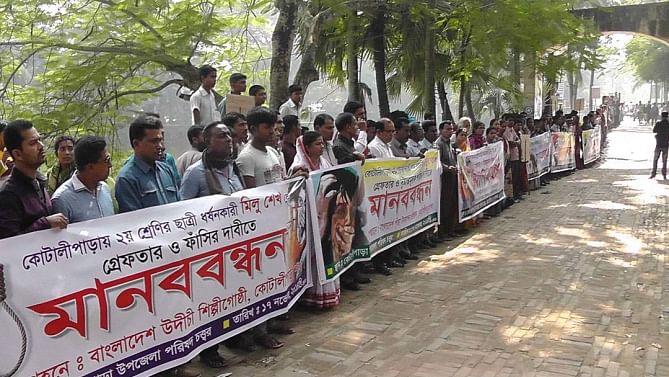 Local people of Kotalipara formed a human chain in the upazila headquarters yesterday, protesting alleged rape of a minor schoolgirl and demanding arrest of the rapist.
Eight organisations including Kotalipara Puja Udjapan Committee and Udichi Shipli Gosthi organised the programme.
Later, they brought out a procession that marched different streets in the morning.
Kotalipara municipality Mayor HM Ohidul Islam, upazila Awami League Vice President Lal Mohan Biswas and Upazila Vice Chairman Matiur Rahman Hazra, among others, joined the human chain.
On November 8, one Milu Shiekh, 55, violated the class two student of Dumuria Government Primary School in the area and fled the scene.
The victim was later rushed to Gopalganj Sadar Hospital, said the participants at the human chain.