Death warrant read out to Kamaruzzaman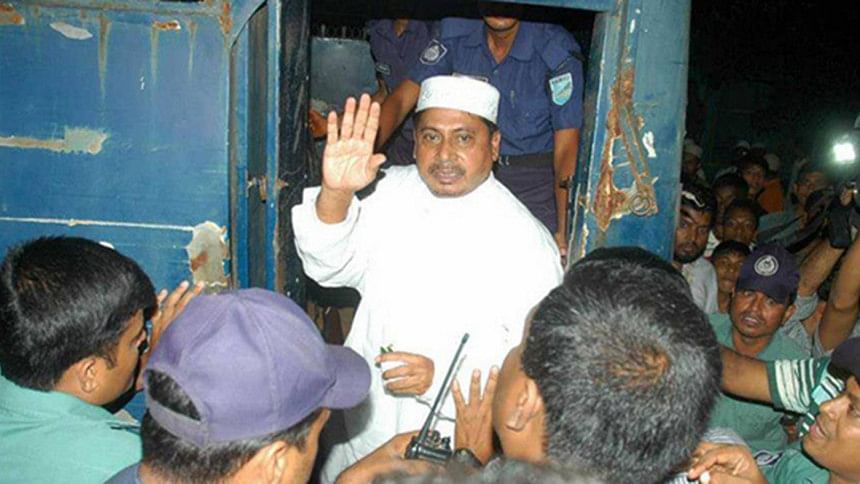 ‪The prison authorities read out the death warrant to condemned war criminal Muhammad Kamaruzzaman this afternoon.
"I have read out the death warrant to Kamaruzzaman around 2:30pm while he wanted to talk to his lawyers for next legal steps," said Farman Ali, Senior Jail Supper at the Dhaka Central Jail.
Earlier in the day, a tribunal in Dhaka issued the death warrant against the Jamaat-e-Islami leader in a war crimes case.
The International Crimes Tribunal-2 issued the warrant after receiving the full text of the Supreme Court verdict that upheld the death penalty of Kamaruzzaman for his crimes against humanity during 1971.
As per the rule, the red-folded copies of the death warrant are supposed to be delivered to a district magistrate, prison authorities and the home ministry.
ICT acting deputy registrar Aftab-uz-Zaman left the office at 1:03pm in this regard, our tribunal correspondent reports from the spot.
The apex court yesterday released the full verdict after all the four judges, who had delivered the verdict on November 3 last year by a majority decision, signed the 577-page judgment.
The judges are: Chief Justice SK Sinha, Justice Md Abdul Wahhab Miah, Justice Hasan Foez Siddique and Justice AHM Shamsuddin Choudhury Manik.
With this development, Kamaruzzaman got 15 days to file a review petition with the Supreme Court to know the final say on its verdict that has upheld his death penalty for war crimes. The countdown however started yesterday.
The ICT-2 handed the capital punishment to the key organiser of the infamous Al-Badr Bahini on May 9, 2013.
In response to a petition challenging the verdict, the SC upheld the death penalty to the 79-year-old for the mass killing at Sohagpur of Sherpur on July 25, 1971.
Justice SK Sinha, now the chief justice, headed the four-member SC bench.
The SC has so far completed the trials of two war crimes accused, while the trials of seven others are pending with it.