. Hip Replacement Surgery allows you to feel younger and back to being active!
Hip Replacement Surgery allows you to feel younger and back to being active!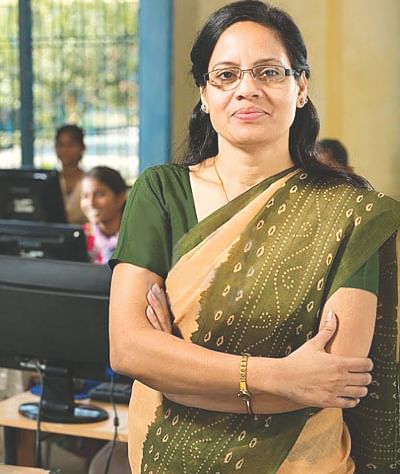 A school teacher in Sylhet, Nasrin Sultana, 54, spends up to 5 to 7 hours a day on her feet. Despite the long hours, Nasrin says that she still loves her job of being a school teacher, even after doing it for 23 years. Nasrin has a full schedule, even when not at work. As a mother of teenage twins, she is always on the go; she further volunteers at the local Ladies Club teaching the underprivileged slum children.
Nasrin developed osteoarthritis in her right hip as a result of a childhood illness that led to a temporary loss of blood supply to the hip (also known as avascular necrosis, AVN). Eventually, Nasrin says, "I started waking up with a little bit of pain. That pain would turn into a great deal of pain after I put in 7 to 8 hours on my feet at work."
Nasrin addressed her pain with pain killer pills; but with minimal temporary relief her hip pain again started impacting her activities. "One day as I was at school walking through the corridor, I was limping really badly and I just felt like my students were looking at me and thinking, what is wrong with her? Why is she limping? The pain was so bad and unbearable; I just knew I had to do something about this."
She came to Dhaka and consulted an Orthopaedic Surgeon in an International Standard Tertiary Care Hospital. After thorough investigation and detailed examination, the Surgeon told her there really wasn't any other option for her at that point other than having the Hip Replacement Surgery. Nasrin had her concerns; "Am I ever going to be the same again? Am I going to be able to walk without a limp?" The Orthopaedic Surgeon explained to her about Hip Replacement Surgery which involves removing a diseased hip joint and replacing it with an artificial joint, called prosthesis, which are biocompatible, meaning they are designed to be accepted by patient's body.
Nasrin's surgery went well. All the fears she had about the surgery and its related infection risks were dissolved once she witnessed the infection control practices of the hospital and excellent team work between Surgeons and Anaesthesia Doctors. The Physiotherapists of the hospital helped her long way at her rehab exercises and she started recovering well.
Today, when people ask Nasrin about her Hip Replacement Surgery, she's happy to share her experience with them; "The decision to have the surgery has changed my life. Now I'm able to do almost all sorts of physical activity and I'm not in pain anymore. It's wonderful and I wish I had done the surgery a long time ago."
The successful outcome of a Hip Replacement Surgery depends on patient's age, weight, activity level and other factors. There is no need to continue suffering in pain not being able to walk, taking pills and injections and delaying to have the Hip Replacement Surgery.  Meet an experienced and skilled Orthopaedic Surgeon in an International Standard Hospital to know about Hip Replacement Surgery.