Sweaty palms and feet: Hyperhidrosis and you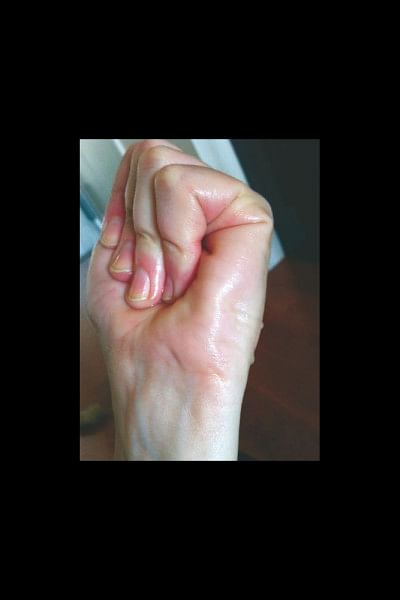 Sweaty hands can be a cause of displeasure for many, especially in social situations. There are many in our country who suffer from this disorder as it hampers their regular productivity. Many people tend to ignore it and this results in the condition going undiagnosed. Called Hyperhidrosis in medical terms, here are some ways to regulate the condition and find peace of mind.
Sweating is usually a process that helps maintain body temperature. But if this happens excessively, it might end up causing tension in one's day-to-day life and put them through a lot of discomfort.
Hyperhidrosis, the excessive sweating of palms and hands, is no temporary condition. Those affected face the problems of going through their daily activities like handling sensitive materials, making physical contact or even writing on paper. It leaves their hands wet, sodden and smelly. All this can pile up and leave them isolated among their friends and close ones.
Below are some useful tips and methods to keep in mind that might address lingering concerns and help deal with the discomforts from hyperhidrosis:
• Identification: You must try and identify conditions that lead you to sweat extensively. Try avoiding such environments or situations. It might be over spicy food or doing work that requires you to wear gloves or any protective gear.
• Staying dry: Some over-the-counter anti-perspirants containing low-dose aluminium are easily available to help reduce your sweating.
• Medication: Apart from the over-the-counter anti-perspirants, some prescription medications are also available to manage the excessive wetness. Be proactive to contact your physician and identify hyperhidrosis so as to start with these.
• Iontophoresis: The basic idea behind this treatment procedure is to temporarily stop or block those sweat glands causing all the trouble. Tap water is passed through the skin of your hands using mild electric current. This might require 20-30 sessions to help reduce the sweatiness considerably.
• Botox: This is a toxin that if injected at the area of excessive sweating, blocks the nerves that stimulate sweating. However it can cause pain at the site of the injection and some weakness around the applied area
• Surgery: This is usually an extreme option. If nothing else works, and if the one affected is too disturbed of this condition, a surgical procedure that cuts off the nerve that stimulates sweating is performed.
It is important to keep in mind that hyperhidrosis might sometimes be an indication of some underlying metabolic disorder. In such a case, it is recommended that one visit a dermatologist to better understand the causes, and how they can be properly treated.
It is important to feel confident when interacting with others, and some might suffer from lack of it due to hyperhidrosis. Rather than do nothing about it, seek the necessary help and regain the confidence to lead a healthy, productive life.
The writer is a Dermatologist and Hair Transplant Surgeon, Shaheed Suhrawardy Medical College Hospital, Dhaka.