Father's Day favourites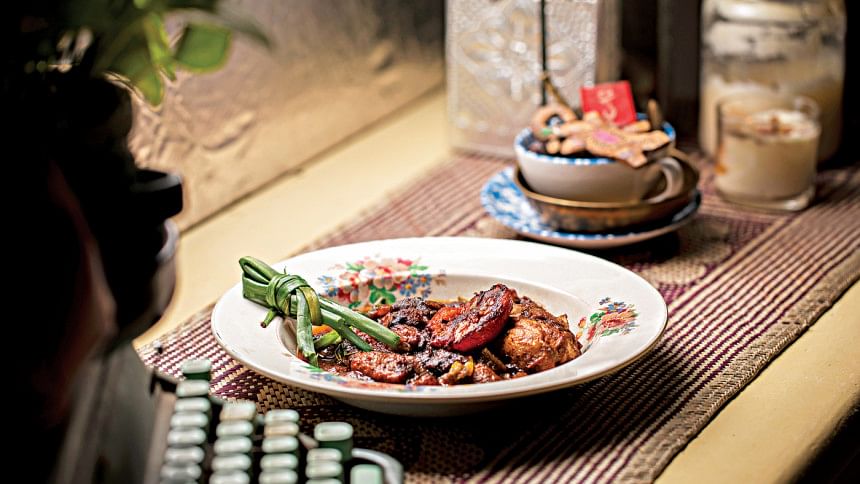 We call out to all those dads contributing towards looking after their families during these stressful times. Thank you for not just being there for your families but for also reminding us about how each member plays a role. As the world reeled under suddenly imposed work from home and a pandemic scare, we possibly saw some fathers either sharing the burden for their first times or increasing their existing responsibilities of being a dad.
We wish you all a very happy and loving Father's Day! 
My dad was a great cook and his greatest contribution to my tasting palate was introducing me to Bangladeshi fish. We grew up in Libya so eating puti maach or muri ghonto was eased by my dad relishing it and the 8-year-old me just mimicking him. However, my most poignant memory is of him roasting a cow's tongue during Qurbani Eid and cooking it in a bare minimum of spices, surprising me by the simplicity of it all. I can never forget that taste, and tongue as a dish always reminds me of baba wherever I eat it. So, to those of you lucky enough to have your fathers around, please take some time out and prepare something this Fathers' Day. And to all the fathers, have an amazing day!
JUICY BEEF BURGER
With an abundance of lettuce in the markets, cash in on this opportunity to make some burgers that are healthy, yet hit those right spots!
Ingredients (beef)
1 kg boneless beef
1 tsp garlic paste
1 tsp grated ginger
1 tsp tamarind pulp
3 cloves garlic
1 stick cinnamon or ¼ piece of anise star
1 tbs roasted onion paste (brown onions then grind)
1 cup beef broth (you can boil any part of chunky beef with a bit of bone with salt, 1 tsp of garlic, pepper, ½ cup chopped onion, 2 bay leaves)
1 tomato for each burger
2 tbs olive oil
4 hamburger buns
Fresh greens like lettuce, mints leaves,
Chili sauce —
Take 2-3 dried red chillies, dry roast them and add a pinch of lemon juice, a pinch of roasted and ground sesame seeds and mix them with 1 tbsp olive oil. You may use mustard oil instead.
Method
Boil the beef in the broth and with all ingredients, including olive oil. Add the cloves of garlic whole. Boil on a slow heat/cooker for up to 4 hours or until the meat falls apart at the slightest touch. You can use a pressure cooker if in a hurry, but the slow cooking allows flavours to sink in, so if using a pressure cooker, let it rest for up to 12 hours to allow soaking of the flavours. Cut the tomatoes in round slices and fry/sauté them lightly in a bit of olive oil, until they are browned. Shred the beef by pulling it apart. Crush the whole cooked garlic into the remaining juicy broth and simmer it and reduce till it is a thick sauce.
Serving
Serve the beef placed on a bed of lettuce, roasted tomatoes, some cheese if you want, or a slathering of mayonnaise or butter, according to your taste. Ideally go without the extra grease. Use the left-over sauce and chilli sauce as dips. Enjoy!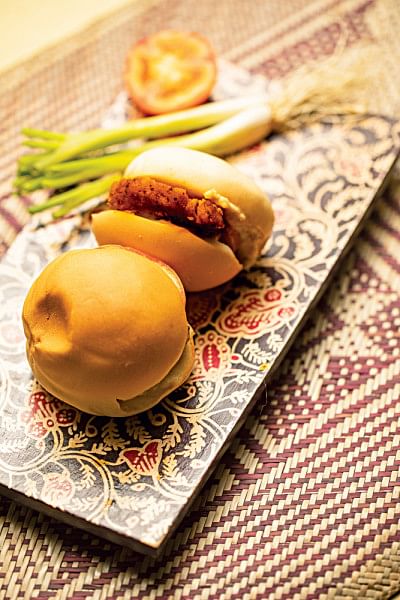 COLORATIDO MOLE FROM OAXACA, MEXICO
Moles are sauces with very interesting origins, which are Moorish/Islamic in nature as the Spaniards introduced this colonised cooking method to the Mexicans. The Oaxaca region is listed in the UNESCO list of Intangible Heritage because of its culinary heritage and this is one of the seven most famous moles. I of course customised it a bit so dads can still make it easily without feeling too lost.
Ingredients
1 green banana
6-7 whole green chillies and 4-5 red dry ones
4-5 ripe tomatoes
2 cloves garlic unpeeled
½ onion with skin
3 whole cloves garlic
1 stick cinnamon
7-8 peppercorns
¼ cup almonds, skinned
1 tbs sesame
1 tsp dried oregano
1 tbs raisins
2 tbs brown sugar or 1 tbs molasses
8 serving pieces chicken, without wings
2 cups chicken broth
½ cup cooking chocolate (this region/cuisine loves chocolate in their savouries)
250g pumpkin pieces
250g borboti or long beans, chopped
Method
Bake the banana or roast it on an open fire, as for a bhorta. Dry roast the chillies and boil them with the whole tomatoes for up to 15 minutes to rehydrate the chillies while boiling the tomatoes thoroughly; skin tomatoes and set aside.
 Dry roast the onion and unpeeled garlic also, until browned, then peel them and set aside. Dry roast rest of the ingredients i.e. almonds, sesame, peppercorns, cinnamon and oregano. Blend these together with the roasted garlic, onion, chillies, tomato pulp and banana.
 Now lightly fry/sauté the chicken pieces till brown and set aside. In the same oil, add the mole sauce and cook it till the oil separates. Add extra salt and pepper according to taste and once the sauce looks cooked, add the chicken pieces, raisins, chocolate, beans and pumpkin and cook it all for the next 30-45 minutes till it's a thick gravy.  
CHEESE MUFFINS
The easiest early morning meal to or an afternoon snack to whip up with dad— but please do clean up after yourselves! No flour splattered on the walls, counter or the floor.
Ingredients
1 cup milk
1 cup flour (moida)
1 cup grated cheese (you can use cheddar or a mix of cheddar, Dhaka poneer and parmesan, but half cup cheddar and half of the others)
½ tsp salt
1½ tsp baking powder
Pinch of roasted nigella seeds (kalojira)
1 spring onion, finely chopped (optional) 
Pre-heat oven to 200°C and lightly grease a muffin tray
Method
Mix dry ingredients in a bowl and add milk, then stir until just combined. This does not need any special skills — you can really get away by just mixing it roughly. Spoon the mixture into the muffin tray and bake for 15 minutes until golden. Insert a toothpick to check and if it comes away clean, then your muffins are baked and ready to gobble up!
Serving: Try to serve them hot with some chilli sauce from above mole recipe.
Photo: Sazzad Ibne Sayed