Year full of attacks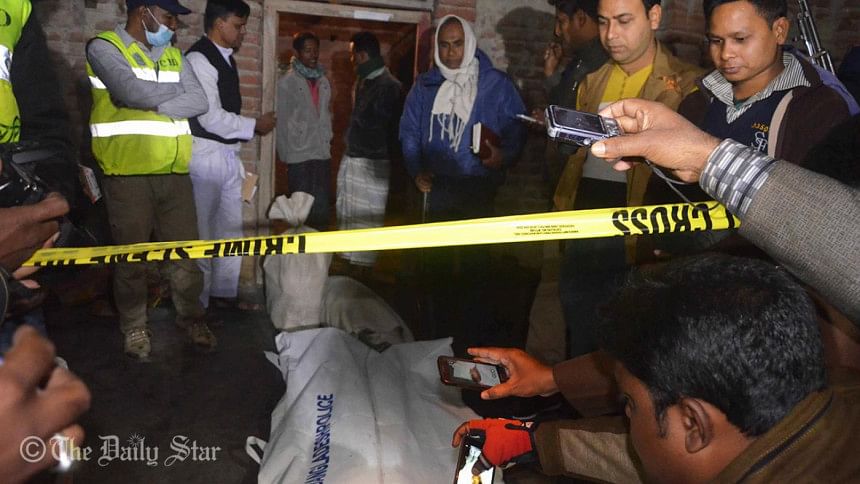 It started with individuals. Then shrines, mosques and temples started to become their targets while the attacks on secular and religious individuals, continues.
The attack two days back on December 25 on an Ahmadiyya mosque in Bagmara, Rajshahi is the latest in the worrisome rise this year of suspected militant hits. The first high profile attack came in February this year during the book fair. Writer Avijit roy was killed and his wife was injured in a street attack right outside the fair. In all the incidents Islamic extremists claimed responsibility or their involvement is suspected.
The year 2015 saw a sudden rise in killings and attacks on individuals, different religious groups, freethinkers, secular bloggers and book publishers. At least five bloggers and publishers were killed by suspected Islamist militants while eight others were killed in several attacks on different religious sects.
Attacks were carried out on Hindu and Christian religious groups while different Muslim sects like the Shia, and the Ahmadiyya in addition to the Bahai communities, also came under the deadly attacks allegedly by religious fanatics. Muslims who believed in Sufism and revered mazars and shrines also faced the wrath of fanatics.
Text messages started to come in carrying ominous messages. Eminent personalities, bloggers, religious personalities continuously got death threats in SMSs and by other means while alleged militants killed eight people during a bank robbery. The country was also rocked by the killing of two foreign nationals, something completely new in Bangladesh, and then there were the killings of two policemen at different check posts.
ATTACKS CONTINUES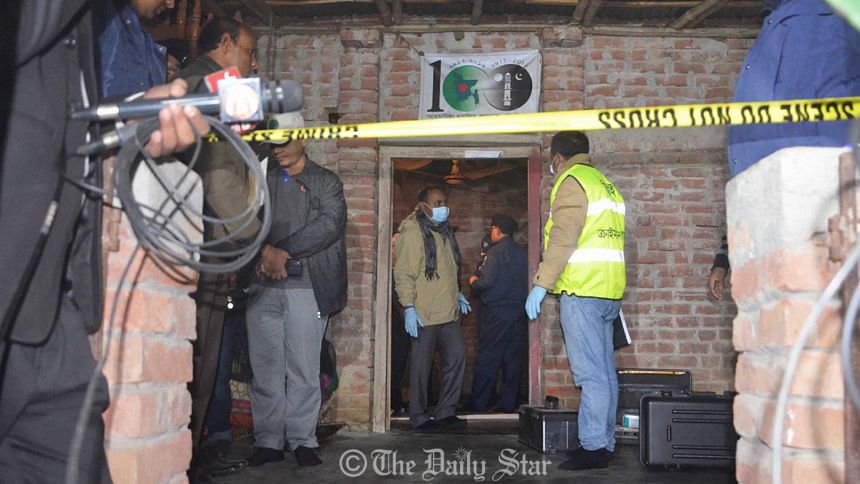 December 25
At least one person was killed and three others were injured in a bomb attack at a mosque of Ahmadiyya Muslim community during Juma prayer in Bagmara upazila of Rajshahi.
December 18
Explosion at a mosque inside Bangladesh Navy's Issa Khan Base in Chittagong after Juma prayers, left five to six people injured. 
December 10
Unidentified gunmen hurled a crude bomb inside a Hindu temple (ISKCON Temple) in Bahuchi village in Kaharol upazila in Dinajpur and opened fire at its entrance, injuring two people.
December 5
At least six people were injured next to the 18th century Kantaji Mandir in Kaharol upazila of Dinajpur when a bomb went off amidst spectators of a jatra (folk theatre) show, during a month-long Hindu festival known as raaspurnima mela.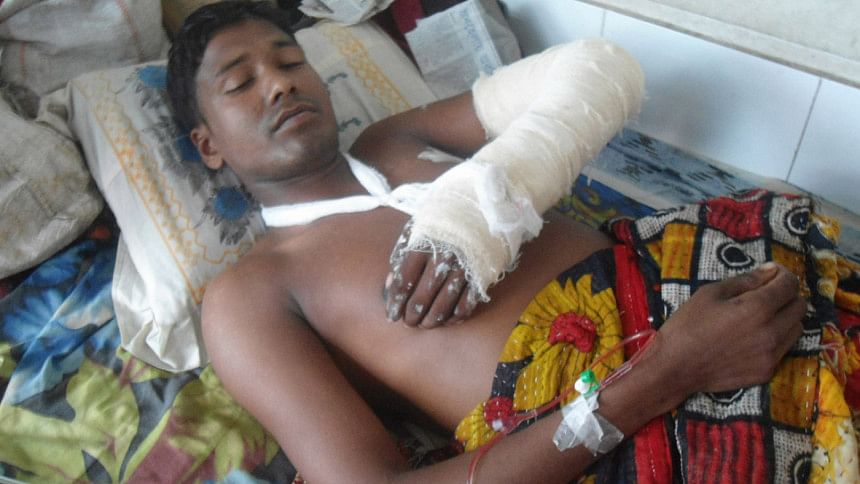 November 30
Birendranath Roy, president of the ISKCON Temple in Chirirbandar Upazila in Dinajpur was shot and injured by an unknown gang at Ranirbandar area.
November 27
Armed assailants stormed a Shia mosque in Shibganj upazila of Bogra and opened fire on praying people, killing the muezzin of the mosque-- Moazzem Hossain-- and injuring three others.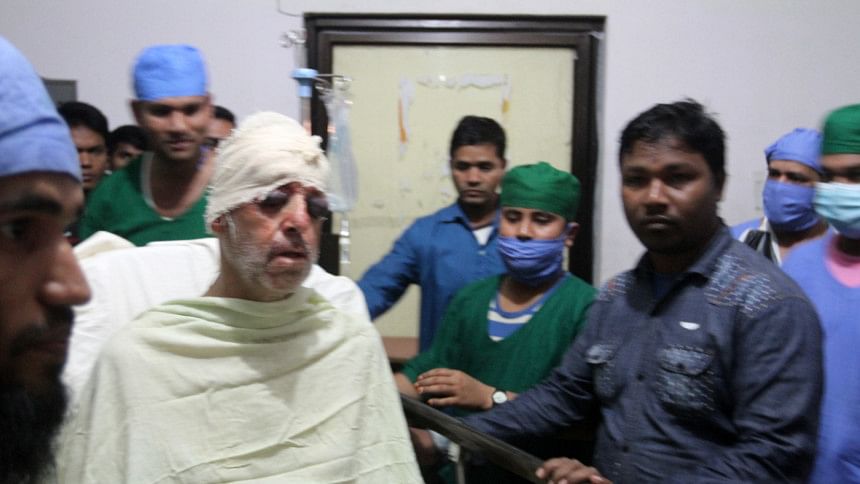 November 18
An Italian doctor and pastor at a Dinajpur church-- Piero Parolari-- was injured in a gun attack by unknown assailants in Dinajpur town. 
November 12
Unidentified criminals hacked Md Hasnayen, a khadem of a mazar at Hatikhana in Saidpur municipality area in Nilphamari.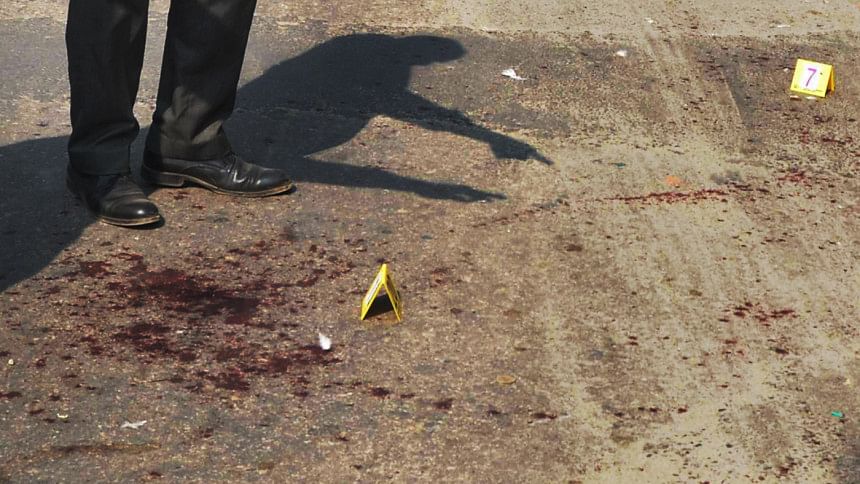 November 10
A man attacked a member of military police with a sharp weapon at a check post of Dhaka Cantonment in the capital's Kachukhet area.
November 10
Unidentified criminals hacked to death a mazar khadem-- Rahamat Ali-- in Choita intersection area under Kaunia upazila in Rangpur.
November 11
A prison guard of Faridpur district jail, Asaduzzaman, was attacked with a razor in Faridpur while on official duty.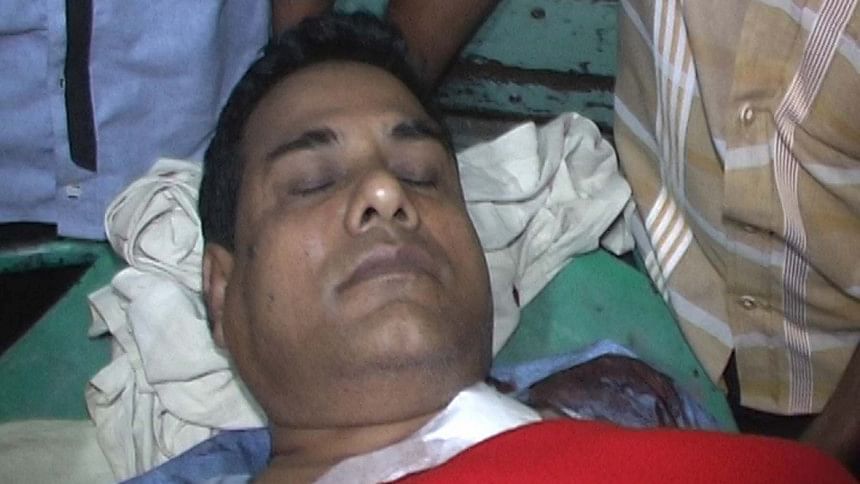 November 08
Miscreants shot and injured Ruhul Amin, director of Bahai Centre, Rangpur, and employee of Rangpur Medical College Hospital, at the Ideal intersection in Rangpur city on his way to his office.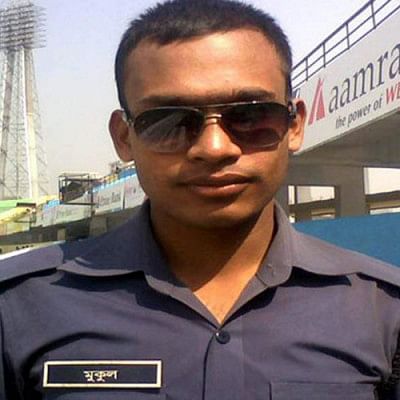 November 4
Unknown assailants hacked to death a police constable Mukul Hossain and critically injured his colleague Nur-e-Alam at a check post on Dhaka-Tangail highway in Ashulia, a outskirt of Dhaka city.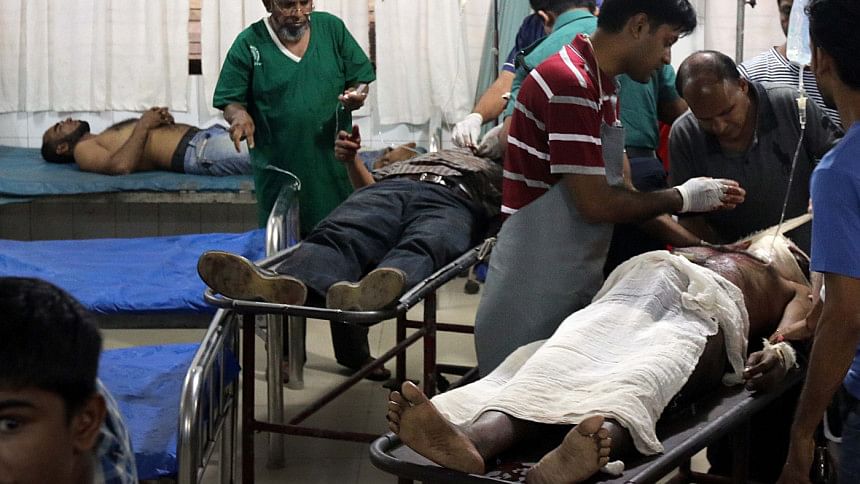 October 31
In a synchronised attack on publishers of slain secularist writer-blogger Avijit Roy, unknown assailants hacked to death Faisal Arefin Dipan of Jagriti Prokashani and critically injured Shuddhoswar's Ahmedur Rashid Tutul. Two other bloggers--Ranadipam Basu and Tareque Rahim—also came under machete attacks at the Lalmatia office of Shuddhoswar.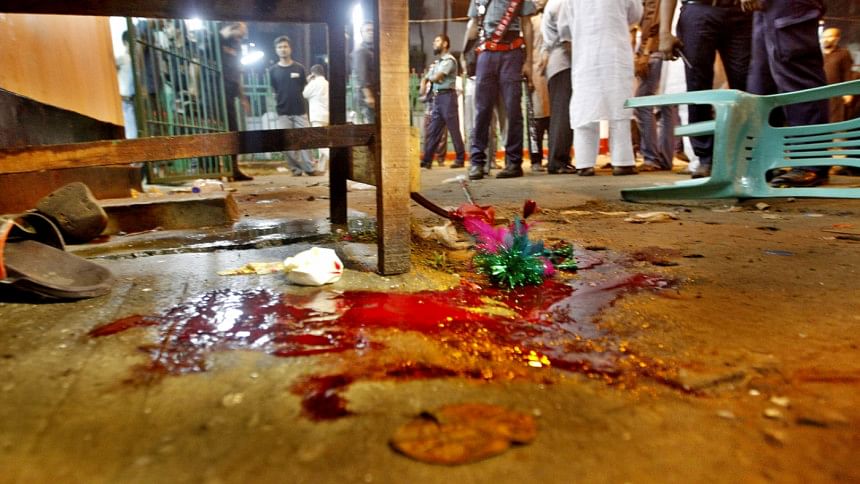 October 24
Two men were killed and scores were injured in bomb attack on gathered people in front of the Hussaini Dalan, a Shia centre in old Dhaka the day before Ashura.
October 22
Assistant sub-inspector of police Ibrahim Mollah was stabbed to death by a youth at a check point at the capital's Gabtoli when a police team was searching the young man's bag.
October 5
A church pastor-- Luke Sarkar—survived an attempt on his life when three unidentified youths slashed his throat at his house in Ishwardi upazila of Pabna.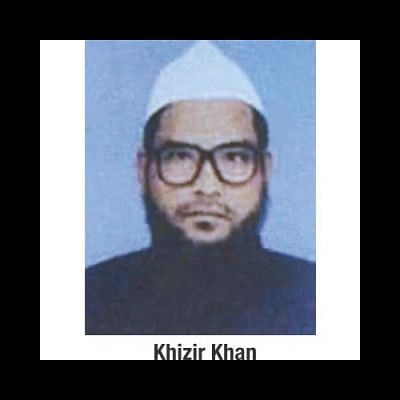 October 5
PDB Ex-chairman Muhammad Khizir Khan, who ran a Khankah Sharif, was murdered at his Madhya Badda house in Dhaka.
October 3
Japanese national Hoshi Kunio was shot dead by unidentified assailants when he was going to his farm at Alutari in Kaunia upazila in Rangpur.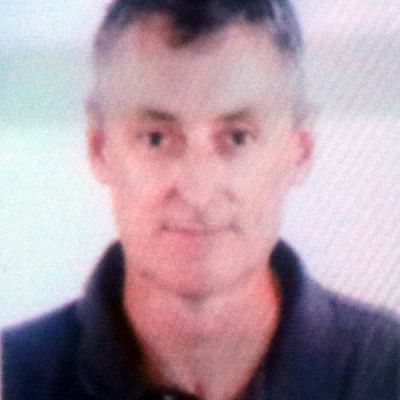 September 28
Italian national Cesare Tavella was shot dead by armed criminals in the capital's Gulshan diplomatic zone.
September 4
A pir--Rahamat Ullah, popularly known as Lyangta Fakir and his assistant-- Khadem Abdul Kader –were brutally murdered by an assailant inside his shrine in Bangla Bazar area of Chittagong city.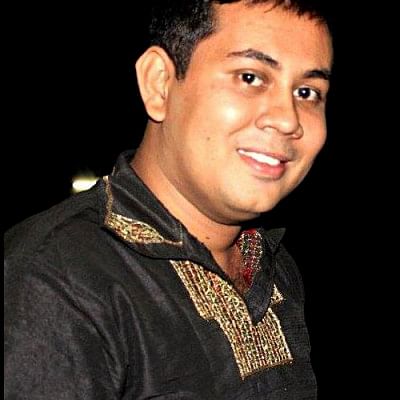 August 7
Blogger and Gonojagoron Mancha activist Niladri Chattopadhyay Niloy was hacked to death inside his Goran house in the capital in broad daylight.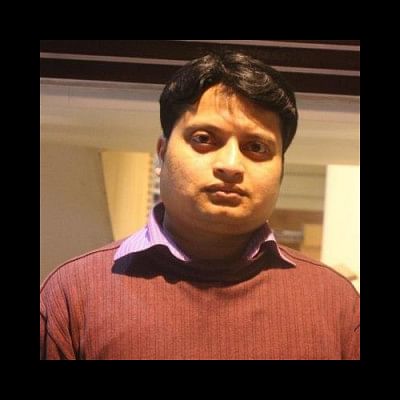 May 12
Blogger Ananta Bijoy Das, known for advocating science and secularism, was viciously hacked to death by a group of masked men at Subit Bazar in Sylhet city.
April 2
Alleged militants shot seven people dead and injured at least 25 others in Bangladesh Commerce Bank Ltd in Ashulia on the outskirts of the capital before escaping with Tk 35 lakh.
A mob captured and beat one of the robbers to death and an injured died later of his wounds.
March 30
Blogger and online activist Oyasiqur Rahman Babu was hacked to death in broad daylight by three cleaver-wielding youths in the capital's Tejgaon Industrial area.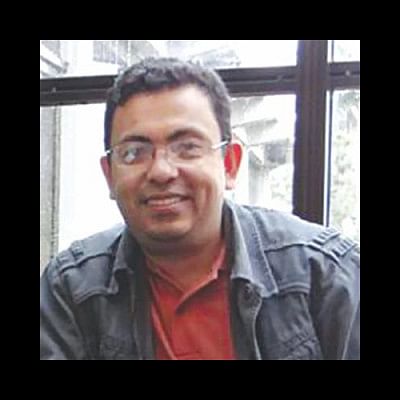 February 26
Writer and blogger Avijit Roy was hacked to death and his wife Rafida Ahmed Banna was badly injured on Dhaka University campus after the couple came out of the Ekushey Boi Mela.