Yaba inside brinjals!
DB arrests man with 2,000 pills hidden in 2 brinjals in Ctg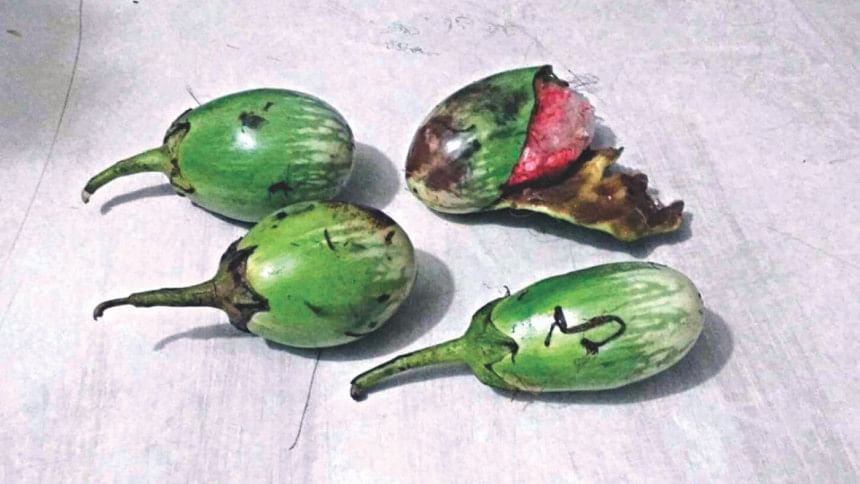 Detectives of Chittagong Metropolitan Police yesterday arrested a man while he was allegedly carrying about 2,000 yaba pills hidden inside two brinjals.
The arrestee, Ali Ahmed, 46, is from Teknaf of Cox's Bazar, said police.
Acting on a tip-off, a DB team frisked Ahmed on the ground floor of Jalsha Shopping Complex in Chittagong city's Kotwali area in the early hours of yesterday and found four brinjals, wrapped in a polythene bag, from his possession, Assistant Commissioner Asif Mohiuddin of DB (Bandar), told The Daily Star.   
"We recovered about 2,000 yaba tablets hidden in two of the brinjals," he said.
Ahmed was arrested and handed over to Kotwali Police Station. Later, a case was filed against him with the police station, he said.
Earlier on July 1, DB men recovered 4,000 yaba pills from a digital wall clock and arrested a man in that connection.
The illegal business of the crazy pills seems unstoppable. As the law enforcement agencies have been cracking down on the harmful drug, the peddlers are resorting to new techniques to carry them. They are peddling yaba pills inside gourds, jackfruits, wall clocks, books, laptops, sugarcane etc to dodge the law enforcers.