Wasfia becomes first Bangladeshi to scale seven summits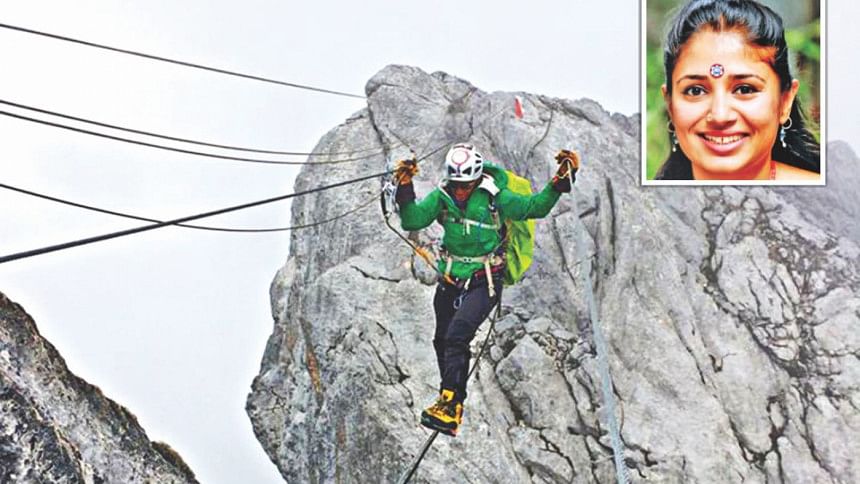 No mountain is high enough for Wasfia Nazreen, who became the first Bangladeshi to climb all seven highest peaks in seven continents, also known as the "Seven Summits".
The National Geographic adventurer reached the summit of Carstensz Pyramid, the highest mountain of Oceania/Australasia, completing the challenge of scaling seven highest mountains around the world.
With this, the 33-year-old mountaineer and a rights activist completed her campaign named "Bangladesh on Seven Summits".
Wasfia reached the top at 10:19am local time on November 18. She was accompanied by Indonesian adventurer Joshua Noya, according to the Bangladesh on Seven Summit Foundation. She and her friends had formed the foundation four years ago.
Sharing her experience with the BBC Bangla service last night, Wasfia, who is now in Indonesia, said, "Believe it or not, Carstensz Pyramid was the toughest and remotest mountain I have ever climbed in my life. It was tougher than Everest and Denali. Because it's a technical mountain."
She said she cried like a child on the night of her summit. "I just wanted to be alive," Wasfia said.
Since not so many people had climbed the granite mountain, she said, she had to do everything on her own and even make her own way to climb. "I was terrified in every moment."
Wasfia said when she reached the summit, she was emotional. "At least I have kept the promise I made to my country four years ago when Bangladesh turned 40," she told BBC Bangla.
The Seven Summits present different challenges that have to be overcome with extreme and testing fortitude. Summiting all of them is regarded as one of the world's biggest mountaineering challenges.
The Seven Summits is a dream for many climbers, but only a few have succeeded. Wasfia now proudly belongs to the group.
Carstensz, locally known as Puncak Jaya in Indonesia's Papua province, entails the "most consistently steep and technical climbing of all the seven summits", according to a Facebook post of Korvi Rakshand, spokesperson for the foundation. It is 4,884-metre high.
This is also the first time any Bangladeshi climbed this mountain, Korvi Rakshand told The Daily Star yesterday.
Wasfia dedicated the completion of the four-year-long journey to the "Spirit of '71 and all those who are fighting to protect it", he said.
"We started the campaign to celebrate Bangladesh's 40th anniversary of independence. It's an effort to fulfil the spirit of '71," Korvi said, quoting Wasfia. She thanked everyone who supported her during the campaign.
He said Wasifa informed them of her feat through satellite phone.
Wasfia is the second Bangladeshi woman to conquer the Mount Everest. She set foot atop the world's highest peak on May 26, 2012.
In 2011, Wasfia, also a writer, took up the challenge to climb the highest mountain in each of the seven continents in celebration of Bangladesh's 40 years of independence and women empowerment.
She climbed Mount Elbrus in Europe, Mount Aconcagua in South America, Mount Denali in North America, Mount Vinson Massif in Antarctica, Mount Kilimanjaro in Africa, and Mount Everest in Asia.
She was named an Adventurer of the Year 2014-15 by the National Geographic.
The Washington-based magazine, also known as Nat Geo, nominated her as one of the recipients of the honour in the activist category for her commitment to empowering women and girls in Bangladesh. Every year it nominates 10 achievers from different fields for the annual award.
On her Facebook page, Wasfia said she was eager to set foot on her homeland Bangladesh -- after four years of pursuing the Seven Summits.