Wait ends at the stroke of midnight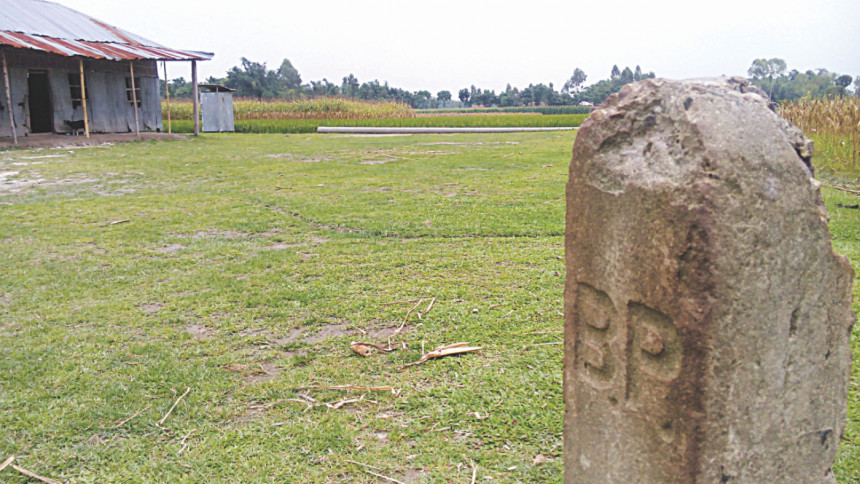 When the clock strikes 12:00 tonight, around 52,000 inhabitants of 162 enclaves inside Bangladesh and India will taste freedom after living in a stateless limbo for 68 years. They will become citizens of either of the countries based on their choice, as the neighbour countries will exchange the adversely possessed territories, bringing an end to decades of isolation and deprivation of the people living there.
The residents of 111 Indian enclaves inside Bangladesh are all set to take up new identities tonight as the neighbouring countries exchange the adversely possessed pieces of land at the stroke of midnight.
To mark the end of 68-year-long life of statelessness, deprivation and obscurity, they will light 68 candles, release 68 balloons and explode 68 firecrackers.
While festivities have already begun in some enclaves, more boisterous ones are planned once the exchange takes effect and the hitherto stateless people are recognised as citizens of either Bangladesh or India based on their choices.
The boundary pillars -- known as the British Pillars, set up to demarcate enclave lands during the British Raj -- will be dismantled and the Indian flags will be taken down this evening.
And tomorrow morning, the red and green flag will fly in the areas which, though encircled by Bangladesh, so far belonged to India due to a bizarre demarcation during the partition of the sub-continent in 1947.
"Just a few more hours and I will be a citizen of an independent country. I will taste freedom for the first time in my life," said Nurul Islam, who is as old as the enclaves themselves.
"We will now be able to enjoy state facilities of Bangladesh as we opted to become Bangladesh nationals," the inhabitant of Indian enclave of Banshpachai in Lalmonirhat Sadar upazila told our correspondent there.
Nabera Begum, 55, of the same enclave too chose to be a Bangladesh national. "It's a dream-come-true moment for us."
The younger generations too were excited.
"I will no longer have to use fake identities ... None will call us Chhit people anymore," said ninth grader Hamidul Islam, 14, of Gotamari enclave in Lalmonirhat's Hatibandha. He studies at a school in Bangladesh mainland using a fake address.
Azizul Islam, general secretary of Lalmonirhat district unit of India-Bangladesh Enclave Exchange Coordination Committee (IBEECC), said they will offer special prayers and arrange cultural functions to celebrate the occasion.
People will also remove all the 92 British Pillars at 59 Indian enclaves in the district, he said.
Deputy Commissioner Habibur Rahman of Lalmonirhat said the national flag of Bangladesh will be hoisted in all these enclaves tomorrow.
In Kurigram district, people of Dashiarchhara enclave, where the head office of Bangladesh unit of the IBEECC, have planned two-day programmes to celebrate the historic occasion, reports our Kurigram correspondent.
The programmes include special prayers, boat race, lighting 68 candles, discussions and cultural event today.
They will formally hoist the Bangladesh flag and sing the national anthem at 9:00am tomorrow.
The exchange of the enclaves takes place as per the Land Boundary Agreement signed between Bangladesh and India.
There are 111 Indian enclaves located in four districts in Bangladesh -- 59 in Lalmonirhat, 12 in Kurigram, 4 in Nilphamari and 36 in Panchagarh.
In India, there are 51 Bangladeshi enclaves and similar was the picture of celebration in those.
The main programme will be held in Mashaldanga enclave, reports a correspondent from Cooch Bihar of India's West Bengal.
People there too will light 68 candles as they become Indian citizens tonight. Cooch Bihar district administration has taken elaborate security measures to avert any untoward situation.
"Many people including researchers from home and abroad will witness the historic moment," said Diptiman Sengupta, joint secretary of the IBEECC's India unit.
"A documentary will also be screened and some people will narrate their accounts of the inhuman lives they had to live," he said.
STRIP MAPS EXCHANGED
Bangladesh and India yesterday exchanged 30 signed strip maps of the undemarcated land boundary.
With this, the two countries have so far exchanged 1,144 such maps in attempts to resolve the nearly seven-decade-old border disputes.
"This will end a 68-year-old unsettled issue over demarcation that caused a lot of problems. Now that it is resolved, the two countries are clear about their territories," Anwar Hossain, director of the land record and survey department of Bangladesh, told The Daily Star yesterday.
However, the strip map of a 2km border at Muhurir Char (Feni in Bangladesh and Belonia in Tripura) has yet to be completed due to differences of claim.
A strip map is a simple drawing of a route to include critical points along the border, roadside features and town facilities. It usually incorporates distances.