Villagers kill leopard after it injures 3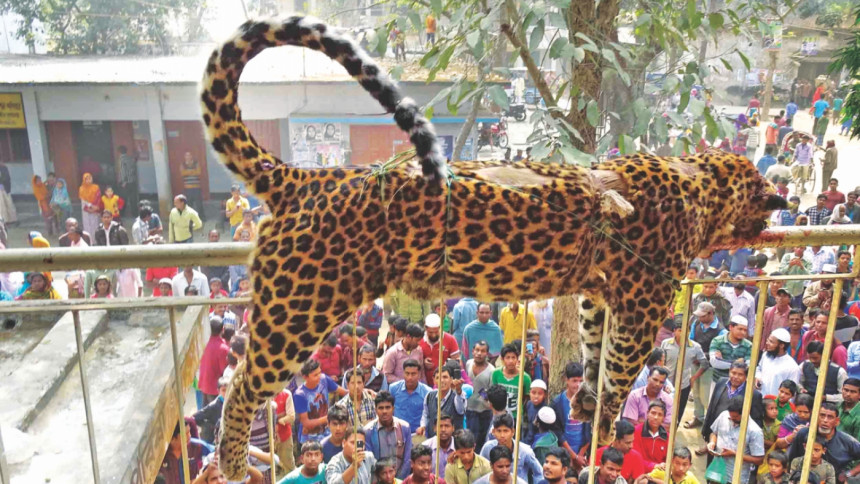 A leopard which entered the locality of Shreebordi municipality in Sherpur attacked the municipality mayor who was trying to get a peek at it yesterday morning.
Two others were also injured while trying to rescue the mayor from the leopard. Later, villagers beat the animal to death.
Mayor Abu Sayeed, 30, was admitted to Mymensingh Medical College Hospital with injuries on his right cheek and head.
According to the police, forest department officials and locals, the leopard entered Jalkata area from the Garo hills in India in the early hours of yesterday.
It then took shelter inside an irrigation pump house.
As the news spread, hundreds of people went there to see it. Mayor Abu Sayeed too went there around 10:30am.
At one stage, the leopard swooped on the mayor when he went near the room to get a better view of the animal, leaving him critically injured.
He lost a chunk of flesh from his right cheek in the attack. Two others -- Nader, 50, and Azizul, 45, -- were injured while trying to rescue the mayor.
Villagers then caught the leopard and beat it to death with sticks. Later, they hung the carcass on a railing of the Upazila Parishad office.
Anawar Hossain, civil surgeon of Sherpur Upazila Health Complex, told this correspondent that the mayor was badly injured in the right cheek, head and an ear. Initially, he was taken to Sherpur Sadar Hospital but was shifted to Mymensingh Medical College Hospital for better treatment later.
He hoped that the mayor would recover soon.
Rezaul Karim, assistant conservator of forest in Sherpur, said the leopard might have crossed into Bangladesh from the Indian state of Meghalaya.
It might have got scared seeing so many people around and attacked the mayor as he went too close, he said, adding that the carcass was buried after an autopsy.
S Alam, officer-in-charge of Shreebordi Police Station, said a general diary was lodged in this regard.