Rights Abuse in Bangladesh
US report focuses on extrajudicial killing, disappearance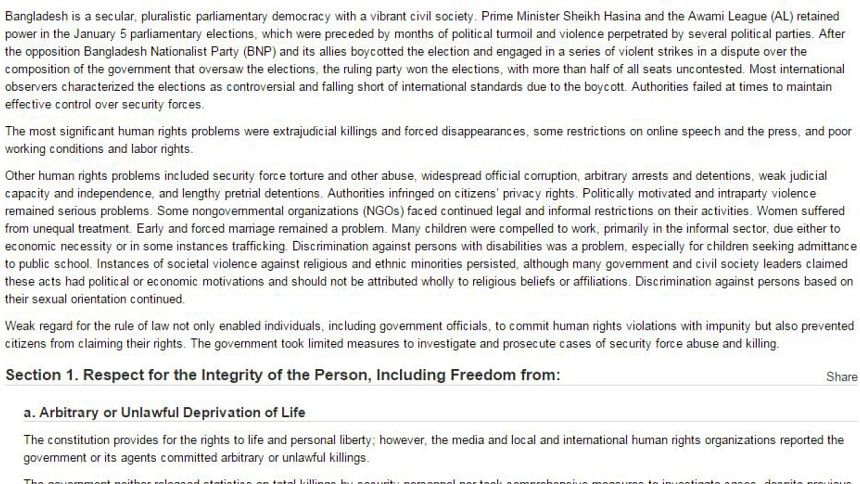 The United States has said extrajudicial killings, forced disappearances, some restrictions on online speech and the press, poor working conditions and labour rights were the most significant human rights problems in Bangladesh last year.
While political affiliation was sometimes a factor in the arrest and prosecution of members of the opposition parties, the government did not prosecute individuals solely on political charges, the US said in a new report on human rights.
On June 25, US Secretary of State John Kerry presented the 2014 Country Reports on Human Rights Practices at the US Department of State in Washington DC.
The annual reports on human rights practices, commonly known as human rights reports, cover the status of human rights in countries around the world.
According to the new report, the Bangladesh government took limited measures to investigate and prosecute cases of security force abuse and killing.
It said the constitution provides for freedom of speech and press, but the government sometimes failed to respect these rights.
There were some limitations on freedom of speech and some journalists self-censored their criticisms of the government for fear of harassment and reprisal, according the report.
Prime Minister Sheikh Hasina and the Awami League retained power in the January 5 parliamentary elections, which were preceded by months of political turmoil and violence perpetrated by several political parties.
Most international observers characterised the elections as controversial and falling short of international standards due to the boycott (by the BNP and its allies), it added.
Other human rights problems in Bangladesh included security force torture and other abuse, widespread official corruption, arbitrary arrests and detentions, weak judicial capacity and independence and lengthy pretrial detentions.
Authorities infringed on citizens' privacy rights. Politically motivated and intra-party violence remained serious problems, it observed.
The report claimed some non-government organisations faced continued legal and informal restrictions on their activities.
Women suffered from unequal treatment. Early and forced marriage remained a problem. Many children were compelled to work, primarily in the informal sector, due either to economic necessity or in some instances trafficking.
Weak regard for the rule of law not only enabled individuals, including government officials, to commit human rights violations with impunity but also prevented citizens from claiming their rights, said the report.
Disappearances and kidnappings, some committed by security services, continued.
Quoting human rights NGO Odhikar, the report said from January through September, there were 35 disappearances allegedly involving security personnel, compared with 14 in all of 2013. For the same period, Ain o Salish Kendra estimated there were 80 disappearances, compared with 53 in all of 2013.