Uphold dignity of mother tongue
PM urges at Ekushey Padak-giving ceremony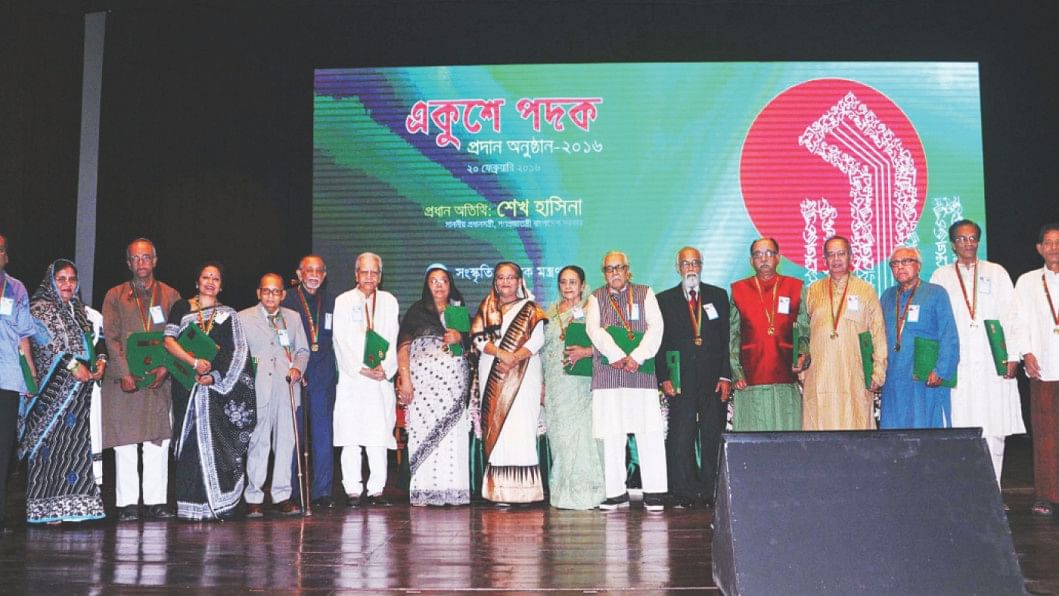 Stressing the importance of learning mother tongue first, Prime Minister Sheikh Hasina yesterday urged all to uphold the dignity of Bangla.
"I call upon all to uphold the dignity of our mother language achieved in exchange for huge blood," she told a function at Osmani Memorial Auditorium in the city.
The programme was organised to distribute Ekushey Padak 2016 among 16 eminent personalities for their outstanding contributions to various fields.
"Our children must learn other languages. It'll be the real education if they first learn mother tongue and then the others. Our society will have to be conscious in this regard," the PM said.
People will have to move ahead with self-confidence and thus further develop this country so that the Bangali nation has its due place on the global stage with its head held high, mentioned Hasina. "Ekushey February is not merely a day… it flourishes our spirit and teach us not to bow down to injustice."
She suggested the cultural affairs ministry project the history of Ekushey February in various languages.
Noting that the Bangali nation had gained its hard-fought independence in 1971 following the path of February 21, Hasina said: "As Bangali nation, we have a unique tradition, characteristics and own literature, arts and culture. We'll have to retain it and teach our future generation to follow it."
She remembered with great respect the sacrifices of the language martyrs. She said it was Father of the Nation Bangabandhu Sheikh Mujibur Rahman who had proposed forming Rastrabhasha Sangram Parishad in 1948 that initiated the struggle for establishing Bangla as the state language.
About honouring eminent personalities with Ekushey Padak, Hasina said although this is a humble endeavour to recognise their contributions, the real aim is to encourage the future generation so that they could follow these personalities and thus love the country, its people, literature, culture and engage themselves in research and cultural practice.
Cultural Affairs Secretary Begum Aktari Momtaz delivered the welcome address at the function, with Cultural Affairs Minister Asaduzzaman Noor in the chair.
The recipients of Ekushey Padak 2016 are: Justice Kazi Ebadul Haque, Dr Sayed Haider, late Syed Golam Kibria (posthumous) and Dr Jashimuddin Ahmed for their contributions to Language Movement, Begum Jahanara Ahmed (arts - television and film), Pandit Amaresh Roy Chowdhury (arts -classical music), Begum Shaheen Samad (arts - music), Amanul Haque (arts - dance), late Kazi Anwar Hossain (arts - painting) (posthumous), Toab Khan (journalism), Prof Dr ABM Abdullah (research), Mongsen Ching Monsin (research), Joityprakash Dutt (language and literature), Prof Dr Hayat Mamud (language and literature), Habibullah Siraji (language and literature) and Mafidul Haque for his contributions to Liberation War.
The award carries a gold medal, a citation and a cheque of Tk 2 lakh each.