Twin tragedies strike within eight hours
Two schoolgirls crushed under reckless buses near Ramna Park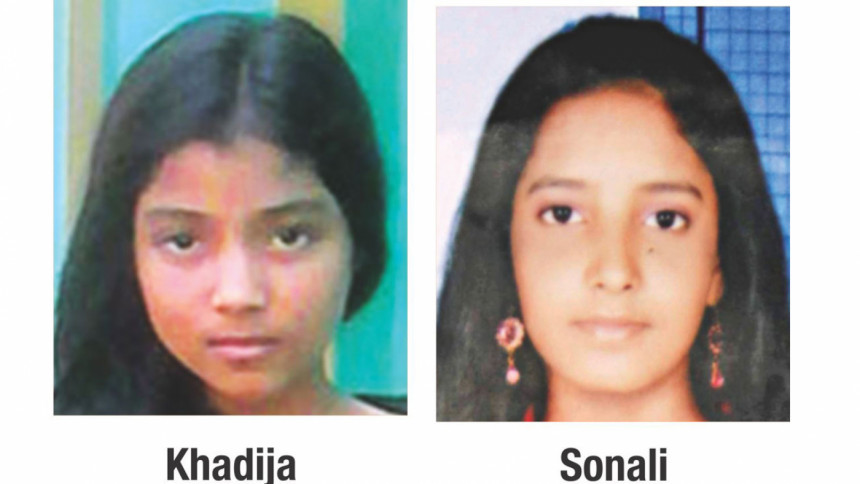 She wanted a new school dress, white in colour, as she would be admitted to Tejgaon Government Girls High School. But what her father had to buy for her yesterday was a piece of white cloth, a shroud, thanks to reckless driving on a city street.
Sabiha Akhter Sonali, 14, a student of Begum Rahima Ideal Girls High School in Segunbagicha, was going to Farmgate area to complete her admission in class-IX at the new school yesterday morning.
As she reached near the Bangladesh Bar Council building in Ramna park area and was trying to cross the street, a bus of Jatrabari-Farmgate-Gabtali route ran over her around 7:45am, said police.
Tragedy struck not only Sonali's family yesterday.
Only eight hours later, another schoolgirl was crushed to death under a bus at nearby Shahbagh intersection.
The second victim, Khadija Sultana Mitu, 12, was a class VI student of Lakkhanpur High School in Monohorpur, Comilla. She came to her sister's house in the capital's Shyampur a couple of weeks ago to spend the vacation after her final exam.
'ALL IS LOST'      
Sonali secured GPA-5 in JSC exams, said her poor father Zakir Hossain. His son studies diploma engineering at a polytechnic institute in Narsingdi and the monthly expenditure on their education had reached taka five to six thousand.
Sonali went out alone in the morning, said Zakir, a painter. Before leaving, she asked him to buy her new school dress, made of poplin fabric and white.  
"Now I had to buy a white piece of cloth. It's not for her school dress; it's her shroud," he said, weeping, while talking to some reporters at the DMC morgue.
The family wanted a bright student like Sonali to study science at a government institution at a low cost and become a doctor someday, he said.
In front of their Segunbagicha house, her mother Sharmin Akter said all their dreams have been shattered just in moments.
"We wanted her to be a doctor and serve the nation. Now all is lost," she said, wailing. 
Just before the accident, Sonali was on the road island. As she took a couple of steps while trying to cross the road, the bus knocked her down. The rear wheels crushed her head, said Mala Begum, who saw the accident from a close distance.
Abu Bakar Siddique, officer-in-charge of Shahbagh Police Station, said the accident left her dead on the spot. After an autopsy at the DMC morgue, she was buried at Azimpur graveyard in the afternoon.
Following the accident, pedestrians and locals blocked the road, stretching from Matsya Bhaban to Shahbagh, for nearly an hour before dispersing, said the OC.
The bus was seized but its driver fled, he added.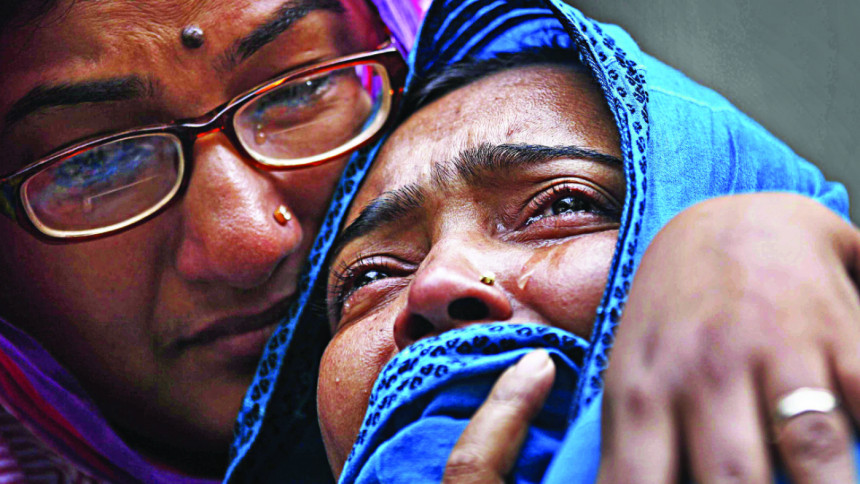 THE LAST DAY OUT
Mitu, along with her sister Ayesha, nephew and brother-in-law Omar Faruq went for a day out yesterday to visit Shishu Park.
They enjoyed several rides there and took photos of each other, said Faruq. From the park, they headed to Shahbagh to have some food around 4:00pm.
"As we reached the intersection and tried to cross the street, a bus from Gulistan, bound from Gabtali via Elephant Road, hit her," he added.
She was rushed to Dhaka Medical College Hospital (DMCH), only to be declared dead by doctors, said hospital sources. 
"What will I tell her father now?" the brother-in-law said to himself at the hospital. 
Talking to this newspaper, Faruq said Mitu had secured GPA-5 in the primary terminal exam this year.
The accident prompted locals to block roads for an hour. Police nabbed driver Shahin and seized the bus from the spot.