Trishal girls in action
4 child marriages foiled in 10 months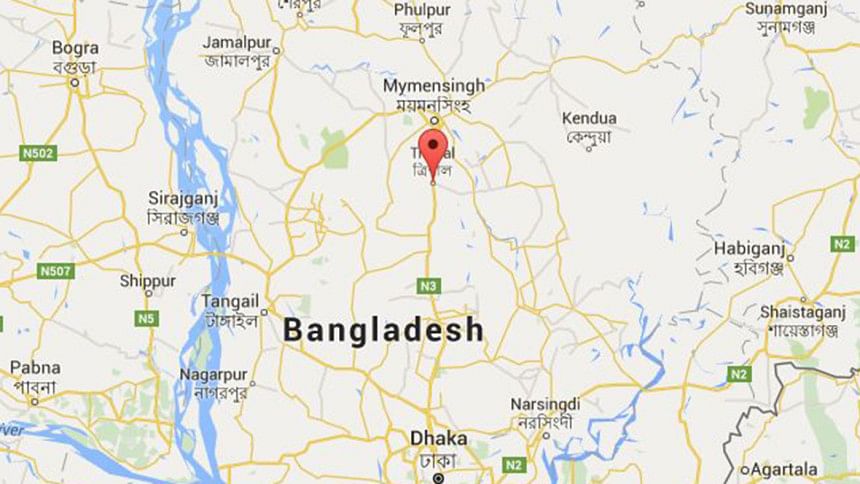 A group of 12 schoolgirls has created waves in the local community by preventing four child marriages over the last two weeks in Balipara union of Trishal upazila of Mymensingh.
The girls' squad runs with the motto -- "Prevention is better than cure". It was set up by an initiative from the local administration.
Abu Jafor Ripon, upazila nirbahi officer (UNO) of Trishal, came up with the idea to form this group to prevent child marriages and stop eve-teasing.
Its members are all students from class six to nine at a local school.
The girls' squad is the first such initiative by the local administration that has provided the girls with bicycles, uniforms and caps and assists them all the time.
The squad members are connected to the office through a hotline number, said Abu Jafor, who is also the chief coordinator of the group.
Once a squad member finds out a child marriage has been arranged or is about to be arranged, she calls the hot line number. Then an official of the administration accompany the girls to speak to the parents to stop the marriage.
Mahbuba Alam Tripti, the squad leader said, 'We managed to stop two child marriages in Dhala village on November 4".
"We also managed to prevent two other child marriages in Dakkhin Balipara and Dhala Bazar area through discussions with the girls' parents and their relatives on November 9 and November 13."
She added that they were getting spontaneous support from guardians and locals alike.
Other members of the group are Mahima Sultana Anu, Diya, Mim, Eti, Jakia, Niva, Jenny, Rima, Binafa, Afsana and Aklima.
The squad was formally formed at a programme on Dhala High School and College ground on October 31.
Deputy Commissioner of Mymensingh Md Khalilur Rahman inaugurated the programme as chief guest. District secretary of Awami League advocate Moazzem Hossain Babul, local union parishad chairman Golam Mohamamd Badal, school headmaster Anwar Hossain and school managing committee president Abdul Baten addressed the session, among others.
Anwar Hossain praised the squad members, saying the girls were monitoring the local area and ready to intervene whenever necessary.
The UNO said at the launch that it is easier to prevent child marriages by discussions with the girls' parents than trying to stop the marriage after everything has been fixed because it becomes a social embarrassment for all persons concerned.
Rafiqul Alam, a local parent, reiterated this by saying that in such circumstances it is the girl child who is again victimised because people are able to identify her and talk about her.
The UP chairman Golam Mohammad Badal said formation of such a squad, an initiative the by UNO Abu Jafor Ripon, has already created positivity among the locals.
The UNO is very optimistic about this initiative. He hopes that soon two such squads will be formed in every union of the upazila gradually to fight prevent child marriage.