Trafficking through Nepal surfaced
One man responsible for turning 52 Bhola families broke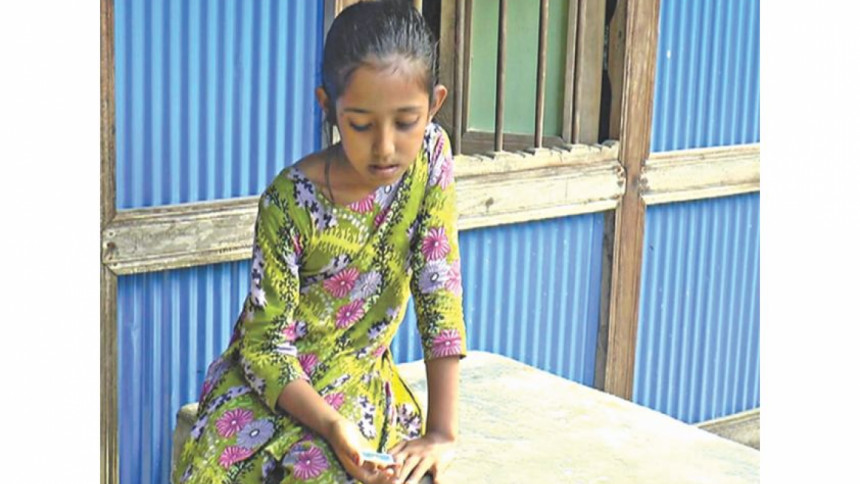 At least 52 families in Bhola's Charfashion are now broke because of one broker of an international human trafficking gang.
Broker Faruque Hossain, a resident of Charfashion's Uttar Mangal village, had promised them jobs in Singapore, Canada and Sweden to rob them off everything.
Each victim paid Faruque, now arrested, between Tk 5 lakh and Tk 8 lakh in phases since 2012.
Of the victims, 23 men are from Uttar Mangal while eight, 10, five and six are from Anjur Hat, Char Kalmi, Awazpur and Dhalchar, police records say.
According to The Daily Star investigation, an estimated 2.5 lakh people from about 40 districts were lured into perilous sea voyages to Malaysia in the last eight years.
This number is just a tip of the iceberg with Faruque's story bringing forth the fact that traffickers used numerous routes in running the business and sea is just one of many. 
Police arrested Faruque after Jahangir Farazi, father of trafficking victim Akhter, filed a case on May 18. Faruque showed up at his Uttar Mangal home the day before, after going off the grid for about three years.
It was not before 14 days had passed police took Faruque on remand only for a day to question him, even though human trafficking had become a global issue since early May.
Faruque had 14 of his 52 victims intruded into Nepal through India, without passport since 2012, according to victims and their relatives.
He got Nepalese passport for two of them -- Alamgir and Shahabuddin -- and sent them to Saudi Arabia as Nepalese citizens for working in a steel mill for Tk 15,000 a month.
The other 12 victims could not make it out of Nepal, where they were confined to a house in an unknown location, said two of the victims -- Suman and Abdul Khaleque -- who have managed to escape and come home.
The remaining 38 victims could not have their journey, though they all paid Faruque.
After his arrest, Faruk claimed that he had sent four people abroad taking Tk 3.65 lakh from each, police sources said. 
Faruque and his father Selim Munshi lured all 52 victims. Selim's role was getting people and then taking them to Dhaka. They were handed over to a man in the capital who in turn took them to another man across the Hili border in Dinajpur.
The victims were then taken directly to Nepal, the sources said. 
Faruque joined a trafficking gang after returning from Malaysia in 2011. He lived in Malaysia for three years.
Suman, who managed to escape, told The Daily Star that Faruque married a Nepalese woman -- Jhumpa -- who is also a part of the gang.
 "She [Jhumpa] teaches victims Nepalese as it makes it easier to get a Nepalese passport," said Suman.
Suman and Khaleque returned home in February this year. They each had paid Faruque Tk 5 lakh.  
It takes three months to a year to get a Nepalese passport, Suman claimed. He used the word "miserable" in describing his life in the house guarded by Nepalese men.
 Victim Shahbuddin travelled to Saudi Arabia as a Nepalese citizen in 2014. He had sold 1.8 acres of land to pay Tk 8 lakh to Faruque to go to Singapore. He is on the run in the kingdom as the police were after him for intruding into the country, his wife said.
Alamgir, working at a steel mill factory in Saudi Arabia, had paid Faruque Tk 4 lakh in 2013, his family said.
Alamgir's brother Atahar said, "Faruque wanted another Tk 3 lakh if we wanted our brother to move to Singapore from Saudi Arabia."
Atahar paid Faruque the Tk 3 lakh selling 50 decimal of land.
Another victim Abdur Rob told The Daily Star that he had paid Faruque Tk 8 lakh in phases since 2012. He had undergone medical tests thrice for going to Singapore, Malaysia, and Libya. His is still waiting his turn to go.
Relatives of the victims don't know how to deal with Faruque. They are torn between worries over the safety of their loved ones, getting their money back and punishment for Faruque.   
Faruque gave the victims and their family members a reason to be afraid of. In one afternoon, during Suman's confinement in Nepal, Faruque went to see the victims with a glass filled with the blood of a slaughtered goat. 
"Blood keeps me healthy. I would like to drink your blood too," Suman quoted Faruque as saying.
Programme Officer of International Organisation for Migration in Bangladesh Asif Munier said though it is hard to determine the numbers of people like Faruque, their presence is evident in the numbers of trafficking victims.
"People like Faruque live among us and spread their networks across the country and obviously they have links with international human trafficking syndicates," said Asif.
On May 30, Rapid Action Battalion claimed to have arrested three human traffickers, who coerced fortune seekers to work in paint factories in India's Chennai and Tamilnadu.
On May 6, Rab arrested two traffickers -- Mujibur Rahman and Faisal-ur-Rashid -- at Khulna. Eleven victims attended the press briefing Rab organised afterwards. According to the victims, 26 victims were confined to a house for 20 days in a remote Nepalese village. They were released after families paid between Tk 14 lakh and Tk 20 lakh ransom.