Tigers fans going global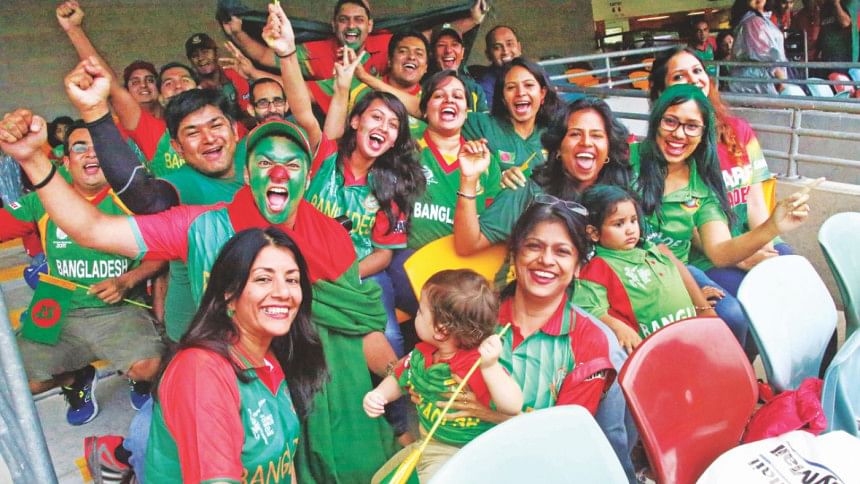 Traditionally it has been the Indian and Pakistani fans that have best represented the sub-continent during international cricketing tournaments abroad. Be it in the West Indies, England or South Africa, fans from India and Pakistan have always managed to be the most vocal and the most visible on television.
It's been the South Asians that have been making most of the noises this time as well with the only difference being the huge Bangladeshi contingent. From getting published on the front page of Australian newspapers to making the Tigers feel at home, the World Cup so far has seen a very determined group of Bangladeshi fans.
So much so, that a large number of them stayed on at the Brisbane Cricket Stadium battling the rain throughout the morning. They knew that there was a very slim chance for the match to take place, but that didn't stop them as they poured in numbers with their umbrellas and raincoats. On the contrary, most of the Australian fans left the field long before the match was abandoned in the afternoon.
"We had planned everything four months ago. We wanted come here and observe the International Mother Language Day by singing 'Amar Bhaier Rakte Ranggano' after the national anthem. There was so much excitement," a frustrated Amin, who recently completed his PHD here, said.
"As per my knowledge there are about eight thousands Bangladeshis living in the city and everybody was looking forward to this match," he added.
While Amin lived in Brisbane, his acquaintance Nazmul came all the way from Sydney.
"My friends and I had very little hope with regards to the match but we came along anyway! We wanted our Tigers to put in a good performance, even if not a win. That would have definitely given us the confidence," he said.
While the fans in the stands were no doubt frustrated, the washout however most definitely will not kill their spirit. For one, Bangladesh's chances of progressing to the next round have received a slight boost with the extra point. They are now placed third, behind the hosts in Pool A. And as Bangladesh's fans would know best, if the Tigers get into a good rhythm they tend to make the most of it.
An Australian paper yesterday described skipper Mashrafe Bin Mortaza's wish of playing the game at the Gabba as 'ridiculous'. However, Bangladesh's players, who spent most of their time watching the West Indies drub Pakistan by 150 runs at Christchurch on TV, were actually a bit disappointed with the wash out. They were looking forward to finally play at one of Australia's premier cricketing venues. They have only played at Canberra, Darwin and Cairns so far.
However, all that Mashrafe and co can do right now is look forward to their vital clash against Sri Lanka at Melbourne this Thursday and hope they can make the most of this additional point.