Three hurdles for 8pc growth goal
Development partners suggest energy sector reform, infrastructure development, more competitiveness to achieve targets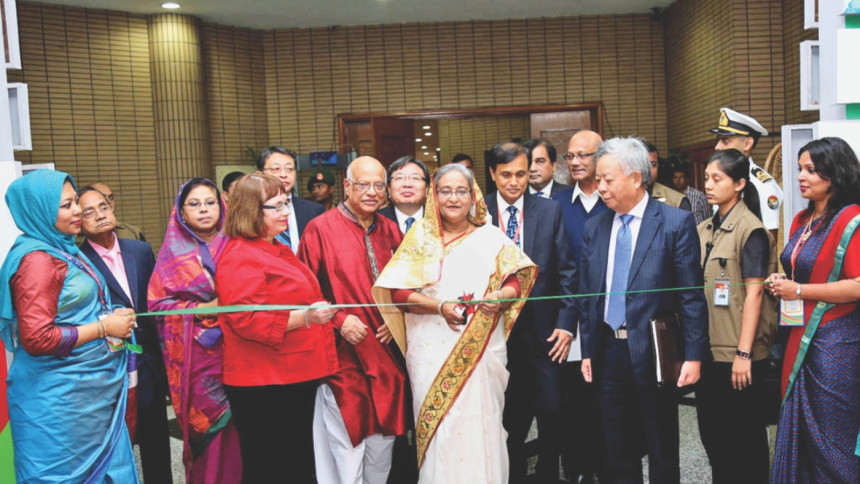 The government yesterday sought more support from international partners to help attain its ambitious development goals for the next five years and beyond, while donors pointed out three major challenges facing Bangladesh.
Bangladesh has to raise its investment-GDP ratio to accelerate economic growth to 7-8 percent from the average of 6 percent, said Martin Rama, chief economist for South Asia at the World Bank, speaking at the Bangladesh Development Forum 2015.
The two-day high-level forum, which began at Bangabandhu International Conference Centre yesterday, brought together ministers, top government officials, representatives of development partners and civil society to find the areas of strengthening partnership for the country's development.
Speaking at a panel discussion on the macro-economic management, Rama said the targets in the Seventh Five-Year Plan were ambitious and would not be easy to reach them.
Increasing investment faces challenges from three aspects: energy, infrastructure and competitiveness, he said.    
"Pricing policy has to reform to attract investment in the energy sector, while financing is required in the infrastructure sector. For arranging financing in the infrastructure, the tax-GDP ratio has to increase. To do so, the VAT laws have to be implemented," he said.
In order to improve competitiveness, the barriers outlined in the WB's latest Doing Business report have to be removed. Otherwise, foreign investors would not come, said the economist.
He was backed by Rodrigo Cubera, a senior official of the International Monetary Fund. He said in future, Bangladesh would have to generate more revenue from domestic sources.
The IMF official recommended the implementation of the new VAT laws as soon as possible.
Finance Minister AMA Muhith acknowledged the plans as ambitious. "No doubt, this is an ambitious target but the consistency of our development performance in the last six years prompts us to seriously strive for achieving this new target."
He said while much of the additional resources would need to come from the national savings, there will also be a need for drawing on foreign savings.
"The increased requirements of foreign resources, especially investment, will present a challenge for Bangladesh during the Seventh Plan and beyond.
"We hope that we will get our development partners on our side as before to overcome those challenges and to make our journey from lower to higher middle income country possible," he said at the opening ceremony.
The minister stated four major challenges: continued proliferation of standalone projects and heavy aid fragmentation; less vibrant coordination between sector-level working groups resulting in less alignment with sectoral plan; low harmonisation and low use of country systems; and capacity deficits and implementation lag.
Robert Watkins, UN resident coordinator in Bangladesh, said the economic growth achieved by Bangladesh was good, but inequality has to reduce and attention has to be given to governance and public safety.
In the same session, Prof Shamsul Alam, a member of the Planning Commission, made a presentation where he said Bangladesh's target of becoming a higher middle income country with zero hunger calls for huge investments from both internal and external sources.
It is estimated that Bangladesh needs about $9 billion in additional investment in major infrastructure projects per year to sustain growth at a higher level, he said. 
To secure the GDP growth rates projected for the Seventh Plan, the investment rate will need to expand from 28.9 percent in FY2015 to around 34.4 percent by FY 2020. And the country would require $409 billion in investment to attain the Plan, said Prof Alam.
Of the total investment requirement, the government hopes to receive $39 billion from external sources, which is 9.56 percent of the sum.
The Seventh Plan aims to increase the size of the public spending by about 5 percentage points to 21 percent of the gross domestic product by FY2019-20, with much of the expanded spending will be directed to expanded coverage and better quality of public service delivery.
But it would not be possible for the government to undertake such a major investment plan in infrastructure based entirely on budgetary resources, said the member, adding that the government would need to start its public-private partnership initiative in full force to leverage public resources with private investment.
Prof Alam said assistance from different development partners in the form of loan and grant was one of the major sources of the country's resource base. Though foreign assistance is declining, the volume is on steady rise in absolute terms.
"Thus, one of the key strategies of the Seventh Plan will be to ensure effective partnership with development partners to ensure better use and results of foreign assistance," he noted.
Bangladesh Bank Governor Atiur Rahman sustained a steady spell of six-plus percent annual average real GDP growth amid global slowdown.
He, however, talked about a couple of aspects that the government will need to focus particularly in upholding and further strengthening the growth momentum over the next five years.
He said after decades of globalisation-driven growth, global trade growth had now slowed, and was actually trailing global output growth.
"This indicates that the potential for export-led growth will be weaker and harder to realise for our export sector unless we take advantage of upcoming new opportunities in markets for goods and services that are produced using environmentally sustainable green output processes and practices."
The governor touched upon a number of areas the government has taken for green transition of output processes and practices in the businesses.
"These are only small initial steps, with lots more to do in our intended countrywide transition to environmentally sustainable output practices and lifestyles."
Secondly, the more subdued prospects of export-led growth means that the country needs to foster more in domestic demand-led growth, said the governor.  
At the opening ceremony, Kingo Toyoda, deputy director-general, International Cooperation Bureau of the foreign affairs ministry of Japan, said he sincerely hoped that all the stakeholders would strengthen the partnership to address development challenges that Bangladesh faced.
He said Japan would assist Bangladesh in establishing a growth belt along the Bay of Bengal through developing economic infrastructure, improving investment environment and fostering connectivity.
As a major development partner of Bangladesh, Japan aims at accelerating sustainable economic growth with equity and bringing people out of poverty.
"In the area of governance, Japan appreciates Bangladesh's efforts under its National Integrity Strategy. Transparency and accountability are indispensable for further development of the country."
Kingo stressed that security is a prerequisite for smooth implementation of assistance activities by the development partners.
A number of speakers identified equitable distribution of wealth as a major perquisite for high and inclusive economic growth. Such inclusive economic growth can be ensured through land ownership reforms, tax reforms, public service management reforms, quality education and expansion of social safety net.
The first working session on agriculture, food security and climate change emphasised optimising the productivity of agricultural land through appropriate use of pesticides, diversification of crops and avoidance of preservatives.
The second working session, styled Strengthening the economic foundation: Strategies for development of infrastructure, stressed on the importance of better energy mix like using coal for power generation.
During the third session, the discussants underscored the importance of a sound governance system based on rule of law for fostering development.
Jin Liqun, president-designate of the Asian Infrastructure Investment Bank, Wencai Zhang, vice president of the Asian Development Bank, and Janina Jaruzelski, head of USAID Bangladesh, also spoke in the inaugural session.