Target jobs
School signboards spring up to get govt funds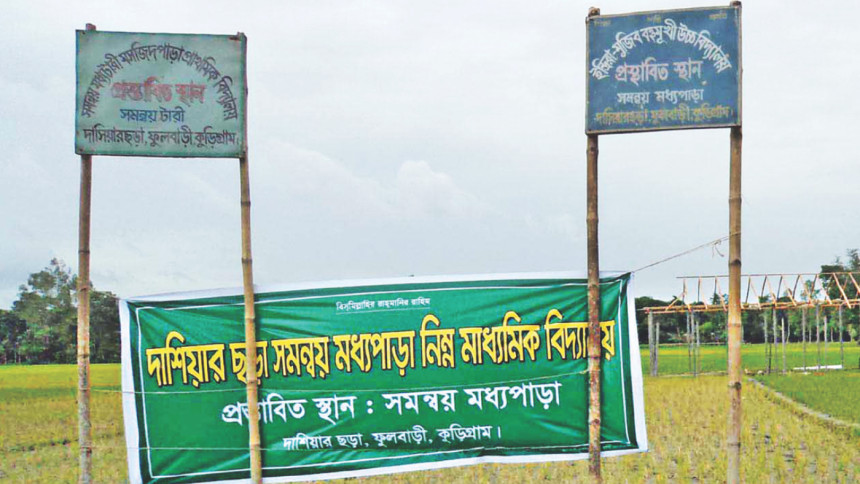 Now that they have a country to belong to after nearly a seven-decade wait, a new struggle begins for the people of Dashirchhara, a former Indian enclave in Kurigram.
They now have to find jobs.
Hoping that Bangladesh government would allocate funds for the development of the newly acquired areas, people of Dashiarchhara have started putting up signboards of educational institutions all around.
The area, which became part of Bangladesh only at 12:00am yesterday, already had at least 16 such signboards for primary, junior secondary and high schools, and madrasas by the afternoon.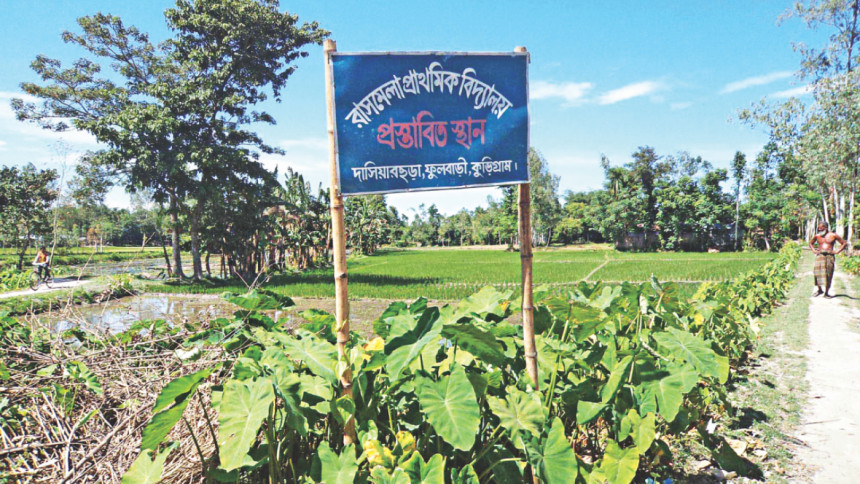 They hope the institutions, on getting government funding, will generate employment.
For 68 years, people of Dashirchhara, as those of the other former enclaves, had no access to basic facilities like education since there were no schools in this pocket of land located inside Bangladesh but belonging to India until yesterday.
So those, who wanted to study, had to fake their identities and enrol themselves in Bangladeshi institutions. However, they failed to get government jobs as their real identities would eventually be exposed.
"I have done my masters from [Bangladesh] National University in 2010 by faking my identity. But I could not apply anywhere as my Indian identity eventually got disclosed. And now, I have passed the maximum age for applying for a government job," said Nur Islam, 32.
"With the help of some locals, I am now trying to establish a junior secondary school in Dashiarchhara where I can serve as the headmaster," he said.
"Decades ago there were three primary schools run by the locals here. One of them was Rashmela Primary School which survived until a few years after the Liberation War. It later had to be closed for fund crisis," said Joynal Abedin, 70.
He is now donating money to re-build the school and to construct another -- Alokito Rashmelaa Junior Secondary School -- in Rashmela village of Dashiarchhra.
"Locals are trying to construct at least 16 educational institutions here. They are using the banner of enclave co-ordination committee, hoping that the institutions will be nationalised later," said Jobed Ali, 48, of Dashiarchhara.
Altaf Hossain, chairman of Dashiarchhara Co-ordination Committee, said: "I have already been nominated president of a junior secondary school, three primary schools and a madrasa while other school committees are also offering me posts."
However, all these institutions may not get government approval.
With an area of 6.65 square kilometres and a population of 6,889, Dashiarchhara can have a maximum of three primary schools, one high school, one girls' high school and one Dakhil madrasa, Kurigram district education officials estimate.
"According to an official order, no primary school can be set up here now, not even by non-government entities. The government will establish the schools if it's deemed necessary," said Shapan Kumar Roy,   acting district primary education officer.
"A population of at least 2,000 is a pre-condition for setting up a primary school in an area. So, Dashiarchhara may get three primary schools at best," he said, adding that a proposal for constructing the schools had already been sent to the education ministry.
District Education Officer Bhabo Shankar Barma said, "A population of around 10,000 and a distance of over 3km between two high schools or two madrasas are required for setting up a new high school or madrasa. So, one high school, one girls' high school and one dakhil madrasa may be set up in Dashiarchhara."