Struggling Dalits trained to be self-reliant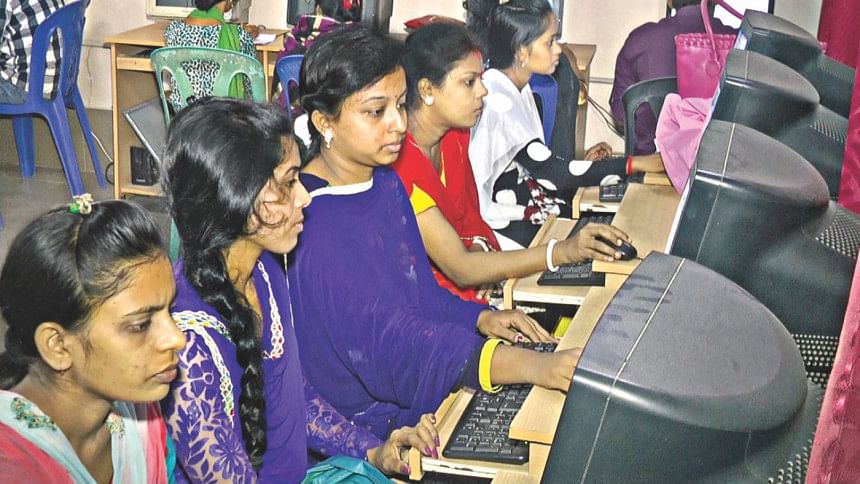 To thrive in this modern world computer training is helpful to anybody. But when offered to members of the Dalit, Harijan and Bede communities -- groups traditionally excluded from the mainstream economy -- it has the potential to break centuries-old barriers to self-reliance and material wellbeing. At the social services training centre in Barisal city, along with training in sewing, such a project is underway, and it's proving popular.
"Nowadays computer training is necessity," says recent Higher School Certificate graduate Dola Das. "But until now we had no opportunity. This programme has given us a great chance."
"Our family really struggles," says a Dalit participant in the sewing programme, Sima Das. "But if I can receive good training in sewing, the whole family will benefit."
"I have three children. Two of them attend school while the third has special needs, and requires extra care that I can't afford," says Nila Vakta. "I came here for training because I want to do something. I hope to be self-employed."
"We are gaining more technical knowledge in this programme," says class-VIII student and programme participant Tapon Doam.
A life experience of relentless material struggle is common to many of the students. The community livelihood development programme launched in the last week of September last year and run by the social services department has attracted 19 participants in the IT stream and 31 for sewing. Many of its participants who arrive enthusiastically in class each day are women. Along with training, students are offered tiffin and lunch, as well as Tk 300 per day allowance to help with daily expenses.
"In the classroom, there is no difference between Dalit learners and mainstream students," says one of the programme's trainers, Mizanur Rahman. "They are equally curious to learn."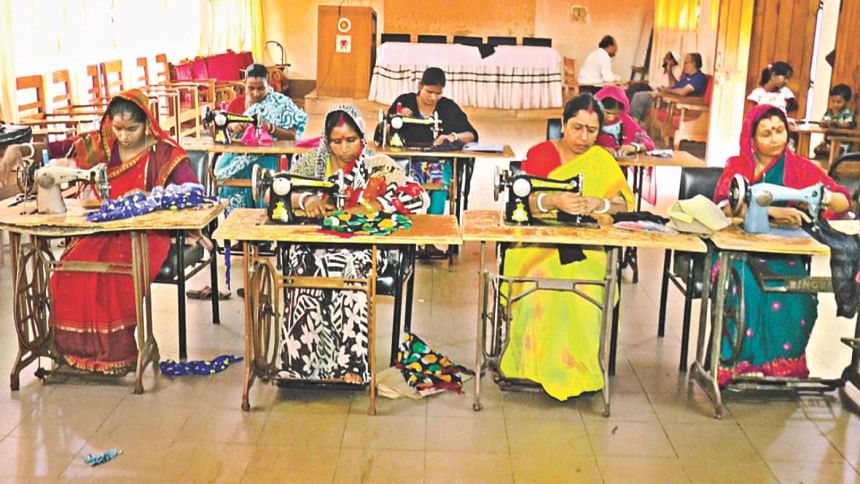 He notes that students in the sewing stream will receive a sewing machine with their certificate at the end of the course in mid-November.
Officials of social services department said each participant was given a sewing machine.
"The computer training programme in particular can help our youth to get jobs," says Lalit Das of the Bangladesh Dalit and Excluded Communities' Rights Movement.
He hopes other measures to overcome centuries of discrimination will also be taken, including pursuing quota systems in key areas of public life including jobs, education, health and housing; as well as implementing effective social protection and safety net schemes. The Movement has called for the formation of a Dalit Commission to ensure rights, and for caste-based discrimination to be legally recognised as a punishable offence.
"There are around 2,80,000 members of the Dalit and other excluded communities residing in the district," says the assistant director at the Barisal office of the social services department, AKM Aktaruzzaman Talukder. "In addition to the current programme we have distributed an allowance of Tk 400 to 644 people and education grants of up to Tk 300 for 375 students in efforts to help these communities. As for the training programme, if it is able to assist the participants in building better futures, it will have been a success."
With the programme ending in November, many students find themselves wanting more. "We are really happy with the computer programme," says Sangita Das, 25, from Katpatty area of the city. "Now we hope our training can be extended to improve our skills further, which would be an even greater help."