Sky the limit
Govt must negotiate connectivity deals smartly to maximise gains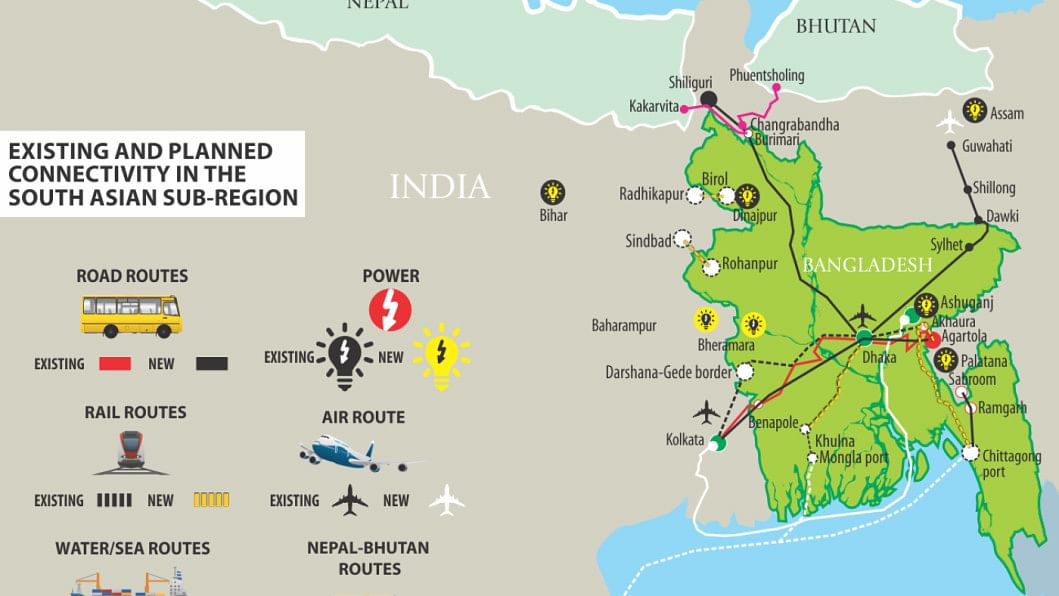 Nineteen hundred sixty-five was a year for the people of Bangladesh, West Bengal and northeastern region of India to remember for all the wrong reasons. After the Indo-Pak war that year, road, rail and waterway connections between the regions were cut off permanently. After Bangladesh's independence in 1971, only the inland water communications with India reopened.
Forty-five years have gone by since and many rivers lost their stream while others changed course, but nothing concrete has been done to reestablish the transport connectivity inherited from the British Empire.
Not anymore. Latest developments show there is light at the end of the tunnel, as Dhaka and New Delhi look all set to resume that connectivity, in a rather ambitious way, through road, rail and sea between the two countries and also Nepal and Bhutan.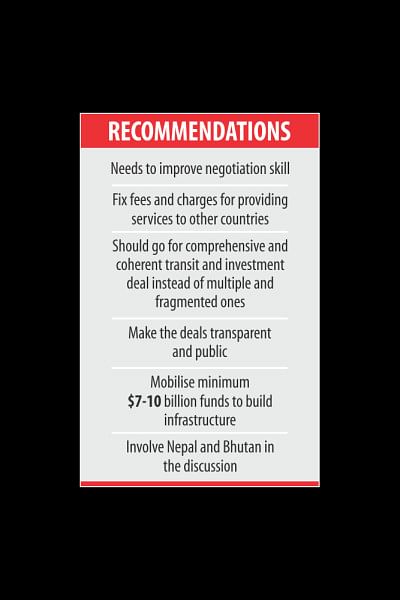 The horizon of opportunity is in fact greater still, because in future this region can easily get connected with China and other countries in Southeast Asia as India's northeastern seven states share 4,500km long borders with China, Myanmar, Nepal, Bhutan and Bangladesh.
Bangladesh has been pushing for better regional connectivity, including with India, since 2010. Over the past few years, there have been a number of breakthroughs, but it has gained momentum through Indian PM Narendra Modi's just-concluded Dhaka visit.
After the signing of the deals and MoUs between the two countries on Saturday, some of the vital questions now being asked are how will the region look, how would it benefit the people in the region and how can Bangladesh gain from connectivity?
The agreements include ratification of the land boundary demarcation, modalities for its implementation, coastal shipping line, renewal of bilateral trade deal, agreement between two countries' standard testing institutes, operation of passenger bus services, inland water transit and trade and cultural exchange programmes.
MoUs were signed in a number of areas that include $2 billion Indian loan to Bangladesh, allowing the use of Chittagong and Mongla ports for movements of goods to and from India, cooperation on blue economy and maritime area, cooperation to prevent all forms of human trafficking, preventing and combating fake currency notes, establishment of Indian Special Economic Zone in Bangladesh and cooperation between the two coast guards.
All this will open up trade opportunities, boost investments and promote closer links between a host of other economic issues, say experts, analysts and businesspeople.
Most of the 22 deals and MoUs are related to wider trade and connectivity beyond Bangladesh and India, as Nepal and Bhutan can also take full advantage of the rail, road and water transit routes. This will cut export-import costs and as a result commodity prices.
"Many positive things will happen in India and Bangladesh. Economic activities will increase and new industries will be set up once the transport connectivity is established in the region," said Prof Mustafizur Rahman, executive director of Centre for Policy Dialogue (CPD).
Bangladesh will gain from the improved infrastructures to be built under the connectivity development initiatives, while its import and transport costs will significantly reduce.
In the 2014-15 fiscal, Bangladesh imported goods worth $6.5 billion from India while the export amounted to $0.5 billion.  
 "If we can use India's $2 billion credit intelligently to build our infrastructure to be used for trade facilitation and border crossing, more Indian investment will come to Bangladesh to reap the benefit of zero tariff export facility," said Mustafizur, also a business analyst.
But surely, this $2 billion is but paltry for the massive job of developing the infrastructure needed to reestablish the multimodal transport connectivity system.
According to Debapriya Bhattacharya, an economist and a distinguished fellow at CPD, the job may cost between $7 and $10 billion.
"Bangladesh has to mobilise the funds jointly with India as the $2 billion loan is little in this regard," he said.
Moreover, the experience of using conditional loans is not very encouraging for Bangladesh as a minimum of 75 percent of goods and services need to be of Indian origin and must be procured from India, even if these products are locally available.
To facilitate cross-border movement of goods and people, India is working on several infrastructure projects, including that for constructing a bridge over the Feni river to access Chittagong port, building a railway link between Akhaura and Agartala and a 70-km road from Sabroom to Chittagong port, and upgrading Ashuganj port in Bangladesh.
Both countries are now working to establish new rail services through several border points for operation of passenger and goods trains within the next few years.
The two countries will also profit from the direct train service once it starts operating through Akhaura-Agartala and Rahanpur (Chapainawabganj)-Singabad of India.
Currently, Bangladesh's goods trains operate up to Singabad station while the Indian ones up to the Rahanpur station.
Direct bus services on Kolkata-Dhaka-Agartala and Dhaka-Shillong-Guwahati will also greatly benefit Indian citizens while the Kolkata-Dhaka-Agartala bus service will drastically cut travel time and hassle.
Northeastern India is virtually a landlocked territory, and vehicles from the area are required to travel 1,400-1,650km to reach Kolkata. The Kolkata-Dhaka-Agartala route will bring the distance down to about 600km.
The coastal shipping agreement will promote two-way trade between India and Bangladesh through seas. Presently, cargo vessels ply between the countries through Colombo/Singapore/Klang ports.
The deal would have two direct impacts: It will ease congestion on the Land Customs Stations and contribute to the growth of the shipping industry in Bangladesh, as well as the support service sector.
This, coupled with the provisions in the bilateral Trade Agreement that has been renewed, will allow India better access to its northeast region and Bangladesh to Nepal and Bhutan through India.
Dhaka and Delhi have decided to address the trade imbalance by establishing Indian Special Economic Zones in Bangladesh for the Indian businesses to invest. If Indian investors indeed come, it is bound to minimise the trade gap, because while it would create jobs, it will also spark greater export growth.
Indian companies have shown great interest in Bangladeshi growth sectors like power, textiles, leather goods, pharmaceuticals, auto parts, ship building and seafood processing.
"It will be interesting to see how the two countries frame real operational policies and modalities to make the deals effective. A lot will depend on how Bangladesh seizes these opportunities. For this, it will need adequate preparation, capacity and negotiation skills," said Debapriya.
According to him, one of Bangladesh's big achievements has been the renewal of the trade deal for business with a third country, namely Nepal and Bhutan, through India.
The deal relating to the coastal shipping line will reduce cost of imports from India, said Debapriya who hopes that the proposed Saarc Motor Vehicles Agreement will also enhance cooperation.
"Readymade garment exporters who import cotton, yarn and other materials from India will now be able to save money and time by importing through the coastal belt," said Sheikh Mahfuz Hamid, managing director of Gulf Orient Seaways.
For example, a container from Mumbai or Chennai now first goes to Singapore before it comes to Chittagong or Mongla port. On this route, the shipping cost of a container is $1,400-$2,400 and it takes 30-40 days. Thorough the coastal belt, it will cost just about $400 and won't take more than 6-7 days, he added.
There is no concrete study on the financial gain from this regional connectivity yet, but Prof Mustafizur said, "Bangladesh's income will depend on the trade and its volume. Obviously, this won't be a big sum of money. But transport cost and travel time will come down and new industries will be set up, which will generate employment."
However, a joint study by the Asian Development Bank and the Asian Development Bank Institute on the connectivity between South Asia and Southeast Asia indicates that Bangladesh's real income gains will be 6.9 percent of the GDP and its export will grow by 86 percent by 2030 if the connectivity improves.
Released last month, the study says $14.26 billion will have to be spent to build road, rail, ports and energy infrastructures for the integration.