In shock, in solidarity
World leaders voice full support for Dhaka in fight against terror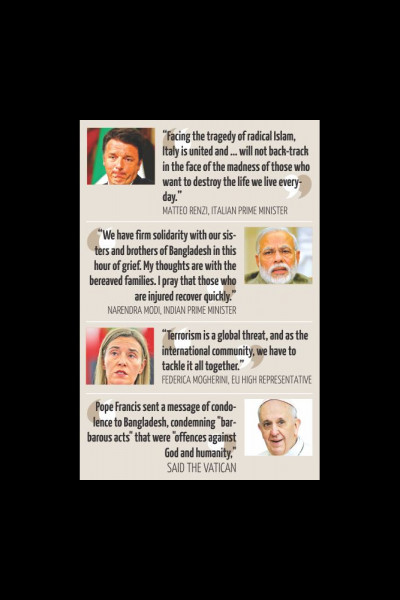 World leaders have condemned Friday's deadly militant attack at an upscale restaurant in Dhaka, and pledged their all-out support to Bangladesh for combating militancy.
Expressing deepest condolences for all the victims, the UN, the EU, the US, the UK, Italy, Japan and India said they stand by the people and the government of Bangladesh at this difficult time.
Nine Italian and seven Japanese citizens were among the 20 people killed by armed militants at Holey Artisan Bakery in Gulshan.
"Today, the whole of Italy joined together to give a message of pain and compassion, but we have a duty to respond with even more determination to defend our values," said Italian Prime Minister Matteo Renzi.
Renzi yesterday cancelled all appointments of the day to follow the situation from his office, Palazzo Chigi in Rome.
"Our values are stronger than their [militants] follies," he said, according to a report of Italian newspaper Il Fatto Quotidiano.
At a press conference, Renzi said, "We have no intention to give in to those who want the destruction of our values -- Italy did not retreat.
"We are stronger, and from this point of living together with the other countries of the international community who have been affected, we will continue our struggle because all together we can affirm an idea of civilisation that is different from the one that unfortunately we have seen tonight in Bangladesh," Il Fatto Quotidiano quotes Renzi as saying.
Meanwhile, Italian and Japanese foreign ministers called their Bangladesh counterpart AH Mahmood Ali and expressed deep concern over the brutal murders of their citizens in the terrorist attack.
Paolo Gentiloni, minister of foreign affairs and international cooperation, talked to Mahmood over the phone, according to a press release of Italy's foreign affairs ministry.
During his conversation with Mahmood, Japanese Foreign Minister Fumio Kishida expressed condolences for the victims and also voiced concern over the incident, said diplomatic sources.
Both the Italian and Japanese foreign ministers said they stand by Bangladesh in this hour of grief.
Japanese Prime Minister Shinzo Abe spoke with Prime Minister Sheikh Hasina over the phone yesterday afternoon.
Earlier, at a news conference in Tokyo in the morning, Yoshihide Suga, a top government spokesperson, said the Japanese Embassy in Dhaka opened a response centre at 2:45am yesterday.
The seven Japanese victims, including two women, were employees of private firms engaged in a construction project of Japan International Cooperation Agency (JICA), reports The Japan Times.
JICA President Shinichi Kitaoka expressed strong indignation toward the attackers, saying the Japanese taken hostage were working hard for the development of the South Asian country, it adds.
He said his agency would strengthen security precautions while continuing to contribute to the development of Bangladesh.
Pope Francis sent a message of condolence to Bangladesh, condemning the "barbarous acts" that were "offences against God and humanity," said the Vatican, according to AFP.
United Nations Secretary General Ban Ki-moon also condemned the attack and hoped that those behind this crime would be identified and brought to justice.
In a statement, spokesperson for the UN chief said, "He [the secretary-general] stands firmly by Bangladesh as it confronts this threat and stresses the need to intensify regional and international efforts to prevent and combat terrorism."
Ban Ki-moon assured the Bangladesh government that the UN "is prepared to assist in efforts to prevent violent extremism in all its forms."
European Union High Representative Federica Mogherini said the Dhaka attack "is a direct challenge to the global community."
"In this dark hour, we stand in solidarity with the people and the government of Bangladesh, as well as with the authorities and populations of countries who have also suffered in this attack."
Indian Prime Minister Narendra Modi spoke to his Bangladesh counterpart and strongly condemned the attack.
 In three separate tweets, Modi also conveyed India's "firm solidarity with our sisters and brothers of Bangladesh in this hour of grief."
Modi said the attack in Dhaka "has pained us beyond words."
Indian President Pranab Mukherjee phoned Hasina and strongly condemned the terrorist attack.
In a message to Bangladesh President Abdul Hamid, Pranab said, "India condemns terrorism in all its forms and manifestations. We believe that there can be no justification for such senseless acts of violence.
Indian External Affairs Minister Sushma Swaraj said she was extremely pained by the terrorist attack that has also killed an Indian girl, Tarishi Jain.
India's main opposition leader and Congress President Sonia Gandhi called for immediate collective and decisive action against those who are behind these attacks, reports our New Delhi correspondent.
Expressing solidarity with Bangladesh, French foreign ministry in a statement said, "Terrorism is a global scourge. France is determined to strengthen international cooperation to combat terrorism everywhere."
Hugo Swire, British minister of state at the Foreign and Commonwealth Office, said he strongly condemns the appalling and senseless attack.
A White House official said US President Barack Obama was briefed on the attack by his chief counterterrorism adviser Lisa Monaco, according to a statement by the US State Department.
Assistant Secretary and US State Department spokesperson John Kirby said the US joins the people of Bangladesh in condemning the brutal act of terrorism in Dhaka.
 "We offer our deepest condolences to the loved ones of the 20 or more civilians slain and Bangladeshi law enforcement officials who were killed or injured responding to the attack. We can confirm that a US citizen was also among those senselessly murdered in this attack," he said in a statement.
He mentioned that the US supports the Bangladesh PM in her commitment to combat violent extremism.
"We remain in close contact with the government of Bangladesh and have offered our assistance in their efforts to bring to justice those responsible for these attacks."
Nisha Desai Biswal, US assistant secretary of state for South and Central Asian Affairs, tweeted, "Praying for the safety of all impacted by the terror attack in #Dhaka, including the law enforcement and security forces."
German Foreign Minister Frank-Walter Steinmeier condemned the "horrid attack" in the strongest possible terms.
In a statement issued from the German Embassy in Dhaka, he said, "We mourn the victims and share the grief of their relatives. In these sad hours, my thoughts are with the people in Bangladesh as well as with our Italian, Japanese and Indian friends and all those affected by this gruesome attack."
"The attack in Dhaka shows once more that Islamist terrorism constitutes a threat to the entire world and that the international community must oppose that terror in unity," he added.
Frank urged the international community to stay united to fight terrorism.
The embassies of the US, Australia, the UK and South Korea have issued travel alert for their citizens, asking them to avoid the Gulshan area and remain vigilant in their movements and activities throughout Bangladesh.
Outgoing Danish Ambassador in Dhaka Hanne Fugl Eskjaer tweeted: "Our hearts are bleeding for #Bangladesh & the victims of #Bangladesh Attack."
In his twitter message, former Sri Lankan president Mahinda Rajapaksa said, "Another horrific terrorist attack, this time in Dhaka, Bangladesh. I pray the affected families find strength to overcome this great loss."
Civil society members in Kolkata yesterday brought out a silent procession from Rabindra Sadan, protesting the militant attack in Bangladesh, reports our Kolkata correspondent.
The participants said the shadow of militancy is all over the globe, and that the peace-loving people have to come forward to save humanity.