'Secret meeting' still a mystery
Saudi citizen, leader of banned RSO kept in BGB custody; PM's office orders action against Rohingya criminals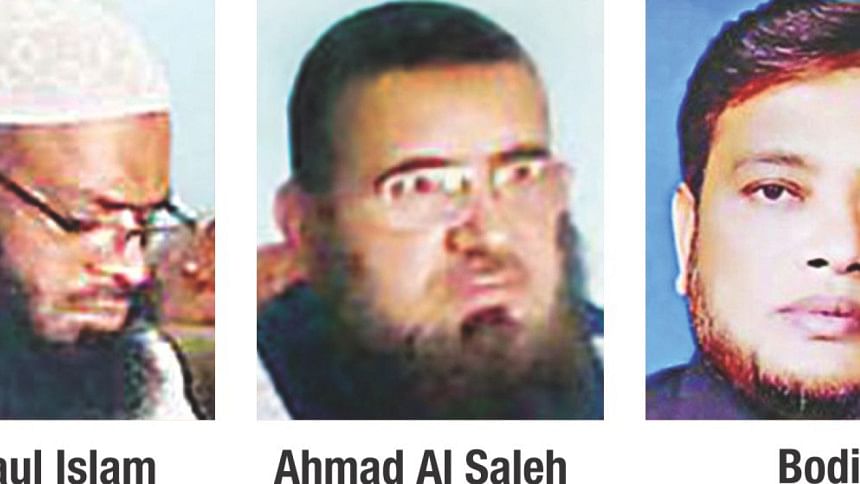 The topic and purpose of the "secret meeting" involving a Saudi national and a leader of the banned separatist movement of Rohingyas at an Awami League leader's house in Teknaf of Cox's Bazar remains a mystery.
The alleged link of controversial Awami League MP Abdur Rahman Bodi to the meeting has complicated the matter further.
Cox's Bazar is home to some 3,00,000 Rohingyas, many of whom are involved in various crimes in the bordering area with Myanmar, according to police and intelligence sources. 
On Saturday, joint forces detained four people -- Saudi national Ahmad Al Saleh Al Badi; Moulvi Ibrahim, a Bangladeshi from Tangail who accompanied Ahmad; Hafiz Salaul Islam, former military commander of Myanmar's separatist outfit Rohingya Solidarity Organisation (RSO); and Syed Karim, Baharchara Union AL vice-president, said Lt Col Abujar Al Jahid, commander of BGB battalion-2 in Teknaf.
The BGB official had added that the four had been holding the meeting for distributing funds among residents of an unregistered Rohingya shelter centre in Teknaf without approval from the local administration. 
The meeting was held at Karim's house at Nayapara village, but the size of the fund and its purpose are yet to be ascertained, sources said. 
The four were under the custody of the Border Guard Bangladesh at the BGB-2 Battalion Headquarters in Teknaf where they were being quizzed by the BGB, police and intelligence personnel, a police source said.
Law enforcers declined to comment on the outcome of the interrogation.
The Saudi embassy in Dhaka did not respond to The Daily Star's request for confirmation of Ahmad Al Saleh Al Badi's nationality.
Cox's Bazar police superintendent Shaymal Kumar Nath told The Daily Star the arrestees were not handed over to the police. Police will take legal actions once the detainees were handed over to them.
This comes less than a month after the BGB arrested seven people, including five Chinese nationals, on charges of illegal distribution of funds among the residents of an unregistered Rohingya shelter in Leda of Teknaf. 
Recently, the Prime Minister's Office in a letter to the home ministry spoke of criminal activities by a section of the Rohingya population in Cox's Bazar and asked it to take steps to curb those.  
WAS BODI PRESENT?
BGB-2 Battalion Deputy Commander Major Abu Russel Siddique told some local media outlets on Saturday that local lawmaker Bodi and Teknaf Upazila Chairman and AL leader Zafar Ahmed were also present at the "secret meeting".
Teknaf Upazila Assistant Commissioner (land) and Executive Magistrate Zahid Iqbal, who took part in the raid on Saturday afternoon, said he saw Bodi at the house where the meeting took place, but was not sure if he was present in the meeting.
Contacted, Bodi told The Daily Star he was in Inani of Ukhia, which is about 25km from the scene, during the raid but rushed there on hearing about it.
He claimed he requested the BGB officials and the executive magistrate to take the arrestees to the Teknaf Police Station.
Meanwhile, the BGB in a press statement yesterday said some media outlets quoted Teknaf BGB Battalion 2 Commander Lt Col Md Abujar Al Jahid as saying Bodi interfered in the joint forces' operation and tried to have the arrestees released.   
"This statement quoting the battalion commander is fabricated and motivated," said the statement.
WHO IS BODI?
Abdur Rahman Bodi, lawmaker from Cox's Bazar-4 constituency, hogged newspaper headlines several times for assaulting school teachers, forest and bank officials, engineers, a freedom fighter and a lawyer, just to name a few.
Dhaka Special Judges Court in September last year framed charges against him in a graft case filed by the Anti-Corruption Commission over amassing illegal wealth.
Bodi started politics in 1991. After failing to buy tickets from the BNP, he joined the Awami League the same year. In 2003, he was elected chairman of Teknaf Municipality from the AL.
Bodi was arrested during the 2007-08 military-backed caretaker government's tenure, but was later released.
He became an MP for the first time in 2008 on the AL ticket and then again in 2014.
He had at least 23 cases filed against him at different times and some of them were withdrawn by the home ministry, considering them "politically motivated".
He faces numerous allegations of land grabbing, smuggling and extortion.
HAFIZ SALAUL'S PAST RECORD
According to locals, Hafiz infiltrated Bangladesh in the 1980s and secured Bangladeshi citizenship by illegal means.
Police said they had arrested him over the violent attack on a Buddhist temple in Ramu on September 29, 2012.
He was again arrested on February 15, 2013, over his alleged involvement in the unrest created by the Jamaat-Shibir men under the banner of (Delwar Hossain) Sayedee Mukti Council in Cox's Bazar.
Then on March 21 the same year, police arrested him from a "secret meeting" at a madrasa in Teknaf, sources said.
He built a mosque and madrasa complex named Imam Muslim Islamic Centre allegedly by grabbing land of the Forest Department behind Cox's Bazar College.
ROHINGYAS IN COX'S BAZAR
Apart from more than 32,000 registered Rohingyas in two refugee camps of Cox's Bazar, about 3,00,000 of the ethnic minority people from Myanmar are living illegally in the district, according to a recent government census.
Rohingyas entered Bangladesh in different phases since 1978 fleeing repression in Myanmar.
A recent report by an intelligence agency said that Rohingyas -- registered and unregistered -- are involved in criminal activities like abduction, extortion, human trafficking and robbery.
It particularly named 18 registered and unregistered Rohingyas involved in criminal activities.
The report mentioned that they are active both in Bangladesh and Myanmar.
The Myanmar authorities also lodged complaints with the Bangladesh authorities about criminal activities in their territory by some Rohingyas. Myanmar also claimed the criminals get shelter and assistance from some Bangladeshi men.
SAUDI LINK
A school teacher of Shamlapur in Teknaf said Hafiz of RSO, Syed Karim, Shamlapur UP Chairman and Union AL President Maulana Aziz Uddin and his brother and upazila Vice-chairman Maulana Rafiq Uddin went to Saudi Arabia before the Ramadan this year.
They returned in the first week of the fasting month.  
On return, Karim told locals that they would build a huge complex at his madrasa, Anas Bil Malek, added the teacher, asking not to be named.
Locals think the Saudi national went to Teknaf to talk about the construction of the madrasa complex.
Hafiz and Rafiq Uddin go to Saudi Arabia almost every year to collect funds for madrasas and mosques, they added.
There are also allegations that many Rohingyas illegally obtained Bangladeshi passports to go to Saudi Arabia where they get preferential treatment as a persecuted community in Myanmar.