Scrap section 57 of ICT Act
Editors' Council urges govt urges govt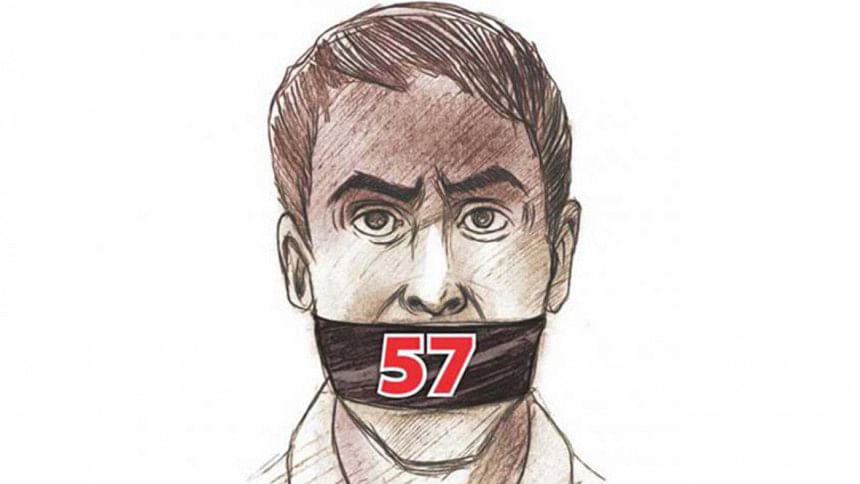 The Editors' Council yesterday demanded immediate scrapping of section 57 (1) and (2) of the Information and Communication Technology Act.
It made the demand in a proposal adopted unanimously at a meeting chaired by Editors' Council President and Samakal Editor Golam Sarwar.
The editors also strongly condemned the arrest and harassment of journalist Probir Sikdar and expressed deep concern over the incident.
The misuse of section 57 of the ICT act is contrary to a free press, said the proposal.
The meeting, held at The Daily Star Centre, discussed in detail the National Online Media Policy 2015, overall situation of the mass media and the issue of contempt of court.
It was also attended by Editors' Council General Secretary and The Daily Star Editor Mahfuz Anam, Treasurer and Manabzamin Chief Editor Matiur Rahman Chowdhury, Prothom Alo Editor Matiur Rahman, News Today Editor Reazuddin Ahmed, Bhorer Kagoj Editor Shyamal Dutta, Kaler Kantha Editor Imdadul Haq Milon, Bangladesh Pratidin Editor Nayeem Nizam, The Independent Editor M Shamsur Rahman, Nayadiganta Editor Alamgir Mohiuddin, Ittefaq Editor (acting) Tasmima Hossain, Jugantor Editor (acting) Saiful Alam, Banik Barta Editor Dewan Hanif Mahmud and Dhaka Tribune Editor Zafar Sobhan.