Waste but not useless
Used electronic items being turned into products worth millions
We all love our cell phone, computer and TV and depend heavily on them in our day-to-day life. But each of these electronic equipment eventually reaches the end of its life and is replaced by a new one.
The old and seemingly obsolete stuffs become electronic waste and end up in landfills or in the open, leaking harmful substances into the environment.
But there are some businessmen who went against the current to help get rid of the pollutants, making money at the same time.
At Abul Kalam Azad's factory -- Azizu Traders -- in Narayanganj's Fatullah, nothing seems useless. From mobile chargers to photocopy machines, anything can be recycled for sale.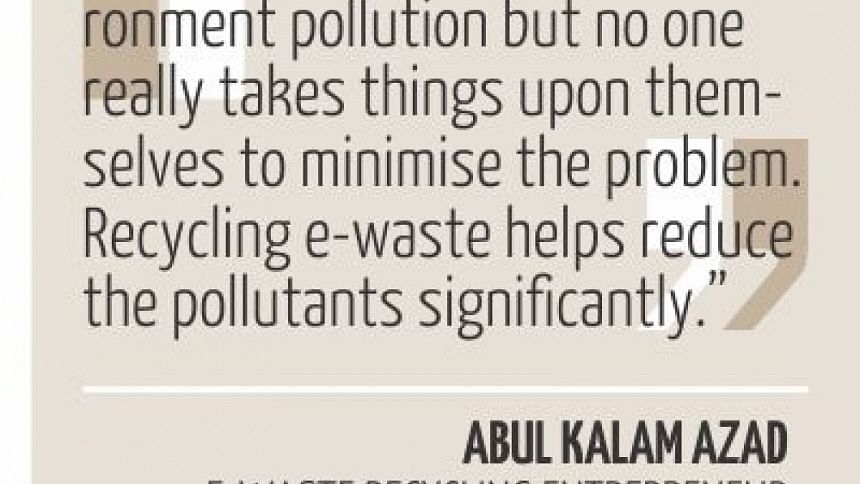 Run by Azad and his son Sidur Rahman, Azizu Traders is arguably the first and one of the largest e-waste recycle factory in the country. Employing more than 130 people, the plant can recycle 50 tonnes of e-waste every month.
Talking to The Daily Star recently, Azad, in his 50s, claimed that he already invested around Tk 500 crore and wanted to expand the business further.
Azizu Traders was not built in one day.
Over the years, Azad's interests shifted from electronic equipment to electronic waste.
In 1984, he moved to Singapore with Tk 1 lakh. Later, he started to carry different electrical appliances in his luggage for selling them in Dhaka.
After computers became popular in the 1990s, he joined a Singaporean firm to learn about the machine. He worked there till 1995.
The following year, he began collecting and exporting reconditioned computers to as many as 20 countries. But he found a good number of computers beyond repair or reuse. 
It was then that the idea of recycling came to his mind.
He researched Singaporean companies that recycled e-waste. His interest in the work grew fast, and soon he learnt about the business from a local recycler. In 2003, the self-made man took his son Sidur to that country and engaged him in the venture. Sidur too learnt about the business for three years.   
In the meantime, Azad returned to Bangladesh and started collecting e-waste and exporting them to Singapore, working as a local agent for TES-AMM, a global leader in e-waste recycling.
On his return, Sidur first created a network of scrap traders and briefed them about the importance of e-waste.
He also gave advance to 300 such traders to collect and supply electronic waste, especially Printed Circuit Board, to their company.
Initially, it was a tiresome task and the father and son were able to collect only 10 tonnes of waste in seven months. That was many years ago. Now, they collect 50 tonnes every month.
Azad and Sidur exported e-waste to Singapore regularly between 2008 and 2014. That year, they started their own recycling plant on an 80,000 square-foot area in Fatullah. They also had their 130 workers trained by experts from Singapore.
The plant also recycles fibre, mixed metal, aluminium, lead, copper, plastic and other items.
Sidur, now aged around 30, said, "From the recycled waste, we make finished products for sale. We first make copper wire from the waste and then produce plastic, aluminium products and other items."
Mohammad Jahangir, proprietor of Jahangir Traders, said they buy copper, silver, aluminum and other materials from Azizu Traders on a regular basis.
The company then melts down the metals and makes solid metal blocks out of them for supplying to different factories that make items like spoons and other utensils with them.
Abdur Rahim, owner of Junk Enterprise, an e-waste collector, said his company gathered all sorts of electrical goods and waste, including circuit boards, hard disks, CDs, cassettes, and LED monitors, through 68 scrap collectors across the country.
"We sell those to Azizu Traders. For example, we sell a tonne of mobile circuit board for Tk 9 lakh while RAM [random access memory] for Tk 15 lakh," he said.
Sidur said they buy per kg of mobile phone circuit board for Tk 800. For branded cell phone, it can be up to Tk 1,700.
By recycling e-waste, China produces around 80 tonnes gold every year, he claimed, adding that the sector had a huge potential in Bangladesh as well.
Azad said, "Everybody talks about environment pollution but no one really takes things upon themselves to minimise the problem. Recycling e-waste helps reduce pollutants significantly."
A 2014 study by the Environment and Social Development Organisation, an NGO, found that the generation of e-waste increased significantly in recent years and Bangladesh produced over 10 million tonnes of e-waste every year.
The study also claimed that an alarming 50,000 children were involved in collection and recycling of e-waste. These practices have led to illness and even deaths.
Azad said although their work protects the environment, the venture failed to attract government support such as low-interest loan and export incentives despite repeated attempts. "The government should extend all its support to us. We deserve it."
When Azad first shared his business idea with his relatives, they laughed at him. They thought he was wasting his money.
"But days have changed. It's a booming business and my relatives still can't believe what I have achieved from scrap," he said with a big smile.