Scores injured in post-polls violence
Houses burnt, shops looted, Hindus in Faridpur attacked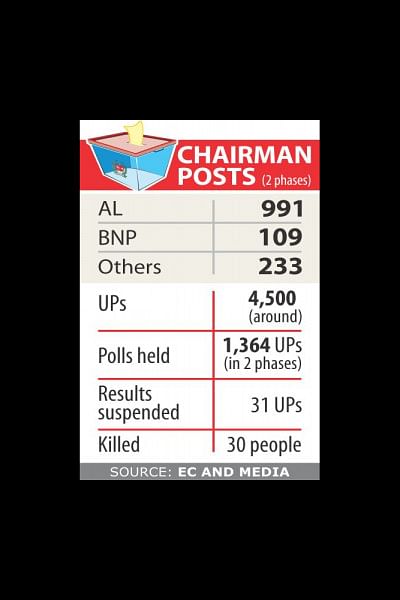 At least 58 people, including six women, were injured and 45 houses and shops, some of them belonging to Hindus, were vandalised and burned in post-polls violence in five districts on Thursday night and yesterday.
The incidents of violence were reported from Faridpur, Brahmanbaria, Natore, Sherpur and Madaripur. In most areas, supporters of the winning chairman and members attacked activists of the defeated candidates. In some unions, however, the attacks were carried out by followers of the defeated candidates, police and locals said. 
Like in the first phase, Thursday's second-phase union polls saw widespread violence that left at least eight people dead and over 130 more wounded. The dead include a 10-year-old child in Keraniganj and a Dhaka University student in Madaripur.
In post-election violence in Faridpur, supporters of a defeated member candidate in ward no-5 of Tagarbandho union in Alfadanga allegedly launched an attack on seven Hindu homes in Shikarpur village, beating up family members and vandalising their homes and other belongings on Thursday evening.
Six women and a man were injured in the attack by supporters of Murad Hossain, who lost in the polls, victims and locals said.
The injured are Manumati Biswas, 45, Molina Biswas, 50, Rekha Rani, 40, Vakti Biswas, 40, Shibani Biswas, 45, Laxmi Rani Biswas, 40, and Surajit Biswas, 25. Of them, Manumati and Molina were undergoing treatment at the Upazila Health Complex while the rest took first aid.
During the attack, the homes of Khokon Biswas, Kalipado Biswas, Robin Biswas, Ananda Bala, Tapos Biswas, Sribash Biswas and Satyaranjan Biswas were ransacked, said police and villagers.
Bikash Kumar Biswas, general secretary of the union Puja Udjapan Committee, said followers of Murad Hossain beat up Taposh Biswas, a polling agent of his rival candidate Nur Mia, during vote-counting at Tita Panail Government Primary School polling centre.
Then, around 10 to 12 of his supporters went to the nearby Shikarpur village and attacked the houses, he said.
Despite repeated attempts, Murad Hossain could not be reached for comments.
Contacted, Nazmul Karim, officer-in-charge of Alfadanga Police Station, confirmed the attack, but did not name the attackers.
In Brahmanbaria, at least 20 people were injured in a clash between supporters of the chairman-elect and defeated candidates over establishing supremacy at Durgapur union under Ashuganj upazila yesterday.
The clash began around 8:00am when supporters of the chairman-elect swooped on the supporters of the defeated candidate. Both groups used locally-made arms during the clash, reports a correspondent.
In the district's Nobinagar upazila, at least 15 people were injured when supporters of the chairman-elect and a defeated chairman candidate clashed with each other at Birgaon union.
The incident happened when followers of defeated candidate Kabir Hossain attacked chairman-elect Kabir Ahmed and his men around 11:00am yesterday, said police and witnesses.
In Natore, at least 15 houses were torched and 15 more vandalised in Baknai and Khapara villages in Lalpur sadar union yesterday during a clash between supporters of member candidates of ward no-2 in the union.
No one was injured as the residents fled for life.
Supporters of Abdul Hannan, who was defeated in the polls, attacked the houses belonging to the supporters of member-elect Yousuf Ali around 10:00am. The attack happened centring on a clash on the polling day. Followers of another member-elect of ward no-3 Abdul Goni joined Hannan's side.
Babul Hossain, sub-inspector of Lalpur Police Station, confirmed the incident.
Victims claimed that the attackers looted their valuables, including ornaments and cash.
In Sherpur, at least four houses and four shops of seven supporters of a defeated chairman candidate were vandalised in two villages of Urfa union in Nakla on Thursday night.
Nur-e-Alam Talukdar, a rebel candidate of Awami League, alleged that supporters of AL candidate Rezaul Haque, who won the polls, attacked the houses of his supporters in Khicha and Barmaisha villages soon after the polls results were announced.
The attackers looted goods after vandalising a readymade garment shop and a grocery, he alleged.
Contacted, Rezaul Haque denied the allegations outright.
Golam Haider, officer-in-charge of Nakla Police Station, said some unknown people "hit" the houses with bamboo sticks a few times.
In Madaripur, at least 15 people were injured, three of them bullet-hit, in a clash between supporters of AL-nominated candidate and AL's rebel candidate at Kuniya union under Sadar upazila yesterday.
CASES FILED
A case was filed with Keraniganj Police Station against some unnamed people over the death of fourth-grader Shuvo Kazi Srabon, who was hit by a spray bullet fired allegedly by a supporter of the AL chairman candidate at Madhurchar Government Primary School polling station.
Salal Kazi, uncle of the victim, was named as the plaintiff of the case. But Salal told The Daily Star that he did not file any case, but some policemen came and took his signature.
OC Ferdous Hossain said the family was unwilling to file any case, which is why they filed it. 
In Manikganj, police arrested a man named Arshed Ali in connection with the murder of Nomesa Begum, a supporter of defeated member candidate Shipon Ali.
In Jessore, a case was field with Kotwali Police Station against 28 named people, including member candidate Billal Hossain, over the death of Abdus Sattar, who was killed during clashes between supporters of two rival candidates in Chanchara union under Sadar upazila, police said.
No one has been arrested in the case filed by victim's son Faruk Hossain.
In Chittagong, police filed a case against 200 to 300 unidentified people over the attack on police officials in Sandwip upazila where two people were killed in a gunfight between supporters of two rival chairman candidates and police.