Eid Holidaymaking Turns Tragic
Road accidents kill 40 in 4 days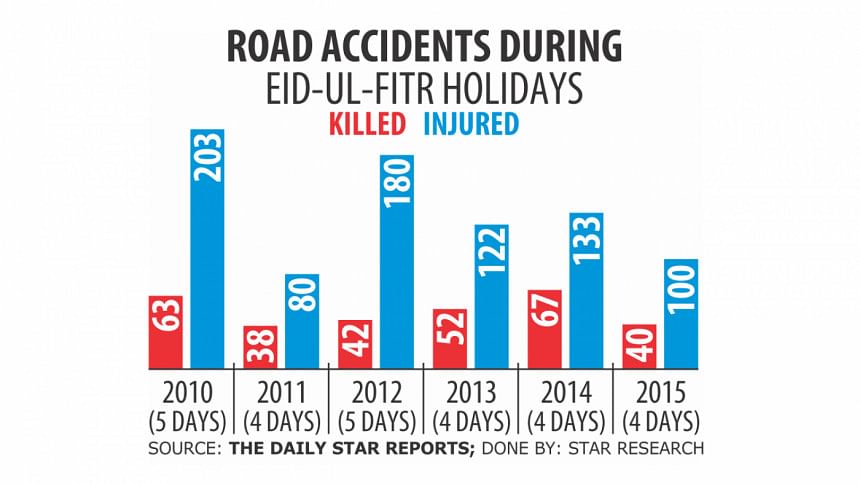 At least 40 people were killed in road accidents in different districts in the last four days, including the three-day Eid vacation from Friday to Sunday.
Of them, 22 died in Sirajganj alone -- 17 in a single accident in the northern district.
The crashes also left more than a 100 people injured.
During the Eid-ul-Fitr vacation, road accidents saw 67 deaths last year, 52 in 2013, 42 in 2012, 38 in 2011 and 63 in 2010, according to reports in The Daily Star.
On Sunday, two passenger buses of Sabbir Paribahan and Azad Paribahan collided head-on at Mulibari crossing on the west side of Bangabandhu Bridge in Kamarkhand upazila in Sirajganj.
The accident happened as the driver of Syedpur-bound Sabbir Paribahan bus from Chittagong was driving through the right side of the road instead of the left side, said Helal Uddin, officer-in-charge of Bangabandhu Bridge (west zone) Police Station.
The collision left twelve people, including the drivers of both buses, dead on the spot. Five others died in Sirajganj General Hospital and on the way to Bogra Shaheed Ziaur Rahman Medical College Hospital.
Besides, around 40 were injured, 14 critically. They were admitted to the Shaheed Ziaur Rahman Medical College Hospital.
Of the dead, 12 could be identified. They are Azad Paribahan driver Menhaz Prodhan, 28; Liton, 42; Milon, 22; Sabuz, 20; Jillur Rahman, 46; Chan Babu, 22; Biplob, 23; Moushumi Khatun, 23; Anwarul Islam, 19; Abdul Karim, 45; Mafizur Rahman, 50; and Mahabub, 40.
The OC said the bodies were handed over to the families.
A four-member committee headed by Additional District Magistrate Kamrul Islam was formed to investigate the accident, said Md Billal Hossain, Sirajganj deputy commissioner.
The committee will submit its report within this week, the DC said. 
The district administration donated Tk 10,000 each to the families of the dead, he added.
BEWARE: IT'S WEST ZONE
Two more accidents took place on the road west of Bangabandhu Bridge, claiming eight lives on Friday and Thursday.
Drivers often drive at a very high speed as the road is quite free. This results in frequent accident there, Miraz Uddin Ahmed, superintendent of Sirajganj police, told the Daily Star.
"Reckless driving is the only reason behind three road mishaps in the last three days," he added.
Asked about the repeated accidents, the DC said such a road required four lanes with dividers, but their implementation was a lengthy process.
For now, he said, "We have proposed setting up some road barricades and traffic signals to make the drivers aware of vulnerable points on Bangabandhu Bridge west zone road."
OTHER ACCIDENTS
Five people, including two children, were killed and 20 injured as a Gaibandha-bound bus fell into a ditch at Baniagati point on the western side of the Bangabandhu Bridge link road in Kamarkhand upazila on Friday evening.
At least four people were killed and 10 others injured in separate road accidents in Bogra on Eid day.
At least three people including a woman were killed and three other injured in separate road accidents in Patuakhali during Eid vacation.
Two people were killed in Munshiganj, one madrasa teacher was killed Kurigram Sadar upazila, one trader was killed in Noakhali, a lawyer was killed in Natore, and an unknown person was killed in Siddhirganj in Narayanganj.
In Dhaka, a garment worker was killed and seven others were injured as a microbus hit a pickup they were travelling in on the Eid day. The dead is Sumon, 18, of the city's Rampura.
Yesterday, at least three people including a father and his daughter were killed and two others injured in a head-on collision between a private car and a bus in Trishal upazila of Mymensingh.
In Bogra, an unidentified elderly person died as a bus hit him at Mirzabazar area on Dhaka-Bogra highway in Sherpur upazila yesterday.
Meanwhile, at least 30 people were injured as a Comilla-bound passenger bus overturned on Dhaka-Chittagong highway yesterday.