Reunited after 20yrs, parted in minutes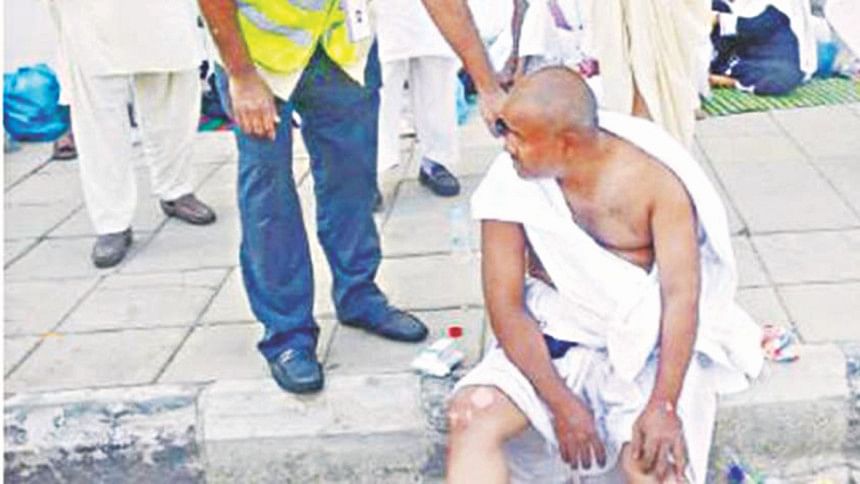 This is a story of a Bangladeshi man who had to leave home to secure a better future for his family. He waited for 20 years in Saudi Arabia to be reunited with his wife. And when that moment finally came, he lost her again -- this time, forever.
Muhammad Bilal lost his wife in the stampede in Mina near Makkah on Thursday when some two million people in the last major rite of the Hajj went there to throw stones at pillars representing the devil, reports the Saudi Gazette.
A day after the incident, he was spotted sitting on a pavement near Mina Al-Jisr Hospital.
"She promised to be with me till my last day but now she's forever gone," he said, with tears rolling down from his eyes and voice turned hoarse from hours of weeping and crying.
Bilal has been living in the Kingdom for about 25 years. He is now working at an apparel store Dhahran Al-Janoub of Asir region.
"I have been saving money for about 20 years to bring my wife for Hajj. I have been away from her for long years. When she finally came, I lost her in seconds only.
"She died right in front of my eyes. She would never again see her three children.
"She hugged her three children very tightly as if she had a notion that this would be her last journey."
Bilal said he and his wife threw stones together at the Satan and were on their way out of the Jamrat area at about 7:30am.
"We entered the street No. 204 and were met by human floods that were going to the Jamrat. We tried to escape but the rush was so huge that we both fell down on the road," he was quoted as saying by the Saudi daily.
Many pilgrims fell on them but he managed to get up despite his exhaustion and the burns he suffered from the hot ground, he said.
"I cried, 'Please save my wife!' But no one would listen to me. Everyone was busy trying to save themselves. I tried to pull her out of the large number of bodies over her but failed. I saw her eyes wide open, looking skyward ... She died without saying goodbye to me or our children."
Asked about his own health condition, he said he had suffered burns in his face, back and legs after he fell down on the extremely hot road.
"I am still in the hospital waiting to have a final look at my wife and bid her farewell."