Remittance hits record $15.31b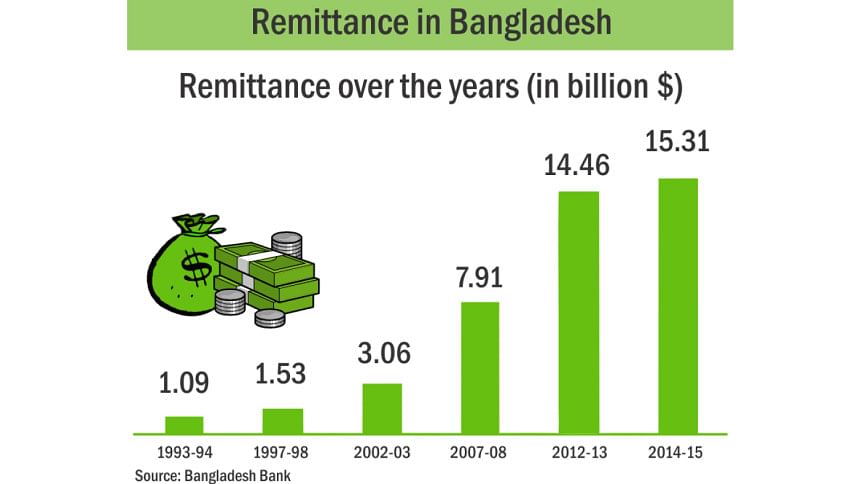 In the just concluded fiscal year, migrant workers sent home $15.31 billion in remittance, the highest in the country's history.
The remittance in 2014-15 also rose 7.6 percent from $14.23 billion in the previous fiscal year, according to Bangladesh Bank (BB) statistics released yesterday.
A huge increase in manpower export, backed by the central bank's proactive measures to facilitate the inflow through formal channel, is believed to have driven the remittance growth.
"The higher inflow of remittance is the outcome of our continuous effort of the last couple of years," BB Governor Atiur Rahman said in a statement.
The central bank along with the commercial banks has worked hard round the year aiming to increase the flow of inward remittance from across the world, he said.
Stable exchange rate of the Bangladeshi taka against the US dollar has also helped achieve the steady growth in remittance inflow, Atiur Rahman explained.
"Delivery channel of inward remittances to the beneficiary has improved significantly because of the bank-led effective mobile banking under the leadership of BB," the governor added.
Bangladesh received $1.43 billion remittance in June alone, up by $109.98 million from that of the previous month, according to the central bank.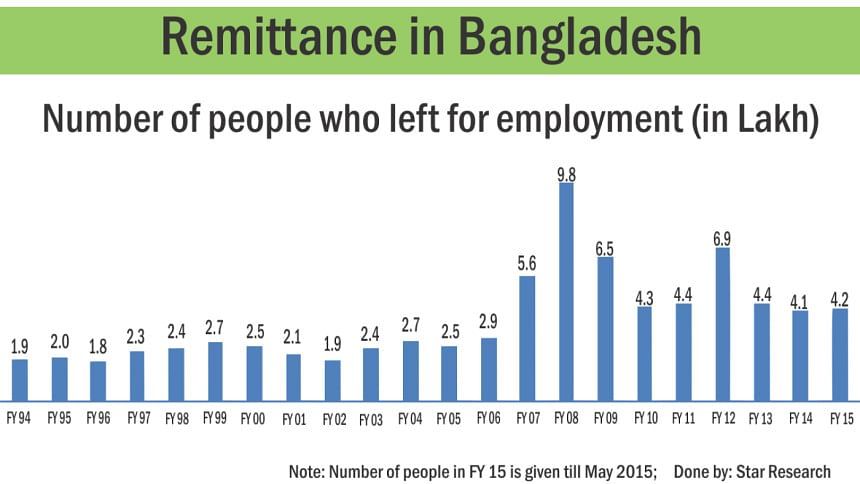 While proposing the budget for the 2015-16 FY in parliament on June 4, Finance Minister AMA Muhith said Saudi Arabia had re-opened its labour market to Bangladeshi workers after a six-year hiatus, indicating future growth prospects for manpower export.
Remittance sent by more than eight million migrant workers plays a crucial role in the country's economy, helping reduce the overall incidence of poverty as well as maintaining a healthy balance of payments.
According to a recent study by the World Bank, remittance has helped reduce the poverty level in Bangladesh by 1.5 percent. It also accounts for about 66 percent of the country's foreign currency reserves, providing Bangladesh with a strong and stable external position.