Rana Plaza owner jailed for graft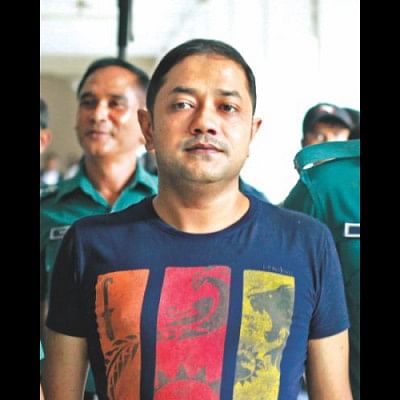 A Dhaka court yesterday sentenced Sohel Rana, owner of the Rana Plaza, to three years' simple imprisonment in a case filed against him for not submitting his wealth statement to the Anti-Corruption Commission (ACC).
The court also fined him Tk 50,000, in default of which, he will have to suffer three months more in jail.
After cross-examination of all eight prosecution witnesses, Judge KM Imrul Kayes of the Special Judge Court-6 handed down the verdict in Sohel's presence in a packed courtroom.
This is for the first case in which Rana has been sentenced to jail by a court among six cases filed against him on different charges.
Following the verdict, the judge sent Rana to jail with conviction warrant. Rana was arrested after the Rana Plaza Collapse on April 24, 2013 that left 1,136 people killed and about 2,515 others injured.
On May 2, ACC Deputy Director Mahbubul Alam filed the case with Ramna Police Station against Rana for not submitting his wealth statement to it within the stipulated time.
According to the case statement, on April 2, 2015, the ACC sent a notice to Sohel Rana at Kashimpur jail in Gazipur asking him to submit his wealth statement to it within seven days. Rana received the notice on April 4 but he did not respond.
Later another notice was served. But Rana did not submit his wealth statement within the stipulated time.      
After an investigation, the ACC submitted the charge sheet against Rana on August 1 of 2016 while the court framed charge on March 23 this year.
STATUS OF OTHER FIVE CASES
Five more cases were also filed against Rana for killing, building code violation, possessing illegal arms, narcotics and accumulating wealth illegally. All cases are now under trial and pending with different courts in the capital.
On July 18 last year, Dhaka District and Sessions Court framed charges against Rana and 40 others on charges of killing 1,136 people and injuring about 2,515 others while another court framed charges against Rana and 17 others in a case filed over building code violation on June 14 of 2016.
Another Dhaka court on May 21 this year framed charges against Rana, his parents and seven others in another graft case.
Two more courts had earlier indicted Rana in cases filed for possessing illegal arms and narcotics.