Power, gas to get pricier next month
Single gas burner Tk 600, double burner Tk 650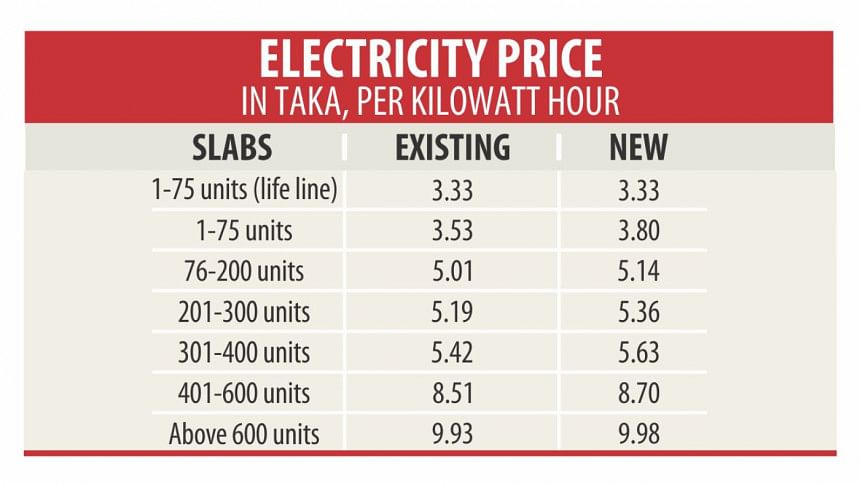 Retail customers will have to spend on average 2.93 percent more on electricity and Tk 200 more on gas from this September. 
"We have closely examined the logic behind the hike in gas and power tariffs. We have kept the rise to a minimum level," said AR Khan, chairman of Bangladesh Energy Regulatory Commission (BERC), while announcing a new tariff structure at his office yesterday.
From now on, the more one consumes, the more he or she pays, he added. 
Under the new rates, which take effect on September 1, households using a single burner will have to pay 50 percent more with the monthly gas price going up to 600 from Tk 400. For double burner users, the tariff has been raised to Tk 650 from Tk 450 a month.
Industries that turn gas into electricity through generators will see gas tariff double -- Tk 8.36 from Tk 4.18 per cubic metre.
"Unlike in many countries, gas price is too low in Bangladesh. Hiking the gas price became inevitable. Our gas price was one-third of what it should be," said the BERC chief.
This is the first hike in gas tariff since 2009 though CNG prices went up twice in 2011. On the other hand, the retail power price increased on six occasions in the last six years -- the last one in March 2014.
The power tariff hike, Khan said, aims at helping distributors cover losses and reach a break-even point.
"Besides, the Power Grid Company of Bangladesh has undertaken a mega project to replace old wires, and it will also import more power from India. So, it needs money, and we should partly finance it."
Under the new structure, average retail power tariff rises by 2.93 percent to TK 6.33 kilowatt-hour unit from Tk 6.15.
Bulk rates -- the prices distribution companies pay to Power Development Board -- have been raised to Tk 4.90 from Tk 4.67 per unit.
The tariff of the power for irrigation has gone up to Tk 3.82 from Tk 3.39 per unit.
The commission, however, did not raise the power tariff for life-line users who consume between 1 and 50 unit.
The latest rise in gas and power prices came on the back of sliding prices of energy on the global market and amid strong protests from the consumer rights activists and left-leaning political parties.
Zahid Hussain, lead economist of the World Bank in Dhaka, said natural gas prices in Bangladesh have been regulated at very low levels. Upward adjustment in gas prices is a powerful means of rationalising the use of the rapidly depleting proven gas reserves. 
"From this point of view, the hike in gas prices was long overdue. However, we need to move away from the ad hoc price adjustment system with arbitrary timings to a pricing policy that is transparent, predictable and market-based."
On the power tariff hike, the economist said the upward adjustment of retail prices, as experienced in recent years, should not be the only means of reducing subsidies.
"It is about time the operational inefficiencies of the state-owned energy enterprises are assessed and addressed. There is a need for rethinking the continuation of public monopoly along the lines of gradually de-regulating the energy sector in order to allow private players to compete with the state-run energy companies."
Prof Shamsul Alam, an energy expert, said BERC is an independent body but it had not taken the decision independently; rather it was influenced by the power and energy ministry. "This is unacceptable from the legal point of view."
The BERC made the announcement a day after a meeting of the energy and power divisions officials at the Prime Minister's Office, sources said. The meeting instructed the divisions to make a move to increase the tariffs.
Nasrul Hamid, state minister for power, energy and mineral resources, earlier at a programme told reporters that the government wanted to raise gas tariff to prevent wastage in the sector.
Shamsul Alam also said the hike would have a chain effect on the prices of products as their production depends on energy and power, meaning the hike will squeeze the purchasing power of people.
Consumers as well as a number of political parties angrily reacted to the hike.
"Gas price hike again! We are not getting adequate gas now," said Shabnur Sultana, a housewife at the capital's Rajabazar. "Before raising the price, the government should ensure adequate supply of gas."
About increasing power tariff, the 30-year-old said, "We are now getting electricity but we have to pay huge bills. The new hike will be extra burden on our limited family budget," said Shabnur, whose husband earns Tk 50,000 a month, pays Tk 20,000 in house rent and has a young son to look after.
Monirul Islam, a government employee, said he was feeling happy about his expected salary rise in the next pay scale. "But now this price hike of gas and electricity saddens me."
Jatiya Party (Ershad), Workers Party of Bangladesh and Bangladesh Samajtantrik Dal protested the price hike.
"People are already struggling to make ends meet because of higher prices of essentials. This [tariff hike] will add to their woes," said Jatiya Party in a statement.
Bangladesh Samajtantrik Dal said it would organise a rally in front of the Jatiya Press Club today to protest the hike.
Abdul Matlub Ahmad, president of the Federation of Bangladesh Chambers of Commerce and Industry, said the hike of gas tariff would be tolerable if the government can ensure availability of energy for industries.
He said the government should cut diesel prices so people depending on gas can shift to oil. "In such cases, we will be able to give more gas to industries. Besides, the gas connections should also be made available to industries."
Jahangir Alamin, immediate-past president of Bangladesh Textile Mills Association (BTMA), said, "We will lose our competitiveness further on the world market due to price hike of natural gas."
The BTMA textile millers are the highest gas consumers in the country as they run spinning, weaving, dyeing and finishing units with a huge pressure of gas.
"The price of raw finished goods will increase because of the hike in gas tariff. But we will not get additional prices from the buyers," Jahangir said.
In January and February this year, the BERC organised a series of public hearings after state-controlled power and gas marketing and distribution companies moved to have gas and electricity tariffs increased.
Power distribution companies had proposed retail power hike between 21.31 and 22 percent, while gas distributors had proposed a 40 percent hike at retail level.