Portugal's Guterres set to be next UN secy-general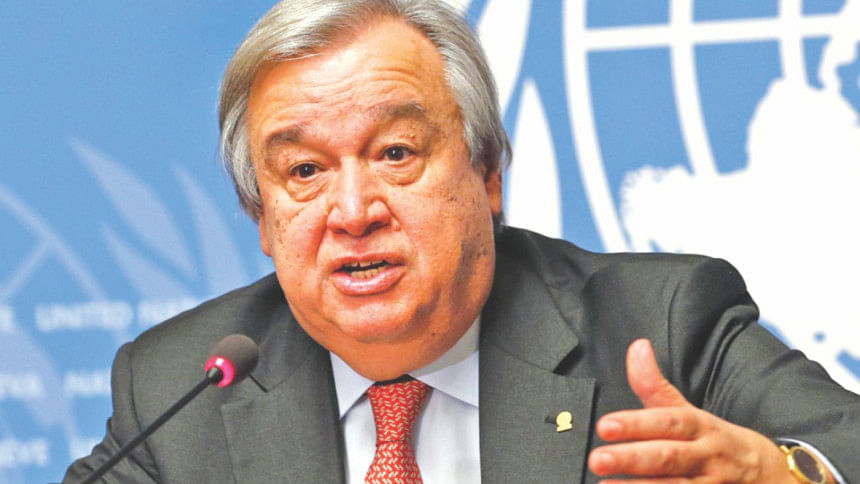 Former Portuguese prime minister Antonio Guterres is poised to be the next United Nations secretary-general and is expected to be formally recommended to the 193-member General Assembly for election by the Security Council today, diplomats said.
Russia's UN Ambassador Vitaly Churkin, president of the 15-member council for October, said he hoped the council would unanimously recommend Guterres, who was also the United Nations High Commissioner for Refugees from June 2005 to December 2015.
Guterres, 67, will replace Ban Ki-moon of South Korea, who will step down at the end of 2016 after serving two terms. Guterres was prime minister of Portugal from 1995 to 2002.
"Today after our sixth straw poll we have a clear favorite and his name is Antonio Guterres," Churkin told reporters with his 14 council colleagues standing behind him yesterday.
"We wish Mr Guterres well in discharging his duties as the secretary-general of the United Nations for the next five years," Churkin said.
The council has been holding informal secret ballots since July in a bid to reach consensus on a candidate. Members had the choices encourage, discourage or no opinion. Guterres has come out on top of all the polls and on Wednesday received 13 encourage votes and two no opinion votes.
Diplomats said one of the no opinion votes was cast by one of the five veto wielding powers, which are Russia, China, the United States, France and Britain.
The Security Council will adopt a resolution, traditionally behind closed doors, recommending that the General Assembly appoint Guterres for a five-year term from Jan 1, 2017. The resolution needs nine votes in favor and no vetoes to pass.
"We hope it can be done by acclamation," Churkin said.
Guterres, who will be the first former head of government to lead the world body, has pledged to revamp the United Nations to bolster its peacemaking efforts and promote human rights.
French Ambassador Francois Delattre said the choice of Guterres was "good news for the United Nations" while British envoy Matthew Rycroft said he will make a "very strong, effective secretary-general".
US Ambassador Samantha Power cited Guterres' experience and vision as "compelling" and stressed the need to have an effective leader at the UN helm during a time of multiple global crises.
"We are united in understanding the gravity of the threats that are out there," said Power.
Thirteen people were nominated in the race to become the next UN chief, but three had already withdrawn before Wednesday's secret ballot.