PM smells link of BNP-Jamaat
Says no IS presence in Bangladesh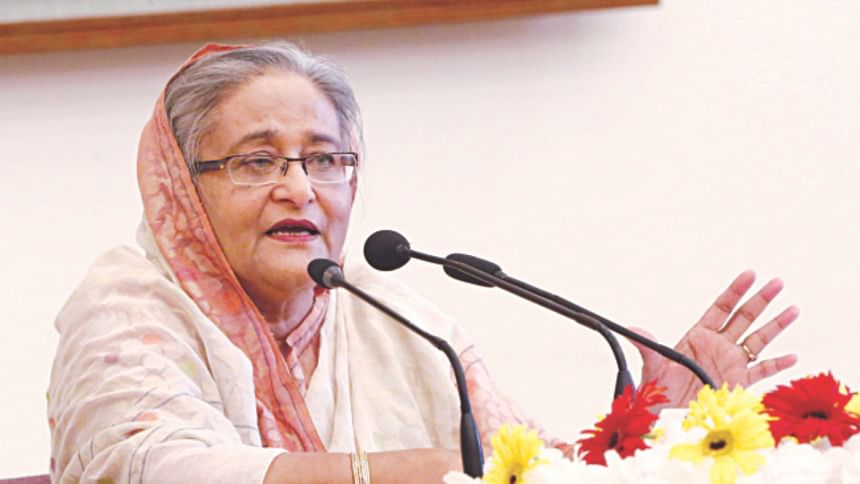 Prime Minister Sheikh Hasina yesterday said the BNP-Jamaat had a hand in the recent killings of an Italian and a Japanese man in the country.
"The style of the killing of the two foreign nationals is similar … These were well planned. I want to remind you of a BNP leader's remarks before and after the [Italian national's] murder. If you compare the remarks, the matter will become clear," she said at a press conference at the Gono Bhaban.
She was referring to a senior BNP leader's recent comments that the government used the issue of militancy in its own interest and now it has fallen victim to "its crying wolf".
Hasina ruled out the possibility of the Islamic State's presence in Bangladesh.
"I can say that no outfits like the IS can carry out their activities here. Our intelligence agencies are very much alert. We don't want to see any activities of such outfits in Bangladesh," the UNB quoted her as saying.
Italian aid worker Cesare Tavella was shot dead in the capital's high-security diplomatic zone on September 28 and Japanese national Hoshi Kunio was gunned down in Rangpur on Saturday.
The prime minister said there must be a motive behind these incidents. "They [BNP-Jamaat] must've had a hand in these. There's no doubt about it … We are taking actions … The culprits will definitely be caught and tried."
Referring to the similarities between the two murders, she said, "There must be some kind of a plot here."
She added, "How do you expect them to sit idle when we are trying the war criminals? They will continue their efforts to take revenge.
"These [anti-liberation] elements were in power for 21 years after 1975. Now that we're trying them, naturally there will be some reactions.
"But, these two killings don't mean that all our achievements have been washed away. If you think that way, then the objectives of the BNP-Jamaat clique and the Razakars will be fulfilled."
Hasina urged the countrymen to strengthen their anti-militancy and anti-terrorism stance. "People have to come forward. The government is with you."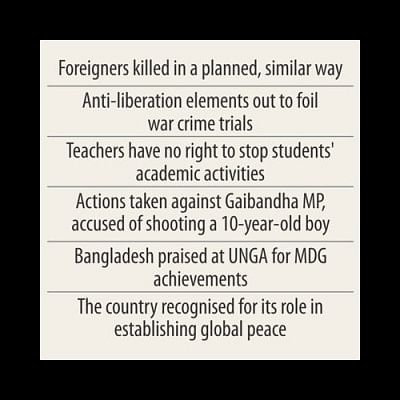 Responding to a query on the IS' reported claims for the murders, she said, "After the killing of the Italian citizen, there was a social media post from Chicago that the IS was involved in this. However, no proof of their involvement has yet been found. We have to investigate the incident first."
"Why do we have to accept a status from unknown persons? ... The incident happened in Gulshan [of Dhaka]. Why then was the status posted in Chicago?"
When her attention was drawn to Gaibandha-1 MP Manzurul Islam Liton who allegedly shot a 10-year-old boy on Friday, Hasina said she had asked Home Minister Asaduzzaman Khan Kamal to take actions against him as per the law. "And actions have been taken."
At the press conference, which was on her recent US visit to attend the UN General Assembly and other programmes, the prime minister said, "World leaders see no political crisis in Bangladesh; rather Bangladesh was a focal point of development in this year's UNGA. World leaders were ... surprised at the development of Bangladesh," reports the BSS.
Mentioning her luncheon meeting with American business leaders, she said they showed keen interest in investing in Bangladesh as they see no crisis of democracy here.
"Of course, there is a quarter in the country that is making frantic efforts to create instability. They would continue to do this as they don't like the continuation of democracy in Bangladesh," she said.
Hasina said Bangladesh has been recognised as an important partner of the international community in countering terrorism and has earned special recognition for its role in establishing global peace. "The name of Bangladesh was uttered time and again ... for its achievements in the MDGs [Millennium Development Goals].
She came down heavily on the teachers for their movement over alleged discrimination in the new national pay scale.
"They have no right to stop the academic activities of students," she said.
Mentioning that the government has increased teachers' salaries by 91 percent, she said, "Could anyone think of this hike? Ask them, we've given them a lot."
Deputy Leader of the House Syeda Sajeda Chowdhury, Foreign Minister AHM Mahmood Ali, Information Minister Hasanul Haq Inu, State Minister for Foreign Affairs Shahriar Alam and PM's Media Adviser Iqbal Sobhan Chowdhury were present at the press conference.