PM goes to UN with 227-member entourage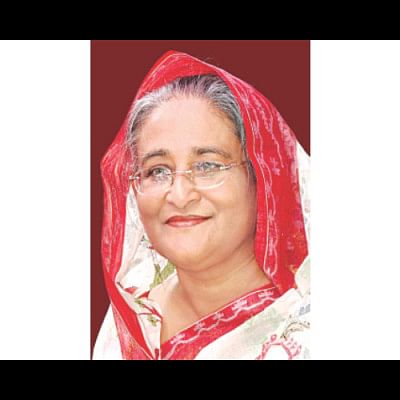 Prime Minister Sheikh Hasina leaves for the US this morning to attend the UN special summit on Sustainable Development and 70th UN General Assembly (UNGA), heading a 227-member delegation, the biggest since her taking office in 2009.
She led a 178-member delegation for the 69th UNGA last year, while the number was 134 in 2013.
Two advance teams of the Special Security Force and President Guard Regiment have already been to New York and London. Apart from the security personnel, civil officials have also reached New York.
The delegation includes nine ministers and PM's advisers, 17 "eminent personalities", 15 officials from the Prime Minister's Office, 12 foreign ministry officials, three officials from Bangladesh missions in the US, 11 from different ministries, 28 security personnel, a 10-member media team, four media personalities and 119 business representatives.
Businesspersons usually travel with the premier at their own cost.
Important delegation members include Finance Minister AMA Muhith, Foreign Minister AH Mahmood Ali, Expatriates Welfare Minister Nurul Islam Bsc, Prime Minister's Political Affairs Adviser HT Imam, International Affairs Adviser Dr Gowher Rizvi, Economic Affairs Adviser Mashiur Rahman, State Minister for Women and Children Meher Afroz Chumki and State Minister for Foreign Affairs Md Shahriar Alam.
Most of the delegates in the "eminent personalities" category have been drawn from party MPs, leaders of the ruling Awami League, its front organisations and alliance partners.
Hasina will take part in various UN meetings and side events like high-level roundtable on South-South Cooperation, Gender Equality and Women's Empowerment, Sustainable Economic Growth, Summit on Peacekeeping, Summit on Countering ISIL and Violent Extremism, and community reception during her eight-day visit.
Moreover, she is scheduled to hold bilateral meetings with the heads of state/government of different countries including Chinese President Xi Jinping, Dutch Prime Minister Mark Rutte and Nepalese Prime Minister Shushil Koirala. She is also expected to meet Indian Prime Minister Narendra Modi.
She will address the UN Sustainable Development Summit on September 27 and UNGA High Level General Debate on September 30.
The special UN summit will adopt 17 new Sustainable Development Goals (SDGs) and 169 associated targets. The new SDGs are aimed at stimulating actions over the next 15 years towards building a more equitable and sustainable world.
The 2030 Agenda for Sustainable Development will include the launch of a new set of goals to be implemented worldwide. Unlike the previous Millennium Development Goals, which they replace, the 2030 SDGs have been developed through a process that includes input from all 193 member states.
Hasina will highlight Bangladesh's success stories in the MDGs implementation as well as priority areas to successfully implement the new set of 17 SDGs.
As per the programme schedule, a VVIP flight of Biman Bangladesh Airlines carrying the premier and members of her entourage is scheduled to take off from the Hazrat Shahjalal International Airport at 9:45am.
After a three-hour stopover at the Heathrow International Airport in London, she will fly to New York by a British Airways flight that will land at JFK International Airport at 10:00pm [New York time] on September 23.
Hasina and most of her entourage members will stay at Hotel Waldorf Astoria on Park Avenue in New York
The key event of the UNGA -- UN Summit for the Adoption of the Post 2015 Development Agenda -- will be held on September 25-27. The General Debate of the 70th UNGA will be held between September 28 and October 6.
The prime minister will stay in New York till September 30 and depart for London on October 1, stay there for a day and return home on October 3.
She will receive the "Champions of the Earth Award", the highest environment-related award of the UN. Besides, she will be honoured with ICT's Sustainable Development Award for her revolutionary initiatives in building Digital Bangladesh. The International Telecommunications Union will confer the award.
On the sidelines, she will co-chair an interactive dialogue session with her Belgium counterpart on "fostering sustainable economic growth, transformation and promoting sustainable consumptions and production" on September 26.
The premier will also attend a global leaders' meeting on gender equality and women's empowerment on September 27 at the invitation of the Chinese president.
On September 28, she will co-chair a high level summit on peace operations with US President Barack Obama and UN Secretary General Ban Ki-moon.
On September 29, she will attend a leaders' summit on "countering ISIL and violent extremism" to be organised by US President Obama. She will uphold Bangladesh's zero tolerance policy against extremism.
Hasina will also attend a special event on "Moving from MDGs to SDGs: Bangladesh Experience and Expectations" to be arranged by the Bangladesh Mission in the UN. Top-ranked leaders from the UN and different agencies will join the event.
Outside the UNGA, the premier will deliver a speech on "Girls lead the Way" of World Leaders Forum at Colombia University on September 25.
She will also exchange views on Bangladesh trade and investment situations and prospects with the Business Council for International Understanding (BCIU) the same day.