Pesticide in litchi kills kids, again
11 die between May 30 and June 20 after consuming toxic litchis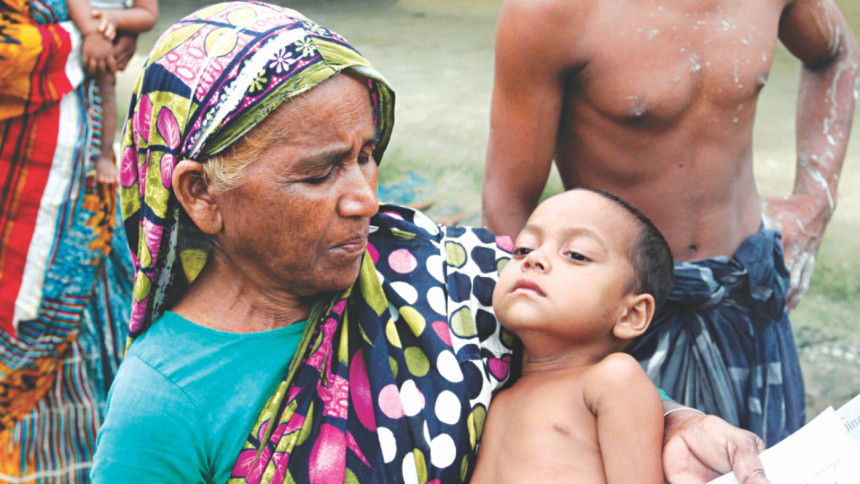 Swapan, a six-year-old kid, woke up restless at midnight and wanted to drink some water. After drinking water, his eyes dilated and he could hardly speak. Then he fainted. 
This is how Robichan, a day labourer in Sadulla village under Birganj upazila of Dinajpur, described on Wednesday how his son had fallen fatally sick on June 2.
As any illiterate village man would do, Robichan called in a shaman thinking his son was attacked by some evil spirit. But the shaman, as is predictable, could do nothing as Swapan's disease was caused by pesticides that litchi growers excessively used on the fruits.
Although Robichan immediately rushed Swapan to the district hospital, doctors there declared him dead on June 4.
Swapan was one of 11 children who died between May 30 and June 20 at Dinajpur Medical College Hospital from diseases that were triggered by pesticides.
Though parents of the deceased children were in the dark about the reason behind the deaths, Institute of Epidemiology, Disease Control and Research (IEDCR) confirmed that pesticides, which were found in        their blood samples, led to their deaths.
"We have found high density of pesticides in the blood samples collected from their bodies," said Professor Dr Mahmudur Rahman, director of IEDCR.
Prof Mahmudur said an IEDCR team collected blood samples of a total of 46 children including the deceased 11 from Dinajpur's litchi growing areas and found pesticides in their blood samples. 
He said one did not necessarily need to eat a litchi to fall fatally sick; a child would inhale pesticides if he had just roamed in and around the litchi orchards where pesticides are heavily sprayed.
"In any case, examining the samples we have found that in 88 percent of the cases those children consumed litchis and we are certain that they died from the deadly effects of the pesticides," he said.  
Pesticides were already there in their blood. They died when it crossed their tolerable limit, said the professor.
Visiting the families of some of the deceased, it was found they all lived in close proximity to litchi orchards. Besides, some of the dead children's fathers were workers at the orchards.     
Take, for example, the location of the small hut of Robichan. It is surrounded by litchi gardens on three sides. Swapan used to play in and around the orchards most of the time along with his friends. 
Payar Ali and Masum, two school friends of Swapan, still remember how cheerful they had been before Swapan fell sick. "We ate lots of litchis together," said Masum.
12 children, including Swapan, aged between two and six years, were admitted to the hospital. Nishi, 3, daughter of Khairul Islam of Purbo Sadipur village under Kaharol upazila, is the lone survivor among them.
"Though Nishi survived, she can't talk now," said her mother Parvin Akter.
Salma Begum, mother of deceased Shamima from New Sengram under Birganj upazila, said her daughter had eaten litchis two days before she fell sick.
Shamima died at the hospital on May 30 and her father is a season worker at a litchi orchard.
Earlier in 2012, 12 children had died eating litchis contaminated with pesticide.
Professor Mahmudur Rahman said children should not be allowed in the litchi gardens during this season as they are repeatedly falling victim to pesticide during this time of the year.
Many locals in the orchard area complained that the orchard leaseholders used some pesticides secretly. 
Dr Wares, head of pediatrician department of Dinajpur Medical College Hospital, said all the patients were children aged between 2 and 6 years and they were hospitalised between May 30 and June 20 with severe fever and convulsion; some were unconscious as well.
 "Besides, these children have been suffering from malnutrition", he said.
In a different test, Bangladesh Agricultural Research Institute (BARI) has examined seasonal fruits and found high quantity of pesticide like Organophosphorus in the samples from Dinajpur.
"We have detected pesticides in 14 percent of the litchi samples that came from Dinajpur [this season]," said Syed Nurul Alam, chief scientific officer of BARI.
Farmers do not need to use Organophosphorus on litchis, but they still do it on instructions from pesticide dealers, he said, adding that chemical residues remain in fruits for 10 to 12 days after application. 
The Daily Star carried a report a few days ago that litchi orchard owners were using pesticides on litchis.
When asked, Dr Abdul Matin, general secretary of Bangladesh Poribesh Andolon (Bapa), said the government does not take responsibility for people's health.
Though it has been reported in media about the health hazards of pesticides for a quite a long time now, no step on the government' s part is visible yet, he said.
"The government should have control and a monitoring mechanism over the use of pesticides," he said.