Outrage all around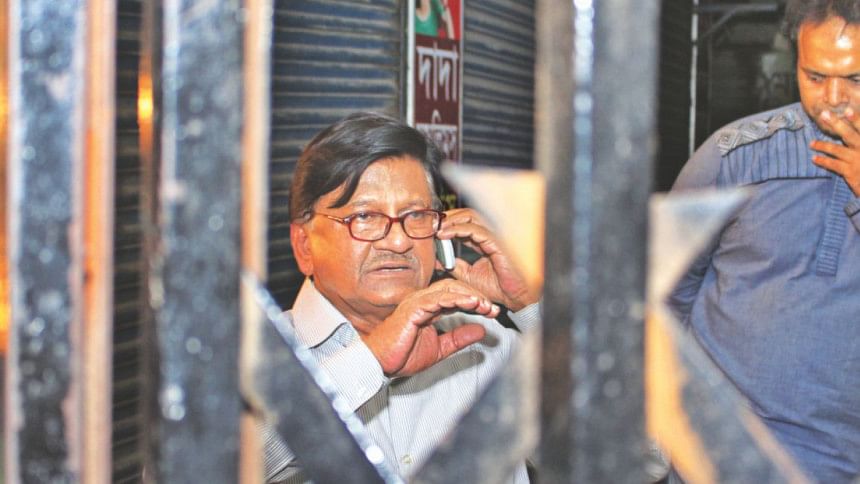 The attacks on publishers and secular writers by suspected militants in the capital yesterday have set off a storm of outrage.
Writers, academics, foreign missions, online activists and different political, social and cultural organisations have condemned the gruesome attacks.
Faisal Arefin Dipan, owner of Jagriti Prokashani, was hacked to death in Shahbagh in the afternoon. In a similar attack around the same time, Ahmedur Rashid Tutul, owner of Shuddhoswar, writer Ranadipam Basu and blogger Tareq Rahim were injured in Lalmatia
Both Dipan and Tutul published secular writer Avijit Roy, who was slain by suspected Islamists in Dhaka in February.
Robin Ahsan, owner of Shrabon Prokashan publishing house, said Tutul published many progressive books.
"I would not term those books anti-religious. Rather, he used to publish books written with a scientific approach … The incident is a threat to all progressive writers," he told BBC Bangla last night.
"I don't think these publishers went beyond the freedom of expression granted by the laws of this country to those involved in creative activities," said litterateur Hasan Azizul Haque.
"If someone believes that they [the publishers] have stepped over the line, then who are they to take the law into their own hands?
"I believe extremist forces have done this. If the government fails to contain these elements, security of people's lives cannot be ensured," he told The Daily Star yesterday.
Writer Shahin Latif, who was close to Tutul, said the publisher started getting death threats after Avijit's murder.
"He then filed a General Diary with Mohammadpur Police Station. But neither the police carried out any effective investigation, nor the government took any step. What happened today is a consequence of that," Shahin told the BBC Bangla.
Litterateur Selina Hossain failed to suppress her grief when The Daily Star approached her for comments.
"I can't stop crying and I'm totally speechless. Dipan was such a lively boy with fresh ideas. I also know Tutul. Both of them are progressive publishers.
"I wonder how long the government will keep silent! How long will we, the peace-loving people, have to put up with these brutalities? … We want to be liberated from this," she said.
"I am outraged and angry," said writer Syed Shamsul Haque. "I request the government to do something about it immediately and ensure security for the publishing media."
British High Commissioner in Dhaka Robert W Gibson in a Twitter post said, "I condemn yet another attack on bloggers. Violence is never the answer or acceptable in any circumstances. Essential we protect free speech."
In a similar vein, European Union Ambassador in Dhaka Pierre Mayaudon told a private TV channel that he was "shocked by this aggression". He hoped that the law enforcers would be able to find the perpetrators and bring them to book.
Condemning the attacks, BNP Chairperson Khaleda Zia in a statement alleged that government has completely failed to ensure the security of people's lives.
"The entire nation is in a suffocating situation due to the absence of the rule of law," said the former premier, who now is in London.
She claimed slain publisher Dipan was the vice president of Zia Memorial Library and "a devoted organiser inspired by the ideals of Ziaur Rahman".
The government sees the attacks as a conspiracy against the nation.
"Those who want to make Bangladesh a neo-Pakistan by destroying the practice of free thinking in the country and foil the ongoing advancement and development under the leadership of Sheikh Hasina are behind these incidents," said Mahbubul Hoque Shakil, special assistant to the prime minister, while visiting the victims at Dhaka Medical College Hospital.
"However, they will be hunted down and brought to book no matter how much conspiracy they hatch," he added.
Visiting the injured at the hospital, Civil Aviation and Tourism Minister Rashed Khan Menon said, "They [attackers] are receiving encouragement from somewhere. Such audacity is not possible if there were no encouragement from some quarter."
Meanwhile in a Facebook post, Rafida Ahmed Bonya, wife of Avijit Roy, criticised the government for its denial of the presence of religious extremism in the country.
"I am speechless, don't want to cry but can't stop my tears. They hacked both of Avijit's publishers and two others. I am sure Bangladeshi Government will still say that there is no hint of Islamic terrorism in the country!" said the US-based Bangladeshi online writer who was critically injured in the attack that claimed her husband's life.
Gonojagoron Mancha, a platform that demands capital punishment for war criminals of 1971, held a protest rally in Shahbag in the evening. It declared countrywide demonstrations for today.
Shafiqur Rahman, acting secretary general of Jamaat, in a separate statement condemned the attacks.
Academic and Creative Publishers' Association of Bangladesh, Sammilito Samajik Andolon, Samprodaikota-Jongibad Birodhi Mancha and Dhaka University Vice Chancellor AAMS Arefin Siddique issued separate statements condemning the attacks.