An opportunity yet to be seized
Countless efforts and numerous unsuccessful experiments for over five years. In the end, they all proved rewarding when Dr Mubarak Ahmad Khan realised he has finally struck the right chord. Since 2010, the noted scientist had been trying to invent a biodegradable polymer from jute fibre. Success came in late 2015.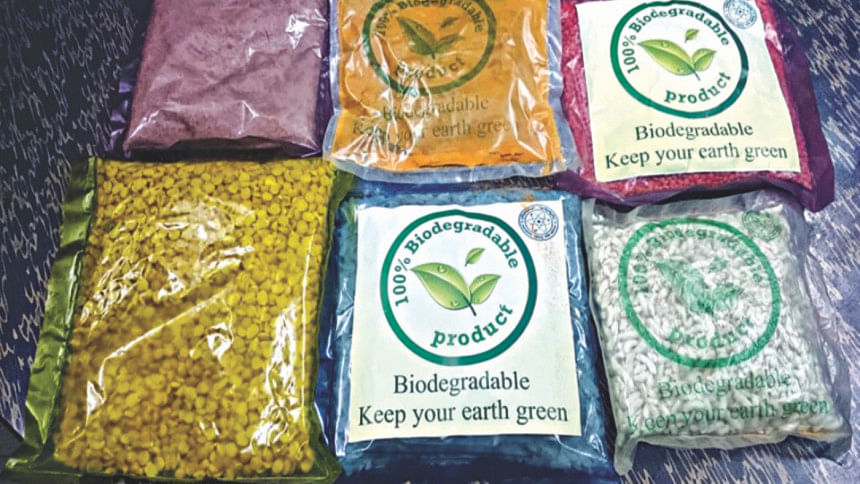 Countless efforts and numerous unsuccessful experiments for over five years. In the end, they all proved rewarding when Dr Mubarak Ahmad Khan realised he has finally struck the right chord.
Since 2010, the noted scientist had been trying to invent a biodegradable polymer from jute fibre. Success came in late 2015.    
"One day, a student came to me with a 'problem'. He said one of our samples created polymer film but it didn't dissolve in water. I knew right that moment that we got our product," he told The Daily Star recently.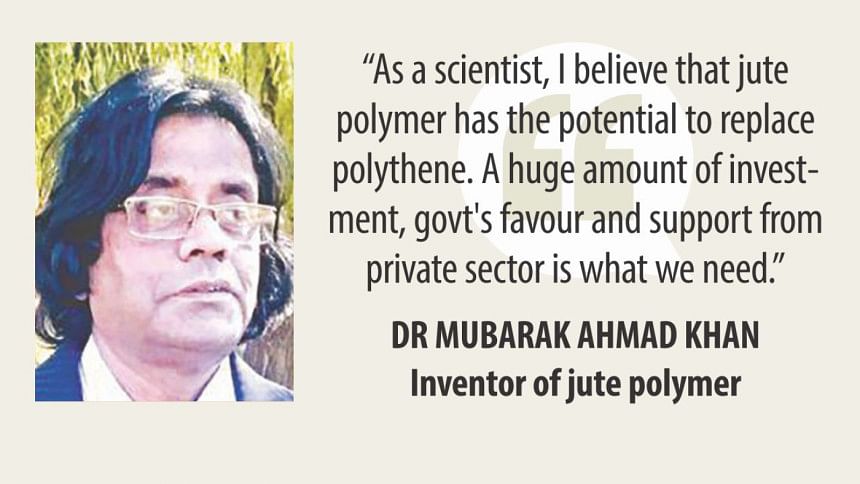 "I was speechless in excitement and embraced him [the student]. We [Mubarak and his team] named it Jute Polymer," said Mubarak, who has been working as the scientific adviser at Bangladesh Jute Mills Corporation (BJMC) since 2017.
Today, however, all that excitement is gone and frustration has taken over Mubarak, who quit his job at a foreign university to work on the development of jute and jute products.
Three years have passed since the revolutionary invention, in a world's first by the Bangladeshi scientist and his team of 12 university students, but its commercial production remains in limbo for a lack of financial and policy support.
Jute polymer has the potential to usher in a new era in the packaging industry in Bangladesh and across the world, by replacing conventional petroleum-based polymers such as polythene and polypropylene.
It can also give a great boost to the country's economy, given the rising demand for this environment-friendly poly bags in developed countries.
Although biodegradable, this jute polymer is water and air resistant and is 1.5 times stronger than polythene. It also decomposes in soil within five to six months as opposed to polythene, which could take several hundred years.  
But because of fund crisis, Mubarak and his team now struggle to run even the trial production smoothly.
"It's a matter of frustration for me. I cannot even come to think that something with so much potential will meet such a fate," said Mubarak, who received the National Jute Award from the prime minister last year for his research on jute.  
FUND CRISIS 
In May 2017, two years after the ground-breaking invention, the government started a trial production under a project named "Sonali Bag" at state-run Latif Bawani Jute Mills in Dhaka's Demra. 
The project is now tagged with the BJMC, an agency with its own financial problems so serious that it cannot even pay its workers on time.   
Mubarak pointed out that the project needs a separate, initial budget of Tk 200-250 crore to start commercial production.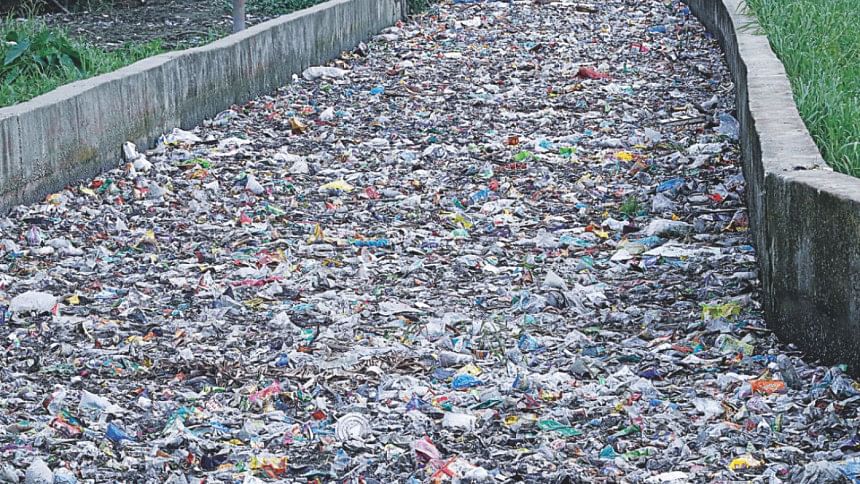 At the moment, it takes months to get funds for the project. As the project head, Mubarak needs to first request funds from the BJMC. The BJMC then directs the Latif Bawani authorities, who sanction the money depending on the availability of funds. 
"It is a very complex process," Mubarak said, adding that he had been urging the government to start the commercial production since last year.
"I gave several proposals to the ministry [for its commercialisation]. But, I didn't get the expected response," he said. 
"The project needs a separate budget and an identity of its own …. Otherwise, it will not see the light of day. The project must operate independently through direct government support," said Mubarak, also former director general of Bangladesh Atomic Energy Commission.
Under the Sonali Bag project, the factory can currently produce enough polymer to make 2,000 bags per day, which is not commercially viable.
The factory is using semi-automatic machines developed locally by Mubarak and his team. 
The production requires three types of automatic machines in three major stages -- collecting cellulose (an organic compound which is found in plant's cell wall) from jute fibre, dissolving the cellulose into warm water to prepare a viscous solution (the final raw material), and then casting the solution into a tray and drying it to make the polymer sheets.
Mubarak and his colleagues developed an automatic machine for stage three with the capacity of drying the solution into one meter of polymer a minute.
They also signed two contracts with a Malaysian university and an Indian company for two automatic machines for stage one and two but could not get those due to fund crisis, said Mubarak.
Asked, State Minister for Jute and Textile Mirza Azam said they already spoke with a British company, which makes automatic machines for separating cellulose from wood, and asked it to deliver a machine that can collect cellulose from jute fibre.  
"We will sign an agreement with the company soon. We are hoping to start the commercial production in early 2019 with a target to produce at least 200 tonnes of polymer per day," he told The Daily Star in May.
He avoided a direct reply when asked about the fund crisis, but said the jute ministry could not pay the jute workers in state-run jute mills on time due to financial problems.
"The ministry and I are very serious about jute polymer as it has a very good future. We are ready to spend money if we find the appropriate machinery," he said, also sought more budgetary allocation for the project from the finance ministry.
RISING DEMAND FOR JUTE POLYMER
Globally, up to 5 trillion polythene bags are used and discarded every year, according to the UN Environment.   
In Bangladesh, production and use of polythene are banned. Still, some 2 crore polythene bags are used every day in Dhaka city alone, thanks to little or no enforcement of the law and no suitable alternative, said Abdus Sobhan, general secretary of Poribesh Bachao Andolon (Poba).
But with increasing awareness about the environmental threat of using polythene, demand for an alternative is rising.
Every day more and more entrepreneurs and businesses from home and abroad are showing interest in buying jute polymer bags, said Mubarak.
For instance, a Kazakhstan company has recently wanted to place an order for 30 million bags. Many countries, including the US, the UK, Germany, Russia and Australia, also showed interest, he said.
Mahmudul Haque Jishan, senior planning executive of Premiaflex Plastics Ltd (a subsidiary of ACI Ltd), said they already placed an order to buy 5,000 metres of jute polymer for trial.
"We decided to buy the polymer as the world is moving towards biodegradable products and polythene is banned in Bangladesh," he said, adding that their company would need around 50 tonnes of jute polymer every month. 
CHALLENGES AND SOLUTIONS
The cost of raw materials for jute polymer is 150 percent higher than that of polythene and polypropylene. The production cost of the polymer could be brought down by four times with large-scale manufacturing. 
So, reducing production cost, setting a competitive price, developing automatic and powerful machinery, producing a large volume of raw materials, and meeting the rising demand are some of the major challenges for jute polymer.
All of this can be overcome with big public and private investment and policy support, said Mubarak.
"As a scientist, I believe that jute polymer has the potential to replace polythene. We need a huge amount of investment, government's favour and support from private sector," he said.
He also suggested growing more jute to meet the rising demand and securing certifications from relevant international bodies so that jute polymer could enter the global market.
Appreciating the revolutionary invention, noted green activist Abdus Sobhan said, "The polymer's current price won't be a factor as it can be reduced through bulk production. Besides, this biodegradable product has a huge demand in developed countries."
The government should also fully enforce the ban on polythene before commercialising jute polymer, said Sobhan of Poba.