One of most shocking disasters
UK foreign secy says on Rohingya crisis, calls for quick repatriation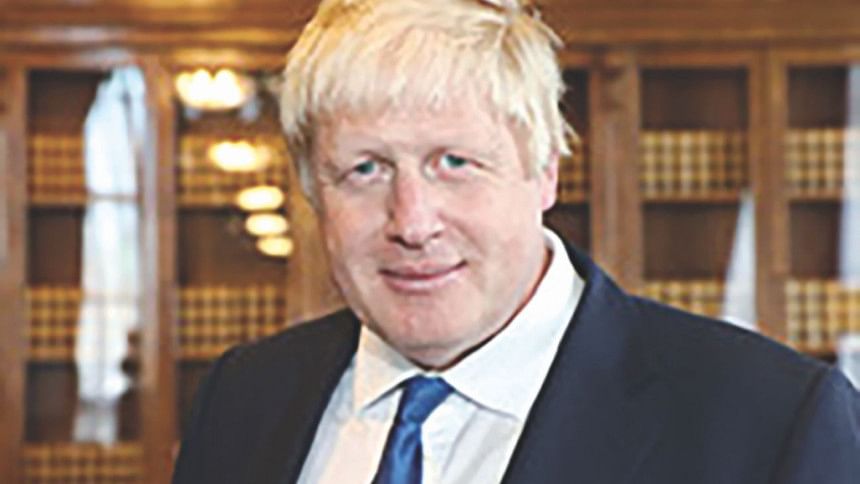 British Foreign Secretary Boris Johnson has described the plight and suffering of the Rohingyas as "one of the most shocking humanitarian disasters of our time".
He stressed on quick repatriation of the Rohingyas to their homeland saying that any delay might complicate the issue.
Boris, now in city on a two-day visit, met Prime Minister Sheikh Hasina at the Gono Bhaban yesterday evening.
The prime minister and the British foreign secretary agreed that following the repatriation of the Rohingyas, the Myanmar authorities should allow the international agencies, including the UNHCR, to provide humanitarian assistance to them, PM's Press Secretary Ihsanul Karim told reporters after the meeting.
Hasina said Bangladesh gave temporary shelter to over one million Myanmar nationals and it was a big burden on the country.
She said Myanmar leader Aung San Suu Kyi should act sincerely to this end.
She stressed the need for implementation of the Koffi Annan commission report to achieve a durable solution.
The PM also brought to the notice of the British foreign secretary the Wednesday's attack on the Bangladesh High Commission in London.
Boris assured the PM of looking into the matter.
He compared the Rohingya refugee situation with the one that happened in Palestine in 1948 when over 600,000 people were displaced from their homeland.
He appreciated the PM for her stance on safe and dignified repatriation of the refugees.
The British foreign secretary lauded Hasina's government for countering terrorism and militancy.
Foreign Minister AH Mahmood Ali, PM's Adviser Gowher Rizvi, Principal Secretary Nojibur Rahman and British High Commissioner to Bangladesh Alison Blake were present.
'MOST SHOCKING HUMANITARIAN DISASTER'
In a meeting with Foreign Minister AH Mahmood Ali at the State Guest House Padma yesterday, Boris Johnson described the suffering the Rohingyas as "one of the most shocking humanitarian disasters of our time".
"This is a man-made tragedy that could be resolved with the right political will, tolerance and cooperation from all those involved," he said.
Boris said he wanted to see and hear for himself the terrible things the Rohingyas have been through, and he would be talking to Aung San Suu Kyi and other regional leaders about how they could work together to resolve the crisis.
The foreign secretary is scheduled to visit a refugee camp in Cox's Bazar today.
He began a four-day tour of Asia yesterday. After visiting Bangladesh, he will travel to Myanmar and Thailand.
He will meet Thai Prime Minister Prayut Chan-o-cha and chair of the Advisory Board on the Rakhine Advisory Commission, Surakiart Sathirathai.