Not dead, not living either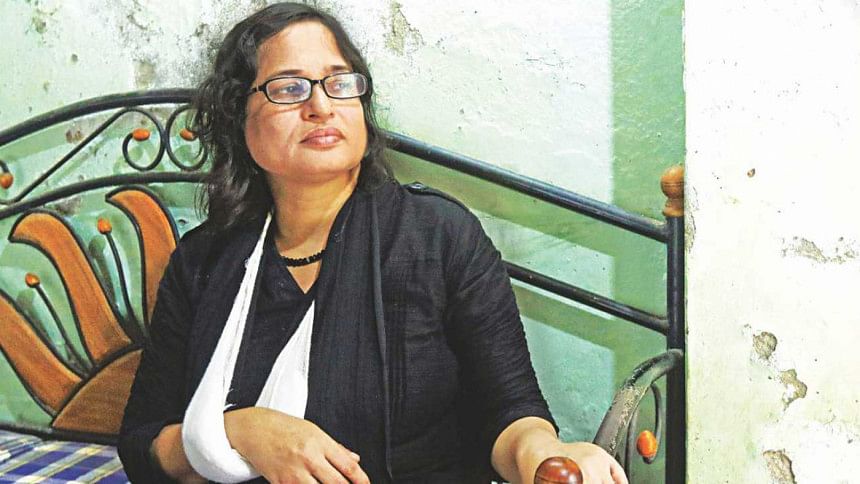 She has been living with around 1,800 splinters in her body, including two in her brain, for the last 11 years. All of the splinters remain inoperable to this day.
A dislocated joint in her right hand, which was brought into its right position later, was dislocated again two months ago. Now she has her hand in a sling that does not allow her to have a sound sleep.
It has been three months since her right leg started to pain again. So she does not dare to come out of her home.
"I have become a living corpse. You cannot call this a life," said Mahbuba Parvin, who narrowly survived the gruesome August 21 grenade attack on an Awami League rally on Bangabandhu Avenue in 2004.
At least 24 people, including veteran Awami League leader Ivy Rahman, were killed and scores of others injured in the attack. Awami League President Sheikh Hasina, also the then opposition leader of the parliament, narrowly escaped the attack.
The delay in getting justice generates in Mahbuba a psychological distress that is no less painful than her constant physical suffering.
"The splinters in my body hurt me, but the delay in punishing the people who have left me nearly dead gives me more pain," said Mahbuba, who now lives in Savar.
Justice, however, remains a far cry for all the victims of the grisly grenade attack.
Mahbuba is the woman whose photo appeared in many newspapers after the attack. She was seen lying among the corpses on Bangabandhu Avenue in a blood-stained golden, silk sari, with a black handbag lying across her chest. She had a blank, lifeless look with a slightly gaping mouth.
People thought she died on the spot. However, she started to move her limbs after being in a coma for three days, and she regained full consciousness after 25 days of treatment.
"I still hope that justice would be served because our leader Sheikh Hasina is now in power," said Mahbuba, who is the women affairs secretary of Dhaka City Swechchhasebak League.
Unlike Mahbuba, many victims or their family members passed away while waiting for justice.
Take the example of late President Zillur Rahman. He sought justice for the gruesome murder of his wife Ivy Rahman, the then women affairs secretary of the AL.
After the political changeover, Zillur Rahman became president in 2009 but his appeal for justice is yet to be fulfilled though he died in March 2013.
The same thing happened to Amena Begum, mother of Abdul Quddus Patwari who died on the spot on August 21. She died in February last year.
"My mother always wanted to see the killers of her son punished. But her wishes remained unfulfilled in her lifetime. Now we want justice during the tenure of the Awami League government," Humayun Kabir, elder brother of Quddus, told the Daily Star over the phone.
Quddus was a leader of Swechchhasebak League, a front organisation of the AL, in Haimchar upazila of Chandpur.
"We are grateful to Sheikh Hasina as she did a lot for us. We don't want anything else from her except justice," Kabir said.
Raton Sikder, 40, an AL supporter and a small businessman, had gone to Bangabandhu Avenue on that fateful day to hear Hasina's speech. He too died on the spot.
Nusrat Jahan Rozi, the widow of Raton, told The Daily Star: "We want exemplary punishment to those who destroyed my and my children's life. But I'm not seeing any development of the trial process."
Rozi, now 40, said the prime minister has helped her family financially. 
"Now I don't need anything else other than justice for which I've been eagerly waiting," she said.
Sayeed Khokon, son of late Awami League leader Mohammad Hanif who was critically injured in that attack while making a human shield to save Sheikh Hasina, also demanded justice. Hanif later died on 28 November in 2006.
"I have confidence over the judiciary and I'm ready to have patience until the verdict in the case is delivered," Khokon, the Dhaka South City Corporation mayor, told The Daily Star. He too was injured in the attack.
Referring to the Bangabandhu killing case, he said, "The prime minister got justice for her father's killing through the normal judicial process and I also have confidence in the normal judicial process."